A chance to unite Anfield awaits for inexperienced side
At a cursory glance, the Spion Kop of Anfield appears a breathtaking exhibition of unison -- 12,000 of all shapes, sizes, religious affiliations and job descriptions congregate on this deep, rising bank of humanity. All do so in the name of their football club, the one strand that binds them.

Looks can be deceiving.

One of the first records of the Spion Kop name in print came from Ernest Edwards, sports reporter for the Liverpool Echo, in 1906. Termed as such because of the likeness between supporters watching football and soldiers standing atop the hill at the Battle of Spion Kop, there has always been an invitation for war-based imagery to flow from fingers: unwavering commitment to the cause, desire to win at all costs and camaraderie between peers.

- Reina confident Reds can fire
- Lucas hopes Reds can humble Hulk

This has built up the trademark, clichéd Kop and those who inhabit it. Observers get dewy-eyed over the noise of Saint Etienne in 1977 and the colour of Chelsea in 2005. Pictures of those nights and their brethren are forever captured on postcards and picture books, in photograph frames and as desktop wallpapers. At unveiling news conferences, there appears a contractual obligation to reference the Kop, its noise, its magic and magnificence.

Reality is far harsher. In recent years, the only signs of war have been among themselves, wounds yet to heal after years of instability and in-fighting. This has been a club divided for a while -- supporters included. The Kop may be single-tiered, but there have been so many partitions constructed, so many lines engraved into the sand on which this unsteady mass stands upon.

Home advantage is a tricky concept in football. It is widely accepted that a team's chances improve with familiarity of their own surroundings, but there's little concrete reasoning behind it. Some -- including Tobias Moskowitz in his book "Scorecasting" -- believe this to be a fallacy altogether, pointing toward a similar percentage of successes by away teams in the Netherlands and United States, despite the obvious differences in distance traveled.

Maybe it has nothing to do with miles, but decibels. Great teams have withered as noise levels make defenders seem taller and forwards seem quicker. Just because it is cliché doesn't mean it can't be true. There are few cup runs more convincing of this than Liverpool's 2005 victory in the European Cup as Florent Sinama-Pongolle, Neil Mellor, Anthony Le Tallec and Igor Biscan ran rings around Rivaldo, Alessandro Del Piero, John Terry and Kaka.

Home advantage, in whatever guise, has felt like a long-lost relic at Anfield in recent times. Even in a season that has seen lower-half teams routinely hammered, the gallery before the executions has been morose and lifeless. It is a crowd that is as static as the snapshots they routinely appear on, melancholy at what has happened in years gone by.

In the darkest days of Hicks and Gillett, disharmony overpowered productive discourse over how to remove the duo. There was rebellion over Rafael Benitez, haranguing over Roy Hodgson, discordance over Kenny Dalglish. Now it is Brendan Rodgers who has entered this toxic environment. Granted, instant success would make the Kop a far more harmonious place no matter who sat in the dugout, but there remains a feeling Rodgers has a job harder than most.

Thursday provides a chance. During the sybaritic nights so prominent in the 1980s and 2000s, claims they wouldn't last forever would be met with a raised eyebrow and clenched fist. But this is the reality now. Anfield has hardly been united the past few years and it has hardly witnessed a game to stir souls in such slumber. But the two-goal deficit against Zenit St Petersburg, a team of Champions League quality, could strengthen a resolve so lacking in recent times. It might be an evening where all dubiety over players, manager, owners and supporters are left at the turnstiles. It might be an evening where it goes horribly wrong for Liverpool.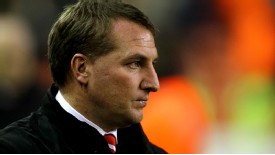 PA PhotosBrendan Rodgers: Still awaiting a moment to define his reign
It has been a while since Anfield has had an opportunity to fulfill the role so clamoured for by the footballing public. Eyes will be off the pitch as much as on it. Rodgers, still awaiting a moment to define his reign, will be aware of how things stand right now. A goal for Zenit will instantly silence the crowd and leave the songbook firmly shut, a potential famous night snatched away in a moment.

He cannot allow that to happen, but he must also be aware of the necessity to start strongly and score goals. It could be a night to shape the subsequent years ahead for both him and his young, inexperienced squad.

Rodgers will have not experienced a fully united Kop yet; he will not have walked before an Anfield that calls out every ball in cliché bingo. Hairs stand upon necks, goose bumps emerge, Adam's apples protrude and floodlights sparkle. But hairs will rapidly fall, lumps in throats will stick and lights will fade if Zenit score. In a season of such fine margins, the finest so far.

Up against an experienced, intelligent coach in Luciano Spalletti, this is an education for Rodgers. Up against such players as Hulk, Axel Witsel and Domenico Criscito, this is an education for the inexperienced players of Liverpool's squad. It could be nights like these that provide the foundation of success in the future: Steven Gerrard, Jamie Carragher, Sami Hyypia and Dietmar Hamann, UEFA Cup winners in 2001, cradled the European Cup just four years later.

The circumstances were largely the same. The confetti dragging beneath their leaden boots, camera flashes winking at their sweat-stained faces, cramp from their lungs downward to tinge smiles with painful grimaces. But if not for the roller-coaster victory over Alaves, perhaps Milan weathers Liverpool's second-half, 6-minute whirlwind; if not for professionalism against Roma, Porto and Barcelona in 2001, the trio of Leverkusen, Juventus and Chelsea might have feasted on naivete in 2005.

But Rodgers and his players cannot merely rely on the support to drag them over the line. It has to start somewhere -- within the mind of Rodgers.

The manager must decide whether to start quickly in an attempt to blow Zenit away or focus on not conceding early on. He must decide which players will thrive in such an atmosphere, and who will wilt. But before all of that, he must decide how to ensure that atmosphere -- the feeling of belief so absent in recent years -- never dissipates throughout the 90 minutes.

If he gets that right, Thursday evening could see the Spion Kop file out united. That, as much as overturning two goals, would be an achievement worth noting.