Great Dane casts shadow over Rodgers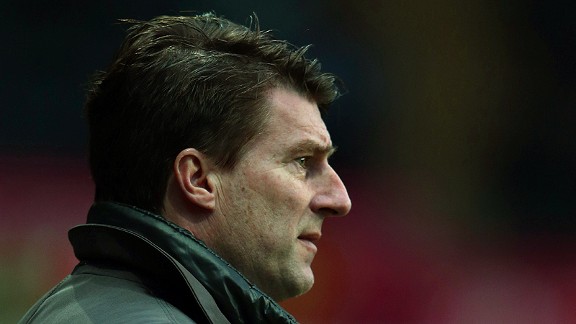 Warren Little/Getty ImagesMichael Laudrup: The devil in Brendan Rodgers' old shoes
When Brendan Rodgers sits in the dugout and scribbles on his notepad, try to cast a glance over his shoulder. He would be forgiven for simply drawing horns on a photograph of Michael Laudrup.

Liverpool have faced a number of issues so far this season, not all self-inflicted. Laudrup may be the biggest one of that kind. Not only did he architect victory over Liverpool in the Capital One Cup in October, but the Dane's chiselled chin casts a shadow over Rodgers with every movement as he peers over his predecessor.

Plainly put, Swansea are enjoying a better season than Liverpool. They're enjoying it full stop. That's without the caveat of the relative success of the two sides, either. Forget the trophy cabinets and highlight reels of yesteryear; Swansea are above Liverpool and look set to dance around Wembley with trophy in hand, something Rodgers' side won't be doing this season.

Every defeat for Liverpool prompts its detractors to glance towards the table, cup final, and dugout. In a season where Liverpool have not climbed higher than seventh, some regard this cellar-dwelling as contemptible. That Rodgers' old side has flourished after his departure and sit above his new one niggles and needles even more.

Over the past few seasons, Liverpool has been a club engulfed by disenchantment. Every mistake from a defender is not just debated, but dwelt upon. Every miss from a striker prompts not only heads in hands, but heads driven from heavy objects nearby. Reality, in all its brutishness, is never enough; what if? is always the big, right hook after the deadening jab of what is.

So it has proven for Rodgers. Each defeat is suffixed by some with mutterings of Laudrup, the manager who is usurping Rodgers' efforts in Wales last season. That villainous hindsight strikes once more. Though the 40-year-old would have been on few shortlists when the job became available, Laudrup was not a name shouted from the tower either. He won the double at Brondy in Denmark and took Spanish side Getafe to the UEFA Cup quarter-finals, but did little of note at Spartak Moscow and Mallorca. Much like Rodgers, he is a young manager yet to prove himself at the highest level.

But Rodgers was not a player of supreme majesty. Nobody played football as a child mimicking the Northern Irishman, recreating his goals at World Cups gone by. Rodgers never even had his own Panini sticker. He talks about tactics and triangles in great detail, his face forever furrowed; Laudrup breezes through interviews with a suave smile, shrug of the shoulders and flick of his faultless hair. That Laudrup has guided Swansea to seventh in the league and a point above Liverpool adds to the mystique.

This is not to get dragged into the murky world of comparisons. Plenty of mud has been slung already with not even a season played. But there can be no denying Laudrup presence at Swansea, which already borders on success, has made things more difficult for Rodgers and easier for those who think he is not of sound disposition to manage the Anfield club.

Played two, won zero. That is what Rodgers will focus on when Swansea visit at the weekend. As the only Premier League fixture taking place, the game is a reminder of their failure in the FA Cup, against opponents that will remind him of something far more. He will not want to end this season without a win against his former club, nor can he really allow it to happen. Swansea are the first of three clubs Liverpool must look to overtake between now and the end of the season. Victory against Swansea is a step towards that.

Nobody knows what intentions Rodgers has between now and the season's end. His strong selection away to Zenit hinted at a tilt towards the Europa League, but that tilt fell flat 90 minutes later. A 2-0 defeat must be overturned on Thursday.

Something far more manageable can be overturned on Sunday - a one-point deficit between Liverpool and Swansea. Whether he manages to overturn the growing discontent towards him, and the unfair, unaccountable comparisons to his Danish counterpart, remains to be seen.