Same old story as strength conquers Reds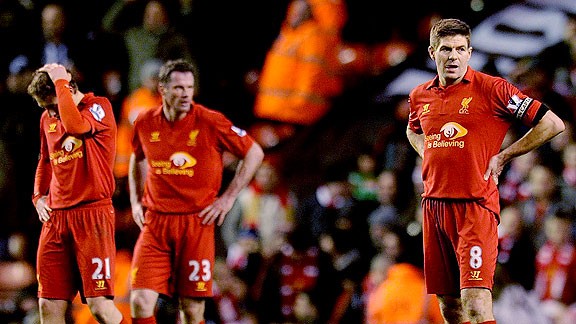 Andrew Powell/Liverpool FC/Getty ImagesAny hopes of Liverpool reaching the top four in the EPL table were swept away after their home defeat to West Brom.
As Romelu Lukaku stood like a statue in celebration -- possibly mimicking the performance of Daniel Agger over the 90 minutes previous -- the audience already knew this would be the final scene. They knew it from the beginning of the evening, for they had seen it all before.

In theatre, it is known as dramatic irony. How dramatically Liverpool fell from their lofty perch of grandeur after their previous two draws; how ironic it was, yet again, a team from the Midlands that would push them from it with such brutality.

The Kop barely made a murmur as the game kicked off, and it rarely changed throughout. They knew what was coming, just not how or when. Even Steven Gerrard, with his ability to change the narrative with a swift swish of his right foot, was a mere patsy in what was playing out before an increasingly irritable Anfield. His missed penalty was the final missed opportunity for Liverpool -- the final prompt for the inevitability that was to follow.

As it turned out, their 2-0 defeat at home to West Bromwich Albion came in the most tragicomic of circumstances. The Baggies' first shot of the game, 80 minutes in, forced a corner. The second, immediately after, put them a goal ahead. Enter Lukaku 10 minutes later with their third shot, exeunt Liverpool's chances of a top-four finish. Exeunt most of the stadium as well, who readied themselves for this moment.

- Jolly: Fine Foster sets up Anfield shock
- Report: Liverpool 0-2 West Brom

Liverpool's whole season has been a constant tango with inconsistency. One step forward, two steps back; two steps forward, one to the side. But this feels like a fall of season-defining proportions. Their 3-1 defeat to Aston Villa in December gave ample time for recovery. With just 12 games left and six points off sixth place, time is no longer their friend, particularly with confidence once more needing to be addressed.

Yet this all comes as no surprise. After credible draws away to Arsenal and Manchester City, another big Belgian tolled the bell. Herein lies the problem for this Liverpool side, and has been for too many seasons past: overconfidence becomes underconfidence, and belief turns into doubt -- swirling around Merseyside like confetti in a hurricane with every fresh result.

Though Armageddon has been erroneously foreshadowed a number of times after defeat, the clap of hooves can faintly be heard in the distance -- for this season at least. Every time the pendulum seems to swing towards Liverpool, it is powerfully pushed away in an exercise of self-infliction and self-flagellation. What could have been eight points from 15 is now just five. What could have been 12 games of optimism is now a worrying glance towards the bottom half of the table.

There is still time to stave off the four horsemen before this season is filed under one of forgettable, necessary transition -- but the trend must be reversed soon. This is a club that has got into the habit of blundering at the times most inopportune. Perhaps it is expecting too much of Brendan Rodgers to reverse that in less than a year. Perhaps.

But it would be too easy to write this defeat off as simply another psychological defeat. More concerning for Liverpool, the same issues continue to go unresolved.

The introduction of Lukaku gave the visiting side fresh impetus, for Liverpool have failed to deal with strong centre forwards all season. Once Jordan Henderson was substituted, the midfield lost its energy and balance, while the absence of Daniel Sturridge made the penalty box appear impoverished as balls were fired across the box in vain. In their own penalty box, set pieces seem an afterthought yet again.

There will be calls for context in light of the defeat. If Gerrard's penalty is successful, Liverpool conceivably win 2-0 or 3-0 -- and that makes no mention of Ben Foster's magnificent save at point-blank range from the Liverpool captain. Though statistics skewer slightly -- Liverpool were not as good as their bounty of shots suggest -- the home side were comfortably the only team in the game for 80 minutes, even if their resplendent Anfield best was lacking. That Foster will cradle his man-of-the-match champagne to sleep this evening says something.

But there is also context worth discussing in being ninth in the league -- behind both West Brom and Swansea City -- with 12 games remaining.

These things happen in football, will be the cry, on a night little worked for Liverpool. Jonjo Shelvey did little to convince he deserved a first start since Boxing Day; competent on the ball, but non-existent off of it, he failed to exert any sort of pressure on West Brom's back four. To push the impressive Henderson wider was a mistake Rodgers will be keen not to make again. Jose Enrique played without a brain, while Glen Johnson played as if he were a fresh-faced 18-year-old at West Ham. Even Luis Suarez and Gerrard provided few moments of magnificence.

It was also a day Rodgers must learn from. The days of relief accompanying Henderson's number being shown for substitution are well and truly over; an anxious applause rippled across the Kop as he departed, and with it, the safety of always having someone good both on and off the ball. Introducing Raheem Sterling and Fabio Borini were both what was needed, but to then shift to a more orthodox 4-4-2 saw it get little out of players who needed to produce their best.

That's football. But for Liverpool, football has been football far too often. West Brom represents another missed opportunity.

In truth, this game revealed little that was new. That, perhaps, is what will gall Liverpool most about losing to a side who had not won since Boxing Day. This was all their own doing; the checklist has already been ticked off many times before. Liverpool cannot defend set pieces, nor can they defend against big, strong, athletic opponents. Henderson must play 90 minutes every week. In the absence of Sturridge, Suarez still needs support up front.

The season is not over for Liverpool just yet, particularly with the Europa League still to play for. Six points from sixth is a gap perfectly bridgeable, too. But more than points or positions, perhaps Liverpool should simply find a bit of consistency and confidence -- regardless of size, strength and stature.

This is nothing they don't already know, not that it helped them on Monday night.

As Lukaku stood like a statue in celebration -- possibly mimicking the performance of Agger over the 90 minutes previous -- the audience already knew this would be the final scene. They knew it from the beginning of the evening, for they had seen it all before.

Until Liverpool figure out an alternate ending, a marriage to mid-table mediocrity awaits.