A just result despite entertainment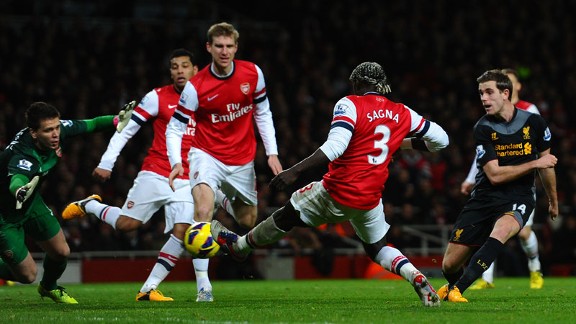 GettyImagesJordan Henderson fires home against Arsenal to hit the headlines
Once all breath has been regained, there is a lot to dissect from Liverpool's entertaining 2-2 draw with Arsenal. Choosing what to begin with is like second-guessing the roulette wheel in Vegas. Wherever the ball-bearing stops, admiration abounds.

On the black side: the magnificent, all-action display of Jordan Henderson, the herculean efforts of Jamie Carragher, the stellar work from Pepe Reina and his propensity to bat away the ball from every conceivable angle. On the red side: the temperament of Jack Wilshere, the quality that exuded from Santi Cazorla, the fantastic fury of Theo Walcott and a five-minute spell that changed the game beyond recognition.

But before the spin of the wheel comes a moment of reflection. After studying the pre-match team sheets and looking at how both sides lined up, realisation came that these two sides are not far apart. The respective back fives were quite evenly matched, so too the collective midfield and forward trios. An Arsenal victory would have taken them six points ahead of Liverpool - that would seem a gap far too generous to Arsene Wenger's side.

And so it proved over the 90 minutes. There will be much rigmarole regarding Liverpool relinquishing a two-goal lead. There will be much hand-wringing over the slow start from Arsenal, Olivier Giroud's headed goal the cold splash of water upon their faces needed. But despite all that, this was ultimately an even game between two even teams. Both had chances to win it, neither took them. Football can sometimes be that simple.

Not that such balance will help Brendan Rodgers as he rests his head and reflects. For the second time this season, his side let a two-goal lead slip away to a side above them in the Premier League. For a manager who has control tattooed on the dressing room whiteboard, it will be enough to get the ink flowing once more. Maybe it is time to tattoo it into their minds.

This was a performance like few others this season from the away side. With Arsenal's defensive line high, Liverpool were content on being an 11-man sponge, absorbing every drop of Arsenal's pressure before looking to counter them through the speed of Daniel Sturridge and trickery of Luis Suarez. This was not the death by football extolled by Rodgers, but rather, playing dead, the possum waited for its moment to strike. There were many chances to; that Liverpool only took two was their issue.

Yet that should not placate the meagre surrender of their lead. Though the theory was right, the execution sometimes lacked. Just like in the 2-2 draw with Everton, Liverpool's second goal elicited a response from the home side. Instead of Liverpool looking to retain the ball and focus on maintaining their advantage, panic set in. Balls that were previously under control began to spin away; tackles that were timed to perfection and admonished with a brutish grace now became erratic and far too forceful as Liverpool clung to the cliff face.

At Goodison in October, just two minutes separated Liverpool's second and Everton's first. At least Liverpool managed to double the waiting time against Arsenal.

But enough of the negativity. Liverpool had done well to find themselves 2-0 ahead and played the opening hour exactly how the illustrator intended. Though those who stood in the Emirates Stadium away end would no doubt disagree right now, it is far better to let a two-goal lead slip than having to come back from two goals behind. Going two goals ahead in games is a habit far better than having to find two goals from somewhere, after all.

This will feel like two points lost for Liverpool. Alas it shouldn't, for an away fixture at Arsenal would not have been scheduled for a routine three points. That Arsenal would come back into the game was an inevitability, particularly with such fine attacking talent and a midfield capable of supreme control.

Arsenal will feel the same - this was two points lost for them after granting Liverpool a two-goal initiative within the opening hour. Alas it shouldn't. That Liverpool would pressurise the home side was an inevitability. This is what happens when teams on a similar level - man-for-man - play each other. Though the journey provided many talking points, the final destination of the points being shared is not one to lament.

Rodgers, and Liverpool, will take positives back from London. Henderson was once more excellent from the apex of the midfield three, pressurising their full backs. Now he has started adding titivations of goals and assists to his play, even the most myopic will begin to see his worth. Carragher, meanwhile, appeared to depart Anfield in a time machine and return to the Emirates five years younger, his lungs suddenly doubling in capacity. More than the vitality and last-gasp blocking he provided, his unparalleled organisation is something that only premium money can buy.

There was plenty of good individual performances, particularly from Reina, and there were plenty of talking points in this breathless encounter, moreso as the game reached its conclusion. Liverpool will feel disappointed and they still await their epochal moment under Rodgers. If a moment ever felt as such, it was Henderson's goal. But once more, there is cause for optimism. Given the speed and incisiveness they counter attacked at times, the arrival of speedy, direct Brazilian forward Philippe Coutinho could be a welcome one.

Whether two points lost or one gained, the end result is the same: a draw against a side not too far away in the league table. Such is football. The gap to Arsenal remains at three, the gap to fourth remains at seven.

It may feel like little has changed, but tell that to the trio of Henderson, Carragher and Reina after their moments of magnificence in an entertaining game of admiration and frustration in North London.