Arsenal brings chance of season-defining moment
For Liverpool, there's just something about Arsenal.

In the Reds' 120-year tapestry, few clubs are so prominent. From threads of euphoria to weaves of woe, the North London club are usually on the other side of no-man's-land for the Merseyside club. There are not many moments as tormenting as Michael Thomas stealing the league title from Anfield with the last kick of the season. There are fewer minutes of madness more memorable than the final 10 in the 2001 FA Cup final, the moment when all logic departed the vicinity and brought Liverpool a step closer to three trophies in one season.

They are but two. In between the ultimate high and low stand clashes of all invention. In the past 10 years alone, both teams have been involved in emotional cup evenings: the dramatic Champions League quarterfinal of 2008; the FA Cup tie of 2007, played to the backdrop of the Kop's solidarity against the Sun; the 6-3 drubbing at Anfield, in which supersized human Julio Baptista, for one night, became simply superhuman.

But it goes even deeper than that -- just ask the three previous incumbents in the Anfield dugout, all of whom would reflect on games with Arsenal as catalytic moments of their tenure. For some, cataclysmic.

Rafael Benitez was yet to convince when defending champions Arsenal visited Anfield in November 2004, especially given that his six league victories that season came mainly against newly promoted sides and teams in the bottom half of the table. But after a few nibbles, this was the time Anfield would ultimately feast their eyes on the Spaniard who won two La Liga titles as Liverpool won 2-1.

It was an evening when his ideas and intricacies finally fluttered their plumage as Liverpool pressed high, maintained a fast tempo and passed Arsenal all around the glistening, floodlit pitch, the dew upon the grass easily mistaken for the sweat of the beleaguered opposition. This game demonstrated what Benitez wanted from his sides; having finally found the formula, they would become champions of Europe that season, beating Europe's best with carbon-copy performances.

Roy Hodgson had convinced managing director Christian Purslow and himself of his ability to become Liverpool manager in 2010, but few others. It was a feeling that still niggled when Arsenal visited Anfield on the season's opening weekend. Yet 10-man Liverpool inexplicably found themselves a goal ahead in stoppage time, before Pepe Reina's eyes found the bright August sunshine and the ball found the net via his flailing limbs. Although victory against Arsenal would not have changed a three-decade philosophy of rigid banks of four and long balls down the channels, it did set the sadomasochist, self-flagellating tone that would assume prevalence until his departure in January.

And then there was Kenny. Kenny Dalglish produced football last season enterprising enough to convince all that Liverpool were firmly in the race for Champions League football. Within a half hour of hosting Arsenal's March visit, the inside lane looked fairly tempting as Liverpool geared to make their move; by full time, they had fallen flat.

Arsenal's 2-1 win encapsulated every problem Dalglish's Liverpool faced: Their attacking football was all aesthetics, while control of the football was happily relinquished. The home side missed several chances -- including a penalty -- before allowing Arsenal to dictate the game in the second half, leaving Liverpool ruing their inability to simply place a foot on the ball and draw the sting from the game. Robin van Persie's two goals meant four points behind fourth became 10 within the space of an afternoon. Liverpool would win just four of the remaining 12 league games. Dalglish would depart his throne for the final time.

Perhaps it is for the best that Brendan Rodgers is not a man who subscribes to superstition, nor is he a man bound by the weathered pages of history. If he were, the pressure on his shoulders would be too much to withstand, for Liverpool's trip to the Emirates Stadium truly feels like a season-defining fixture.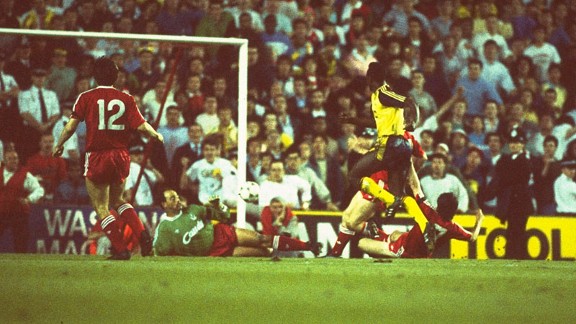 GettyImages Michael Thomas beats goalkeeper Bruce Grobbelaar to score Arsenal's second title clinching goal against Liverpool in 1989.
Liverpool may not be playing with the control of Benitez's Liverpool, nor do they display the bumbling ineptitude of Hodgson's side. If anything, the profligacy of last season is what remains in this current setup. But there are signs of Rodgers' football being implemented, in aspects both good and bad. With Arsenal's propensity for accentuating the strengths and weaknesses of Liverpool, it appears Nirvana or Armageddon awaits this evening for Rodgers' men.

For that is what comes after every game. Victories bring the optimum optimism; defeats a newfound grade of pessimism. Yet Rodgers will be aware of the statistic so readily regurgitated: He is yet to steer his side to victory over a top-10 side. He will also be aware of the necessity to respond after the embarrassing, damaging FA Cup defeat to Oldham Athletic.

Here is his opportunity for his squad to do both. Victory over Arsenal puts them level on points with the Gooners, and could position Liverpool just four points behind fourth place. Defeat leaves them six points off Arsenal and potentially 10 points from Champions League football.

It is not just about points, however -- it is about Rodgers' reign having that epochal moment where all observers, regardless of their like or dislike of the 40-year-old, can point to a performance and call it catalytic. Home wins against bottom-half sides are of utmost importance to building strong foundations, but some now expect the brickwork to start.

There is an overriding feeling that this side has been denied that through external sources: the red card of Jonjo Shelvey at home to Manchester United, and the linesman's flag up against Luis Suarez against Everton, are two split-second decisions that have left Liverpool waiting for their moment far longer than they anticipated. They have not helped their own cause, either, with Martin Skrtel's back pass against Manchester City a prime example; how Liverpool would have done with a win over the champions in August.

But there would be few better places to find that moment of magnitude than Arsenal, a team within touching distance. A win would make the inside lane look fairly tempting once more. Alas, parallels to last season begin to form. At least Robin van Persie has already proved their scourge elsewhere this season.

Liverpool will hope -- nay, must ensure -- any parallels cease once the whistle blows, however. Or else they will find themselves out of the running for Europe once more.