Odd couple of hindsight and redemption could help at Anfield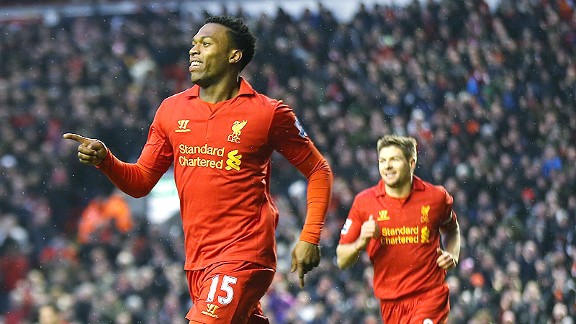 Mark Thompson/Getty ImagesRedemption is all the rage now at Anfield with Daniel Sturridge leading the charge.
Hindsight and Redemption are not the likeliest of bedfellows.

Hindsight is devious, conniving, and heinous. It is a mustachio-twirling villain with a maniacal laugh, gleefully willing to expose every minute flaw in human nature. Redemption, however, is a knight upon a majestic steed. It respects the human condition; it is willing to work tirelessly to rectify wrongs, no matter how arduous and challenging.

Hindsight has an easy life. Hindsight smugly says your suit was the wrong shade of grey five minutes after you receive the galling job rejection. Hindsight singsongs you're too fat, ugly and stupid to ever get the girl while your heart is still tearing in two. Hindsight declares your car too blue, your music too loud, your education too mediocre. Even when you're not wrong, Hindsight knew it all along.

No such conceited behaviour from Redemption. Focus less on what went wrong, try hard to find solutions. Redemption purchases new suits and cars, no matter how expensive. Redemption loses weight and works harder at college, no matter how sweat-laden it could ultimately be. Hindsight wants to follow Redemption, but leads a life far easier.

Over the past few years, Liverpool have been ruled by hindsight. Every single problem was obvious to all but the oblivious.

In hindsight, 35 million pounds was too much to spend on a striker with little experience and a style completely dissonant with the rest of the squad. In hindsight, granting a club legend a three year contract after 18 league games was at least a year too long. In hindsight, waiting until the final day of the transfer window to eke out every shrapnel of value -- and ultimately leaving a thin squad to near-starvation -- was not the best negotiation strategy.

And so it has been over the past few decades. Hindsight stood next to Gerard Houllier as he embarked on his final lap around Anfield and said El-Hadji Diouf, Salif Diao and Bruno Cheyrou were not the final three pieces of a jigsaw needing only one small push. Hindsight lapped up the tears of Steven Gerrard after he was told the pursuit of Robbie Keane would ultimately scupper his best chance to lift the Premier League title.

But hindsight is easy. After regressing from title contenders and European giants into a mid-table side re-establishing itself on the continent within four years, stating what went wrong is merely an exercise of self-flagellation. It is the reaction to these blatant realities that defines the strength of an institution.

It should come as no surprise the past few seasons have seen Liverpool simply not react at all. Every mistake -- Joe Cole, Andy Carroll, Clint Dempsey -- brought further thickness to the club's catalogue of errors. It was soon followed by a shrug of the shoulders, a roll of the eyes and an overriding feeling of melancholy as the wait for the next dissatisfaction began.

But a clap of hooves can be heard around the corridors of Anfield. Redemption may have finally found its way to Merseyside to accompany its nemesis. For the first time in a while, Liverpool -- and all associated with the football club -- appear to be learning from their mistakes. Their work in the January transfer window, though only Daniel Sturridge has signed thus far, is testament to that.

Liverpool waited and waited for Dempsey until Fulham, in the final hour, could wait no longer. Redemption came in Sturridge's signature being secured before January's transfer window had barely allowed a breeze in. The club entered north-east negotiations for Carroll, Stewart Downing and Jordan Henderson with a ham-fistful of dollars. Redemption comes in the intelligent, cautious bidding for Internazionale's Philippe Coutinho and Blackpool's Tom Ince, both identified as targets by the club, but neither eliciting the expenditure Liverpool are reminded of so readily.

- Liverpool closing in on Coutinho

Truly, redemption seems to be a narrative prevalent in Liverpool's latest chapter. After just three points from the opening five games of Brendan Rodgers' reign, they had little choice. Each win now inches towards the disastrous start being that more irrelevant. The squad itself also houses some of those redeemed: Downing, Henderson and Jose Enrique all looked to be exiting Anfield at the start of the season but have found refuge, their clenched fists after good work a sight too often lacking last season.

Even Liverpool's three major January transfer targets face their own redemption for the sins of clubs past. With three goals in three games, Sturridge has already started to fire back claims he did not have the ability or disposition to be the main man at a big club. The imminent arrival of Coutinho gives a 20-year-old Brazilian a second chance in a major European league after promise and development failed to marry in Milan. Ince, meanwhile, will hope it is second-time lucky at Anfield; few get second auditions on such stages.

Forget the buzzwords and projects. Forget the master plan and grand design. Liverpool can become a haven for those seeking redemption and hoping to revive their fledging careers, improving some beyond recognition. Henderson, Downing and Enrique are proof of what the club can do in such little time, so too the manner Sturridge has started, and the excitement Coutinho has already brought.

For a club still unsure of its identity, perhaps this is what lies ahead. After so many years of heel-kicking and self-pitying over devilish hindsight, Anfield can become somewhere hindsight helps, not hinders. No longer does it mock the clothes you wear or the food you eat, but warns against the turquoise tracksuit and double cheeseburger. No longer does it cause grief at overspending on Carroll or overconfidence on Dempsey, but simply points to Coutinho and Sturridge as the way to conduct business.

It would appear the club begins to edge nearer to the 21st century -- albeit 13 years behind most. The scouting system no longer identifies one player, but instead a type of player with specific attributes. In theory, gone are the days when missing out on a target prompted mass panic as somebody, anybody, would do. There are still things to figure out -- the hierarchy still feels unstable as it rests upon the wheels of inexperience, with help needed around managing director Ian Ayre.

But on the pitch, redemption abounds. And though it might be hindsight's unlikely bedfellow, it could begin a journey towards Liverpool finding its own lost love: success. For now, refusing to be held hostage by the tyrannous ties of told-you-sos is success enough.