Norwich brings Rodgers his finest day yet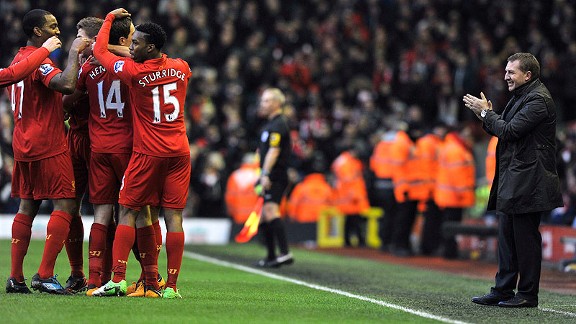 PAUL ELLIS/AFP/Getty ImagesBrendan Rodgers was happy to stand back and applaud his side's superb effort on Saturday versus Norwich.
Though those who stand on the Kop would never permit such trite tomfoolery, one question above all remains unanswered as Liverpool skipped off the Anfield turf with their biggest win of the season: can Liverpool play Norwich City every week?

Until Saturday afternoon, Brendan Rodgers' most favourable moment this season was housed at Carrow Road. Not only was it his first league win as Liverpool manager, but the 5-2 victory away to Norwich was an exercise in effrontery; he handed debuts to teenagers Andre Wisdom and Suso, as well as giving Nuri Sahin increased responsibility as the midfield's creative hub. Norwich took to the field surprised; they left it stunned.

- Davitt: These are dark times for the Canaries
- Jolly: Henderson shines in Reds' rout
- Match report: Liverpool 5-0 Norwich

A lot has changed since September for Liverpool. Wisdom began this game at right back, but Suso was not even in the match day squad; Sahin is no longer at the club whatsoever. But such is the irrationality of this undulant season of transition, every tweak and twang of the setup will be even more noticeable. There were considerable changes off the pitch too: the sun that shone down that September day, singeing shadows into the Norfolk grass, was now replaced by a wind bitterly brisk which swirled light dustings of snow through the Merseyside sky.

Some things never change however, whatever the weather. Just as in September, Liverpool were several steps ahead of Norwich from first whistle to full time, even without the platform of the first-minute Luis Suarez strike to build upon. Indeed, this only seemed to prolong the Canaries' agony as they were continuously tormented by Liverpool. The Reds swatted them about like a sadomasochistic tiger, always keeping their beleaguered opponents within reaching distance, seemingly choosing the best time to strike.

Whatever metaphor suits best, the fact is the home side boxed as clever as they have done all season. The defence rarely looked troubled. The midfield, with the addition of Jordan Henderson, looked balanced and energised once more. The trident up front all combined to create and score. It was by far the most complete performance Rodgers has overseen in his time at the club, usurping that away victory months ago.

There will always be the temptation to simply write the victory as an expected one over a side in free-fall, much like how defeats to the likes of Manchester United and Tottenham have previously been disregarded as an inevitable, steep learning curve. It is also true that the fixture list favoured Liverpool once more -- the Reds' two games against Norwich both coming against a side bereft of victories and confidence. Excitement and ebullience must marry caution and circumspection.

But herein lays the beauty of what transpired at Anfield, and something worth shouting about for Liverpool. The stadium that was once known as a bastion of invincibility had become a bastion of invisibility for too long. Far too many times in seasons past, teams came to Anfield to find their hosts almost non-existent in body and spirit. Signs still exist of course, particularly with Aston Villa's 3-1 win in December, but that increasingly looks an anomaly.

For the first time in what seems an eternity, Liverpool are beating -- nay, obliterating -- the teams they are expected to beat at Anfield. They have now already won as many league games at Anfield this season as last season, and have scored just two goals less with seven games still to play. Though true they have also conceded more than last season, 12 goals with none conceded in the past three home games points to one thing: teams who were once willing to sit back and absorb pressure must rip up the playbook and start again, for it has done little good at Anfield recently.

It helped that Rodgers had a near fully-fit squad to choose from against Norwich, with Pepe Reina the only one missing through injury. It also helped that Suarez and Daniel Sturridge started together for the first time, the feeling of freedom in having two genuine goal threats up front palpable.

Both impressed individually and collectively. Suarez provided his usual, astonishing performance; no sign of disgruntlement following the week's diving-induced tempest in a teacup, and no sign of his wild imagination with the ball being tamed. Sturridge, meanwhile, has settled into life at Liverpool far quicker than most anticipated. Three goals in three games might not tell the whole story about his pace, technique and willingness to work, but it does highlight the crux of the narrative: Liverpool have another goal-scorer.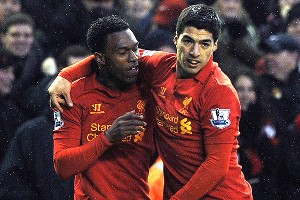 Paul Ellis/AFP/Getty ImagesThe Daniel Sturridge-Luis Suarez partnership is giving Liverpool a new dynamic in its attack.
The pair also combined well, with Stewart Downing doing an admirable job stretching play in order to open up space in the centre. There was no better indication of what Sturridge's presence brings than Liverpool's second goal. His sumptuous dummy took two defenders out of the game and allowed Suarez to run through undetected and finish well. A penny for Suarez's thoughts after spending most of the season in solitude up front -- after being guarded in Alcatraz by brutish defending, the air of freedom tastes sweet.

A penny for the thoughts of Liverpool chairman Tom Werner, too, who watched from the stands. Here before him was cast-iron evidence of what investing in the playing squad can do. Rodgers, and the players, will hope he takes note.

Another thing to take note of was the performance of Henderson, along with everybody else inside Anfield. On Werner's last visit, Liverpool won 3-0 against Wigan with the young midfielder's first-half substitution igniting the home side. Here, he ignited from the beginning, warming up all around him in sub-zero temperatures with astute passing, intelligent movement and persistent pressing.

Perhaps the 22-year-old saves his best for those who have doubted him most -- Werner is one of those who believes his wages and value have not matched the level of performance in his 18 months at the club. Henderson might make a believer of him yet. No deep knowledge of the game is required to be impressed with his finish for the opening goal, the perfect amalgamation of technique and power. If he can add that aspect to his game more often, he'll make believers of many more.

Belief -- a simple word and a simple notion, but something so hard to instill. It has been missing for a while at Anfield, but it has started to reemerge -- just ask Henderson, for one. The sign in the tunnel may still yet have meaning. Bringing on the boyish trio of Raheem Sterling, Fabio Borini and Joe Allen will only help that feeling, with the bench now possessing genuine quality as opposed to resembling a purgatory for the overpaid.

Yet the disrespectful criticism of beating Norwich being no major accomplishment will still be one resounding from the detractors. To stifle such shouting, the next step will take these impressive, winning performances into games against top 10 -- something Liverpool have not done so far this season.

With five of the next six fixtures against those who currently reside in the top half, it is a monkey they will not only want to get off their back, but consign to oblivion. But for now, with 10 goals in two games against them this season, casting Norwich there instead will have to do for now.

With Sturridge helping alleviate the burden on Suarez, and with Anfield once more becoming commonplace to annihilation, the weight of the world has lightened a bt. Plenty of space, then, for a pat on the back after a job well done against Norwich.