Allen hasn't been at his best, but it is easy to scapegoat him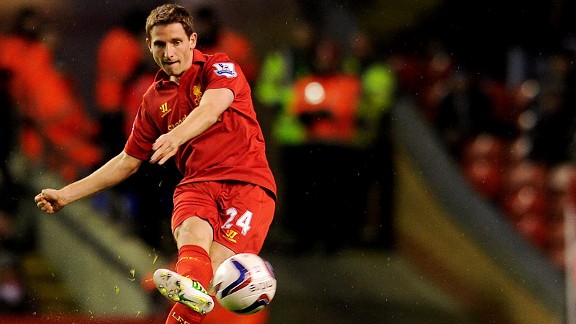 Andrew Powell/Liverpool FC/Getty ImagesJoe Allen has struggled in his first year at Anfield.
As the slight, unassuming five-foot six-inch frame of Joe Allen received the ball in the vast canyon of central midfield at Old Trafford on Sunday, the rancour was ringing; thousands of heated words fired towards him at a force fierce enough to send him hurtling towards Pepe Reina in the Liverpool goal. The Welshman placed his foot on the ball and looked around pleadingly; he would be forgiven if he searched for a hole in the ground to clamber into rather than a teammate to pass to.

He found neither. With each passing nanosecond of the ball resting at his feet with its unassured disposition, agitation from the gallery increased. Indeed, time was the only thing passing without issue; it mattered little whether Allen found a fellow teammate or not. He usually does, but that was not the dispute. His efforts simply were not good enough. The pass was too conservative or too horizontal; his movement with the ball at his feet was too slow.

Though he only joined Liverpool six months ago, midfielder Allen has already experienced life as a young player at Anfield. The fall, rise, fall, rise and fall of his stock, like the sound waves of a concerto, is a tale told wearily with furrowed brows, for it has all been witnessed many times before. The animosity and barracking at Old Trafford was not from the Manchester United supporters, but his own. In what has been a poor few months for the 22-year-old, this represented rock bottom; his worst performance of the season in a game where he needed to perform most.

- Suarez: United control media

At least he knows there is only one way to go from here. At least he knows he is not the first, nor will he be the last, to suffer from the unpalatable tandem of promising beginnings and unreasonable expectations.

How the winds of change have blown through Allen's time on Merseyside already. Heralded by some as the hybrid of Xabi Alonso and Xavi following a wondrous performance in his home debut against champions Manchester City, he is now a lesser asset than Jordan Henderson to many, the rubber-necked midfielder's name uttered perpetually, enchantingly, hopefully, as Allen suffered on Sunday.

It appears what had once been his strengths have quickly transformed into weaknesses. His ball retention -- 87 per cent of his passes found a teammate against United -- is no longer a sign of intelligence, but an unwillingness of take chances. His stationing deep in the midfield is not a sign of tactical discipline, but a lack of courage. Unfair assessments, without doubt -- but such are the hazards of losing flavour, and favour, with those who critique most.

Allen can take his own hope in the support's clamouring for Henderson. Earlier in the season, such a notion would have been met with mirth after Henderson was dangled as bait from the transfer window for Fulham during the Clint Dempsey transfer saga. He, too, was a midfielder who moved to Liverpool for big money and struggled to continue the narrative of the promising opening chapter. He, too, was thrust into a limelight for which he perhaps was not fully prepared.

That's not to say the little Welshman will follow the same path, but Anfield has hardly proven the best environment for young players brought in for big money to gain their education -- particularly with such high expectations and high transfer fees to uphold.

This is not to absolve Allen of any criticism. He has become more hesitant on the ball and less agile off it, something possibly attributed to him already playing over two-thirds of last year's total minutes with four months of the season remaining. But do not dress it up: Allen -- and manager Brendan Rodgers -- will know performances have deteriorated, not only from his time at Liverpool, but from last season's efforts at Swansea.

That only begs why Rodgers decided to select Allen in the toughest game of the season so far. Having found a midfield trio with a good balance in Steven Gerrard, Lucas and Henderson, to revert back to one that hasn't found any semblance of form was an incredulous decision, and one Allen was always going to face the fury of more than any. He had the crippling weight of expectation upon him, and played like it, leaden-booted and sluggish.

Herein lays Allen's problem. Despite arriving to much fanfare from the club hierarchy and a transfer fee which will eventually rise to 15 million pounds, he is not the essential cog that he was brought in to be. Not yet.

First, he played as a deepest-lying midfielder after Lucas' injury; a role his physique will never truly allow him to excel in. Then as Gerrard moved deeper and Lucas moved towards a football pitch once more, Allen was expected to bring something different to the midfield. Henderson found his energy, Allen was found wanting. In reality, at 22 and with just one season in the Premier League behind him, he cannot function how Lucas and Gerrard do. Not yet.

And that is the caveat that should always be added when discussing Allen: not yet. He is young, inexperienced and unfortunate enough to display the things he is capable of earlier in the season. He is also a representation of Rodgers' biggest problem of solving the midfield conundrum. Indeed, he is the manifestation of Rodgers' style of play and any grumblings over that will transpose onto the youngster.

It is harsh, but dealing with such realities can define a career, even one so youthful. With Nuri Sahin now ruled out of the equation, solutions to that midfield problem look even harder. Gerrard will remain deep, while Henderson has showed he has the energy to play at the tip of the midfield three and press from high up the pitch. Jonjo Shelvey also makes more of a visual, primitive impact, automatically catering to most fans' desire more, even if his contribution is not as appreciated by his teammates.

Allen is a good footballer, and one with enormous potential. Some need a timely reminder of that, regardless of current performances. His brain operates quicker than the feet of most. But with Gerrard looking unmovable from the midfield, he must hope he can out-energise Henderson, outscore Shelvey or outmuscle a weakened Lucas. If not, he must wait, and Rodgers must allow him to wait, until the club conjures up a midfield that shows every penny of his worth.