Gap to United is wide, but not terminal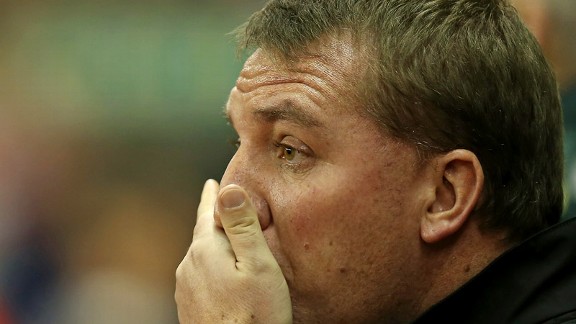 Bryn Lennon/Getty ImagesBrendan Rodgers has a long journey ahead as Liverpool manager.
For all the moments in Liverpool's recent history that are remembered -- both with reverence and ridicule -- one catalytic, cataclysmic moment in April 1999 is habitually forgotten. Perhaps selective memory abounds at Anfield.

- Bennett: Can the Reds catch up?
- Payne: Fans unite as Suarez and RVP faceoff

As a standalone result, Liverpool's 1-0 home defeat to Leicester City on that humid April evening seems fairly innocuous, even with the footnote of former Everton man Ian Marshall scoring the winner with only stoppage time remaining. But as Liverpool slumped to 10th in the Premier League table, it meant a lot more than that. Just over 36,000 -- the smallest crowd of the season -- booed the home side off, their position in English football now inherently clear, with Marshall's last-minute drive past David James the hammer to the nail of realisation.

How things had changed within 90 minutes. The Kop had begun the evening full of voice, and merriment reigned. Though what played out before them did little to stir such rumpus, nearly 1,000 miles away Juventus were taking a 2-0 lead in the Champions League semifinal against Manchester United in Turin.

The clock had not yet struck 8 p.m., yet United were 3-1 behind on aggregate. Dreams shattered and realised in tandem; United's dream of an inaugural treble edged nearer oblivion, while Liverpool's dream of tasting the tears of their hated rivals took a step closer to reality.

Yet the tide began to turn, and the pendulum swung from Anfield to Old Trafford, just as the trophies had over the previous decade. United pulled a goal back, then United were heading through on away goals, and then United were out of sight and into the Champions League final. Meanwhile, Anfield was increasingly quiet as it watched Leicester winger Steve Guppy terrorise Rigobert Song, Robbie Savage school Oyvind Leonhardsen, and centre-back pairing Phil Babb and Dominic Matteo struggle with Tony Cottee.

Though they tasted United's tears for a brief moment that night, realisation set in for Liverpool. The tears of United had also fallen, joyfully, at Barcelona, Bayern Munich and Internazionale. They were tears that had fallen, happily, for some of Europe's best players, for Ryan Giggs, Roy Keane and David Beckham.

As United's fortunes changed in Turin, so did Liverpool's. Though admittedly Robbie Fowler and Michael Owen were missing due to injury, options on the bench included Bjorn Tore Kvarme, Jean-Michel Ferri and Sean Dundee, three players jostling for position in the club's worst ever 11, the Frenchman in the middle signed simply to spy on his teammates. In 90 minutes, both home and away, a microcosm of the clichéd power shift from Merseyside to Manchester played out in its full glory.

The booing at the full-time whistle was from an erstwhile era when such behaviour was not commonplace, yet it had been the second time in four days following defeat to Aston Villa. Ignore the sign in the tunnel: This was not Anfield. Not anymore. The boos were not just for the weak surrender to a bottom-half side; it was anger, disappointment and disbelief. How did it come to this for the once-proud Liverpool? In a stadium that saw many celebrations of their own success, it now hosted premature celebrations of failure.

Liverpool would eventually finish the season seventh, while United would capture the treble, but it was on that night when the gap between Manchester United and Liverpool had never seemed so big. Not since Liverpool's promotion into the top flight in 1962 had United stood above the carcass of the Liverbird with such dominance, and that was a time when it meant much less.

Gerard Houllier took note of the mood that night against Leicester. He stood on the touchline, every passing second reinforcing confirmation that the club needed to change. That summer, players such as James, Leonhardsen, Kvarme and Paul Ince left and were replaced by some with much quality. The trio of Dietmar Hamann, Sami Hyypia and Stephane Henchoz would help the club lift the UEFA Cup just two years later.

For what purpose would Liverpool supporters want to stumble down this galling sojourn through memory lane, aside from a timely reminder of how uproariously poor their Scandinavian centre back proved to be? Perhaps because Brendan Rodgers takes his Liverpool side to Old Trafford with the gap as wide as it was 14 years ago, if not wider. Memory lane begins to look quite familiar.

In that time, both clubs have won the Champions League; both teams have provided platforms for some of the world's best to grace this country with their talent; both have exchanged victories and controversies with each other. But despite all that, United stand tall, while Liverpool barely keep standing.

Granted, United don't possess a team capable of conquering Europe with the vivre of the 1999 side, let alone a treble. Liverpool's side, also, are a better prospect than 14 years ago, their current setup bereft of laughably poor players and those more interested in Friday night rather than Saturday afternoon. Yet the gap feels big. It looks big -- 21 points big, to be precise. It has been bigger; Liverpool finished 37 points behind United last season.

But for Liverpool, this is the start of a journey once more. Rodgers will be the fifth Liverpool manager to take to the away dugout at Old Trafford since that night in 1999. Sadly for Liverpool, Sunday's opponents arrived at their destination long before the Reds even considered buying a ticket. The gap between the two clubs should not fall at the feet of Rodgers. In those 14 years, Liverpool have finished above United only once -- proof, if ever any was needed, of the virtue of keeping faith in a manager despite a rocky start.

Of Liverpool's expected starting 11, not one was born when Alex Ferguson took charge of Aberdeen in 1978, while Rodgers was just 5 years old. When Ferguson moved to Manchester in November 1986, Steven Gerrard was 6 while Luis Suarez had only just begun playing keepy-ups in his mother's womb (cheating other embryos and nibbling at the umbilical cord?). The gap between Manchester United and Liverpool, first established in 1992 and undulating ever since, is a result of months, years and decades of hard work.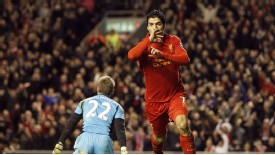 GettyImagesLuis Suarez is the calibre of player that can close the gap between Liverpool and Man United.
The hard work has only just begun for Rodgers, much like it did for Houllier 14 years ago. He does have solid, though sparse, resources to call upon. Suarez is magnificent; Pepe Reina is still a top quality goalkeeper; Glen Johnson is one of Europe's best fullbacks, while Gerrard's silent leadership and presence can be priceless. Much like the Frenchman, Rodgers also has a design in mind for the football club.

But it's early days. It means Rodgers should be able to approach Sunday's game with less pressure than is normally felt on such an occasion. Though not a tactic to implement over 38 games -- and certainly not one supporters will agree with -- the result is secondary to the performance this weekend. This is a chance for Rodgers and his Liverpool side to show, regardless of gaps between points and playing squads, they can still be competitive with United, the side seven points clear atop of the Premier League. In Houllier's first game at Old Trafford in sole charge, Liverpool should have taken three points against the treble holders, Patrik Berger's fine long-range free kick deserving to be a winner.

Parallels between two sides cannot dictate opinion too much, nor comparisons between two young managers forging their style at a big club like Ferguson and Rodgers. Football has changed a lot since the Scot first walked out at an Old Trafford ground that regarded commercialism as a dirty word and saw 80,000 seats as a castle on the clouds. Interestingly, the game against Leicester in 1999 took place in front of the Anfield Road end's reconstruction, and that little has been done to improve the stadium since shows the gap cannot rest solely with matters on the pitch.

Though Rodgers will publicly say his side are entering the game with three points in their intentions, he knows a point and a performance to show progress will be satisfactory. Few teams outscore Manchester United, which will worry a side as profligate as Liverpool. But such are the travails of a side just starting their journey.

The result Sunday will make little difference to how Rodgers' reign will ultimately rise or fall, even though three points would once more ignite belief in the squad and zero would signal Armageddon. But before that happens, a note: Within two years of that night against Leicester, Liverpool had won the UEFA Cup; within three, they were above Manchester United in the table, albeit for one season. Within six, they were champions of Europe.

There's no guarantee history will repeat, of course. In fact, just one of those achievements would be celebrated as a triumph for Rodgers, particularly in a sport with the money of Manchester City and Chelsea strewn across the landscape. Proof that from the lows can come highs, however.

Sunday will not resemble anything like a low that 1999 elicited; it could even be the high point of Rodgers' tenure. But no matter the outcome, the journey is just starting, and the gap, at some point, may start to close once more.