Suarez unfairly plays villain role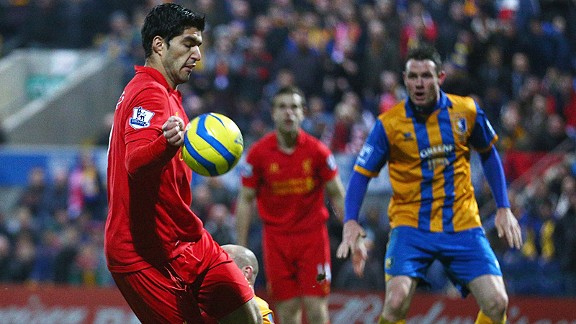 GettyImagesLuis Suarez controls the ball with his hand before scoring what proved to be Liverpool's winner at Mansfield
One thing must be made abundantly clear from the start: Luis Suarez did not cheat against Mansfield.

Granted, his hand jerked up instinctively and guided the ball towards goal. No number of slow-motion replays relay a different story. Ball-to-hand, hand-to-ball - whatever the syntax, it was handball.

- Video highlights: Mansfield Town 1-2 Liverpool

But few players would have stood with the ball on the goal-line and alerted the referee of the indiscretion; even fewer would have physically marched to the electronic scoreboard and changed the scoreline manually, as some expected him to do. That the ball hit his hand cannot be denied, but nor can his professionalism. He is there to win football matches for his club; his team-mates - and opponents - would have done the very same. They will have done before on numerous occasions, and will do again.

Not that Suarez will care for this hysterical moralising. After entering the field to a cacophony of boos, jeers and whistles from the majority of Field Mill, it is only fair he played the pantomime villain to a tee. Truly, he knows what he is. He also knows the ability he possesses, proving it with his magnificent first touch, a rare moment of class to illuminate this murky, enthralling tie. Yet few will focus on that and rather hand-wring over an accidental act, no matter how crucial is ultimately proved.

To limit thoughts to just one moment in this game is a bigger injustice than any handball. Either side of the Suarez goal was over 90 minutes of pure emotion, a sequence of events that belies the belief the FA Cup no longer matters. Manager Brendan Rodgers' team selection, containing eight full internationals, said a lot; that Mansfield would come so close to taking Liverpool back to Anfield says even more.

Liverpool's fourth round place should have been confirmed by half time. The presence of Daniel Sturridge may bring more goalscoring instinct to the Reds' front line, but it will take more than one player to quell their affliction in front of goal. But as the night wore on, so did the pitch; the passes, so rapid and routine by the away side in the opening 45 minutes, started to stick in the upturned turf. The evening became darker and colder; the floodlights shone brighter; the home support, loud throughout, became a little more intense.

Mansfield had Liverpool troubled before Suarez's goal. It is to their credit that the two-goal deficit brought determination rather than deterrence. Matt Green's strike 11 minutes from time was well-deserved, just reward for sustained pressure to Liverpool's largely inexperienced back line. Most bar Liverpool would have not begrudged Mansfield an Anfield replay. Some would argue it would have been deserved.

Rodgers will take a lot from the mire. Unique experiences for young defenders Andre Wisdom and Jack Robinson, complimented by tough workouts for midfield duo Lucas and Joe Allen. Sturridge also impressed: his acceleration was frightening at times, so too his movement off the ball; it is simple to disregard any performance against non-league opposition, but whether it's Mansfield or Manchester United, the inclination to peel from front post to far will always be there. Or, at least, Liverpool will hope it is when they travel to Old Trafford next week.

Yet despite the pomp, circumstance and humdrum drumming that Field Mill produced throughout the evening, that defining moment from Suarez with an hour played still cannot be shaken. Nor can the feeling that, no matter how lauded his wondrous ability is, he will forever be destined to be the ultimate scoundrel of football's judgemental stage.

Make no mistake, this was not on par with his handball for Uruguay against Ghana at World Cup 2010 which saw Africa's last representatives knocked out of Africa's first World Cup. That was fully intentional, this was not. But even if it had been, Suarez simply wants to win at all costs. So did Bobby Charlton for England in the World Cup 1966 semi-final against Portugal as he palmed the ball away from goal illegally; so did Everton's Phil Neville as he fisted Lucas' goalbound shot in the final minute of the Merseyside derby in 2007.

Those incidents, and many others, are ignored; the narrative lies with Suarez, particularly when he drives a stake through the heart of the the giantkiller. But every fairytale needs a villain, and if football is desperate to have one and so obsessed with typecasting for the role, they should not complain when he dominates the landscape.

Again, to limit thoughts to just one moment in this magnificent is a bigger injustice than any handball. Then again, nobody is perfect. It's just that some are, unfairly, expected to be just that.