Liverpool FC: 2012 awards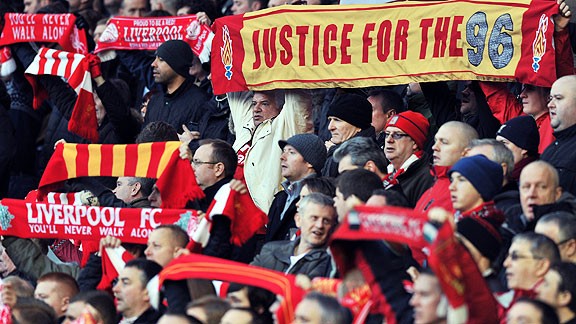 Pual Ellis/AFP/Getty ImagesJustice delivered was sweeter than any trophy for Liverpool supporters
It has been a strange year for Liverpool: 2012 brought two Cup finals, one trophy and the end of an era with the removal of Kenny Dalglish as manager. There is only one way to surmise the year just gone: awards.

Best moment: September 12 - the release of the Hillsborough Independent Report.

It was the day so many questions from others were answered. The world found out why Liverpool fans never bought the Sun, and why Liverpool fans couldn't just 'let go' as many had implored them to do.

The panel, led by Bishop of Liverpool James Jones, spent two years examining 450,000 internal documents. Within two minutes in Parliament, its main findings were summarised, its impact to be felt forever. "Today's report is black and white - the Liverpool fans were not the cause of the disaster," said Prime Minister David Cameron. "The biggest coverup in British history," claimed Michael Mansfield QC afterwards. Neither dealt in hyperbole.

It was the day the families of the victims, the survivors of the disaster and all those who have supported the fight, received answers. The truth was out. Justice will come.

Best player: Glen Johnson
Honourable mentions: Luis Suarez; Martin Skrtel

Though Suarez has scored 25 goals in 2012 and contributed immeasurably to all that has been good in Liverpool's year, it is easier to make an impact as the standout attacking threat. Johnson, however, has been consistently magnificent in a team that has struggled for magnificence and consistency. As impressive as his ability is his selflessness - he switched between left back and right back under new manager Brendan Rodgers. Shile others have taken time to adapt to the new regime, Johnson has become better with every game. He resides alongside Suarez as one of the club's biggest attacking threats, complimenting that with excellent defensive work.

Must try harder: Steven Gerrard
Honourable mentions: Pepe Reina; Jamie Carragher

It has been a strange year for Gerrard. He has been a comic-book hero for over a decade at Anfield, but all pages begin to fray after constant turning. For the first time for a long while in his Liverpool career, questions are arising over his future in the starting 11. His ability cannot be denied, yet he more than most has struggled to fit into Liverpool's new system. Others have too, but others are not 32 years old. Gerrard's craft relies on instinct, something reduced drastically in this new side. He still scored a Merseyside derby hat trick and lifted the Carling Cup, mind you.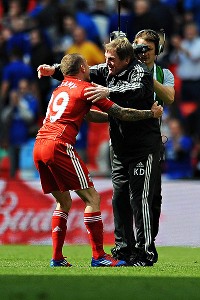 Andrew Powell/Liverpool FC/Getty ImagesBefore Kenny Dalglish was sacked as manager, he was able to enjoy the FA Cup semifinal win with Craig Bellamy, left
Best result: Liverpool 2-1 Everton (FA Cup semifinal)
Honourable mentions: Liverpool 2-1 Manchester United (FA Cup fourth round); Manchester City 0-1 Liverpool (Carling Cup semifinal first leg)

All signs pointed to an Everton win on an emotional day at Wembley. Liverpool's first-choice and second-choice goalkeepers were suspended. For the first time in years - possibly decades - the Merseyside gap was so narrow, there was little to choose between them. The feeling, after those aforementioned decades of Liverpool dominance, that Everton owed them a high-profile defeat with the world watching.

Ignore what happened for those 95 minutes; forget Nikica Jelavic's first-time finish, Luis Suarez's subterfuge following Sylvain Distin's under-hit backpass; even disregard Andy Carroll paying off a fraction of his gargantuan transfer fee with the most valuable ponytail-flick in cup history. The fact is Liverpool beat Everton in an FA Cup semifinal, the result at odds with the pre-game prediction. It was a day Dalglish's men stood tall.

Worst result: West Bromwich Albion 3-0 Liverpool
Honourable mentions: Queens Park Rangers 3-2 Liverpool; Liverpool 1-2 Wigan

Though a lot of supporters were eased by Rodgers' words in his first press conference as Liverpool manager, this result went some way to restoring the worry. The performance itself was not bad - Zoltan Gera's strike just before half-time was as undeserved as it was spectacular. But the capitulation in the second half - two penalties and a sending off - made the scoreline look disastrous. Bill Shankly's frequently cited 4-0 defeat in his first game did more harm than good.

Best goal: Sebastian Coates v QPR (March)
Honourable mentions: Suarez's third v Norwich (April); Suarez v Newcastle (November)

That Coates' goal is so easily forgotten during discussions of goal of the year for the entire Premier League is criminal, let alone the deluge of hypothetical club-specific competitions. With the ball flying through the west London sky about 12 yards out, Coates' 6-5 frame ambled towards the ball. The box was still full of red shirts, a simple header towards goal would suffice.

What followed was something to prompt the most vigorous eye-rub. His body flew through the air, like Godzilla slipping on a giant banana peel. By the time he had crashed back to earth, the Tokyo of Loftus Road shook to its very foundations. The ball had already nestled into the back of the net. A remarkable, acrobatic scissor kick to be fondly remembered by too few. For Suarez to miss out twice with his strikes against Norwich and Newcastle is tough; one possessed audacity, the other sublime technique. Coates' possessed both.

The 'it isn't that bad when you look at it from a distance' third kit of the year: Liverpool's 2012-13 purple third kit, complete with tribal tattoo sleeves.
Honourable mentions: Liverpool's 2012-13 purple third kit.

Best red card received by a goalkeeper: Doni v Blackburn (April)
Honourable mentions: Pepe Reina v Newcastle (April); in an alternate world, Brad Jones v Blackburn (April)

Best Liverpool-based member of ownership hierarchy: Ian Ayre
Honourable mentions: Ian Ayre's receptionist; the night-time security man

Worst PR campaign: Kit manufacturer Warrior's testosterone-fuelled slogans, complete with poor syntax.
Honourable mentions: Director of Communications' liaisons with fans; the futile pursuit of Clint Dempsey

Best player 'spotted' at Liverpool John Lennon airport: Falcao
Honourable mentions: Edinson Cavani; Juan Mata

The Jay Spearing 'player who has found their level in the Championship' award: Jay Spearing
Honourable mentions: David N'Gog

A bastion of invisibility award: Oussama Assaidi
Honourable mentions: Sebastian Coates; Doni

Most misinterpreted concept of 2012: Moneyball - perpetually mentioned, rarely understood.
Honourable mentions: Winning football matches consistently; Joe Cole

Worst haircut: Raul Meireles, despite leaving before 2012, remains on top due to its gregarious nature, styled by Edward Scissorhands in a tumble dryer.
Honourable mentions: Raheem Sterling, Daniel Agger

Best manager: Colin Pascoe. 100 percent record remains in tact - the best win rate of any manager, ever.
Honourable mentions: Kenny Dalglish; Brendan Rodgers