Strange happenings a fitting end to a strange year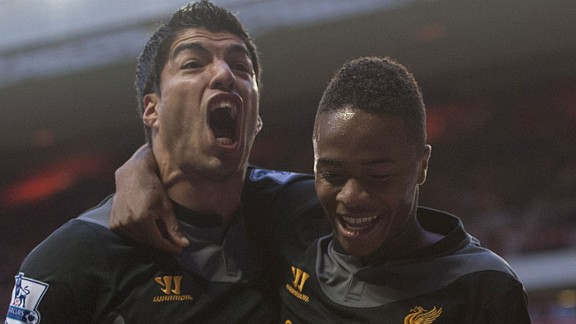 PA PhotosLuis Suarez celebrates with Raheem Sterling
After the year that was and forever will be, Liverpool were always going to finish it in this manner: a day to defy belief. It is almost as if an omniscient presence deemed this would be the final scene of Liverpool's 2012 - a fitting finale to all that has come before it. A surreal year deserves a surreal ending. There was no rhyme or reason to their 3-0 win against Queens Park Rangers, with seemingly half of the squad suffering from a sickness bug. The illness to Brendan Rodgers, swapping the dugout for a sickbed, merely added to the nonsensical series of events.

Take nothing from Liverpool, the three-goal half time lead was a deserved one after their best 45 minutes of the season. Luis Suarez was at his mind-bending best, the support cast offering ample platform for the Uruguayan to perform. But that it came with Rodgers watching from afar and just four days after the abomination at the Britannia seems somehow apt. When Liverpool seem in trouble, they produce something special. When they appear to be in control of their own destiny, they manage to toss it aside nonchalantly.

This was a year that saw two cup finals, two managers, too many moments of regret and disappointment; a year where the lows were matched only by the occasional high. So it proved at Loftus Road - the final peak in an undulating, snaking year.

There was enough for Liverpool to feel positive about and enough to make supporters believe 2013 will yield something more than 2012. Strange, perhaps, given 2012 saw three trips to Wembley, two of them for cup finals. But most at the club will just want normality, consistency and evidence of progress. Many at the club had to do some soul searching this summer with the sacking of Kenny Dalglish and the searchlight beam was as bright and wide-ranging as the moon. It is now time to accept what decisions were made, the sword readily available to fall upon.

This result was the perfect way to turn the page on the strangest chapter of recent history. Now for the blank page ahead. 2013 could promise much, though a lot depends on Suarez. His performance at QPR neatly surmised his importance to the team. Clint Hill still rests on a sofa in west London detangling his limbs after 90 minutes of torture and Ryan Nelsen lays on a cold, unforgiving floor, wide-eyed, haunted by what he experienced. Suarez's devilish ways were not reserved for the centre backs alone. The entire QPR side made efforts to stop his slaloming, though the entire side failed.

As Rodgers watched from afar, each passing minute will have made his temperament a little more affable. He would have seen things he already knew; Suarez's brilliance is no new phenomenon. But there were other things to take with him into 2013, most notably Jordan Henderson. His performance was good, until news reached of sickness-induced sleep deprivation on Saturday night. Good then became excellent, his work off the ball even more incredible given his illness. With the ball, he looked comfortable at the apex of the midfield, linking well with Suarez, Raheem Sterling and Stewart Downing.

Sometimes things become clearer after taking a step back. Liverpool should hope Rodgers lay in bed as far from the television as possible. For months the midfield has been an issue, the players at his disposal in no way mirroring its performance. Any thought of selling Henderson in January should cease immediately, for his passing and ability to press is something sorely lacking from the midfield. The 22-year-old had little in front of him from the opposition, of course, but after spending the majority of his Anfield career as a scapegoat, out-of-favour and out-of-position, maybe he deserves that change in luck.

Rodgers will be happy with how well the entire side coped in his absence, Henderson included. Some sage will no doubt claim Colin Pascoe should be in line for Rodgers' job after the comprehensive win, though the work of the Welshman should not go unnoticed regardless. Though Pascoe insisted the preparation was done before Rodgers took ill, the effect on the squad can still be telling. However, the transition was seamless.

It helped that QPR were abject, of course, the gulf in quality fully realised when Harry Redknapp waved the human white flag of Shaun Derry at half-time. It is impossible to read too much into the victory, for Liverpool have been so inconsistent. As a stand-alone result however, it was a good one in difficult circumstances made far easier by a fine start. It was a good team performance littered with fine individual ones.

Rodgers will hope for more of that, more consistently, in 2013.