Reds must avoid repeat of last year's Loftus Road drama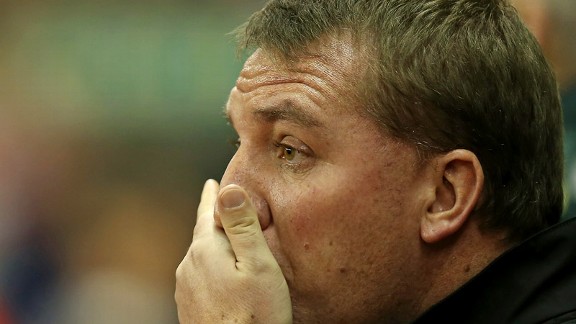 Bryn Lennon/Getty ImagesBrendan Rodgers has a long journey ahead as Liverpool manager.
The heartbroken do not want reminders of their lost love; the accused would not return to the scene of a crime. Some of Liverpool's squad would be forgiven for refusing to board the bus to Loftus Road ahead of Sunday's visit to Queens Park Rangers.

- Rodgers warns underperforming stars
- Liverpool interested in Butland

Mere numbers cannot fully narrate the sorry tale of last season's 3-2 defeat to QPR, though they do offer some aid: 2-0 up with 14 minutes remaining, a goal ahead with just four to play. Enter the meretricious head of Djibril Cisse to guide the ball beyond Pepe Reina; enter the cerebral sanguinity of Jamie Mackie to capitalise on an error by Jose Enrique. Exeunt, eventually, Kenny Dalglish.

This result is ultimately bound to the cruel mistress of hindsight. It originally looked like a freak result, a stirring comeback from a relegation-threatened side, but as the weeks progress, it became just another tick on the checklist. After Steven Gerrard inspired Liverpool to a 3-0 victory over Everton and Luis Suarez helped his side into the FA Cup semi-finals, an intelligent, controlled win at QPR would have been the perfect week. Momentum would have firmly rested alongside Dalglish's men.

Instead, those final 14 minutes spread doubt among the hierarchy, squad and supporters. Thoughts regurgitated the horror of losing a game that should have been won many times over against Arsenal. Liverpool were supposed to be the side who initiated comebacks, not suffer the ignominy of them. In the next game, they would lose to Wigan; then Newcastle; then, at the end of the season, West Bromwich Albion, Fulham and Swansea.

To pinpoint the QPR capitulation as the catalyst to Dalglish's dismissal would be wrong. In a season so strange, disregard everything, trust nothing. But with that result, something changed. The veil surrounding Liverpool lifted, though in reality it was barely there anyway. This was no longer the side that came close to the Premier League title in 2009; this was not even the side so swashbuckling under Dalglish the season previous, their cavalier play matched by their mentality. This Liverpool side was fragile, mentally weak and susceptible to catastrophe. Those imperfections can be a great leveller, regardless of talent.

And so they return this season, with similar criticisms directed towards them, the likes of Gerrard, Suarez, Martin Skrtel and Jose Enrique set to eyeball their slovenly past. It would be hyperbole to suggest this game could have a similar impact on Brendan Rodgers as it did Dalglish -- the man in the dugout is the true choice of those in charge, for starters. His job security should not, and is not, under question.

But Rodgers' side are one that is struggling for an identity, both on and off the pitch. Flashes of things falling into place are quickly followed by a deadening reality of the task ahead. Euphoria, eureka, elegy. The consistent inconsistencies neatly surmised by the occupation of 10th place.

Time for Liverpool to solve their identity crisis. Defeat at Loftus Road would result in three defeats from four games, their inability to sustain the momentum of a comfortable 4-0 win over Fulham indicative of all that has been wrong this season. Victory, however, could hint at a different Liverpool from previous years -- 16 points from a possible 27 is no better than what was expected at the start of their kinder run of fixtures. But three points at a side recently invigorated by Harry Redknapp, a man-manager who will have his players armed with scalpels, desperate to take the heads of Liverpool, would show a stronger side so sorely lacking at times.

Not that a win, draw or defeat guarantees anything, anyway. Analysis on the whole season so far is fair; a game-by-game account feels nothing but futile. Such is the modern Liverpool. Bravery at Upton Park, Stamford Bridge and Goodison Park is mirrored by meagre surrender against Aston Villa and Stoke City. But maybe this is just how is has to be for now. Though temptation resides in football to accentuate the positives and loudly lament the negatives, the reality is a young, inexperienced manager at a club with crippling expectations. Good results mean the world to supporters, bad results signal the end of it.

But not even the players can avoid that emotional see-saw at times. That is perhaps Rodgers' biggest task in regaining the Liverpool of old. It may even be his biggest chance, with his talkative, paternal management style making a difference to a number of players this season. Liverpool's players will have felt like flies bouncing off a bouncy castle made of glass on Boxing Night as they ran into Stoke; Rodgers must convince them it was just another blip, and a recoverable one too. That, as much as any changes to the team or tactical tweaks, is essential.

When Mackie wheeled away last March -- the ignition to QPR's survival hopes -- the faces on the opposition painted the perfect picture. How cruel fate can conspire against them; how poor their concentration and defending can prove to be. They won't want a repeat of that this year in a game once again under the floodlights with a relatively new manager wanting his season-defining moment.

This time, it could be Liverpool's season-defining moment, though probably not in this whirlwind season of inconsistency. No matter -- three points would suffice while they figure out when that is coming, if at all.