Liverpool outfought and outplayed at the Britannia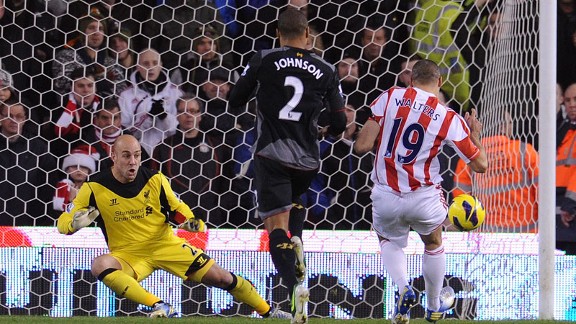 GettyImagesJonathan Walters bagged a brace for Stoke as they came from behind to win against Liverpool

There have been many excuses tossed around regarding Liverpool's season so far and their propensity to disappoint at times when confidence is at a peak: the transfer market; injuries; adaptation; transition. But there can be no excuse for being unprepared for a trip to Stoke City's Britannia Stadium.

Despite a very hot start, Liverpool finished cold, reaching a sub-zero temperature by the time Howard Webb blew his whistle at full time. Granted, knowledge is no guarantee of application; it is one thing to know, but another to do. It is games like this that the former is worryingly becoming far more regular than the latter.

To be outfought against Stoke is expected, no matter the team. All the huff and puff in a pair of mammoth lungs is still no match for a squad who have been trained to win any physical war. Liverpool are not a big side, nor are they particularly strong. Yet that should perhaps make things easier. There is no dilemma in how to approach Stoke. In a game against those built like Trojans, the Trojan Horse can undo them; subterfuge, not strength, is required.

So, to be outfought against Stoke is expected; to be outplayed, however, is unacceptable. And that's what Liverpool were - outfought, outplayed, outperformed. Even worse, it happened after Liverpool took a second-minute lead, their first penalty in 31 matches.

From that moment, Liverpool were supposed to reside in their own dominion. A goal ahead early on against a side with little guile - a side that had only scored 15 league goals this season - is a scenario Brendan Rodgers would salivate over. The premise of Liverpool's style is to keep the ball and not allow the opposition to create chances; here, against a side who usually create little from open play, Liverpool would surely build.

But there has been little building when looking at Liverpool's season as a whole. One step forward, two steps back; two steps forward, one back, one to the side. Much like the potential momentum-shifting victory at West Ham was followed by an abject home performance against Aston Villa, the 4-0 win over Fulham and early penalty at Stoke evaporated quickly and lived, forlornly, with the dimming December stars. To allow Stoke back into the game within three minutes is careless; to be 2-1 behind within 12 minutes is unforgiveable and potentially irrecoverable. So it proved.

The blame game is already under way. Rodgers was quick to point at his defence, saying all three goals were the result of poor rear-guard work. Jon Walters joins Carlton Cole and Christian Benteke as big, strong forwards who have given Daniel Agger and Martin Skrtel difficulties, while erstwhile marshal Jamie Carragher and young Sebastian Coates await their chance. At what point that comes remains undetermined.

There can be no denying Skrtel and Agger are the two best centre backs at the club, but clearly struggle against bigger defenders. Once the commitment was made not to outfight Stoke, those two had fresh responsibility heaped upon their inked frames - to retain the ball at the back, sending the likes of Walters, Kenwyne Jones and Michael Kightly on a never-ending jaunt around the Britannia. Instead, they gave the ball away due to a combination of poor passing and team-mates failing to move into space. The disjointedness filtered through up the pitch.

To blame Skrtel and Agger alone for the defeat is highly unfair; for once, Rodgers' idea of collective responsibility comes to fruition. Nobody had a right to be content with their performance, manager included.

Attempting to outfight Stoke was clearly not an option, with the likes of Coates and Carragher on the bench, and Andre Wisdom not even making the match day squad. His sole focus, then, should have been outplaying the home side. Rodgers is someone who relishes the small details; perhaps he missed a few bigger ones here. Rarely did Stoke's full backs, slow and cumbersome, get approached with any sort of force; rarely did Liverpool's midfield exhibit any semblance of tempo, engulfing Steven N'Zonzi and Glenn Whelan in the middle of the pitch, rendering them obsolete. Instead, it was N'Zonzi who picked out passes at will, while Matthew Etherington and Kightly gave Liverpool's full backs a torrid time.

Some will write off the Stoke result as another bad night at the Britannia. To an extent, that is fair. Only the magic dust on Suarez's boots in the successful Carling Cup run of 2011-12 has seen Liverpool win at Stoke, and it was not the first time Liverpool have left there feeling humbled. But rarely has it been so comprehensive; rarely have issues so startlingly obvious been addressed so little before the game. Their strengths and weaknesses are evident, with manager Tony Pulis accentuating the former and working to mask the latter.

Perhaps Rodgers can take stock of that. Too often this season, his squad's strengths are not amplified, nor are their weaknesses concealed. It won't fully happen until he brings in better players and fills out his squad with those who have the ability to travel to Stoke and not be outplayed by limited, albeit dedicated, footballers. It is something he deserves time, patience and money to achieve - Pulis was given that by the Stoke hierarchy, its results clear to see. Though some feel their football is unsavoury, it is a legitimate way to play the game and his vision being played out so effectively on such a big stage deserves applause; applause and a conscious note of how these things happen.

But Rodgers has to play ball too. For all the correct callings for time, patience and money, he must show he is learning. Pragmatism is not a dirty word; that and idealism can make for harmonious bed-fellows in this league. There are no questions regarding how he wants his team to play, for it could be very successful; the questions come when it Stoke seem to play it just as well. The answer could lie in the number of absent-minded or instinctive players in the squad, two attributes that do not naturally suit a methodical style. Rodgers' job, ultimately, is to figure that out.

It had all started so well for Liverpool, too. The supporters made good on their promise of having a party when Suarez wins a penalty, red smoke filling the away end, gleeful dancing filling the aisles. The next party might be reserved for when they enjoy a league win at Stoke, or perhaps when their side looks to have married strength and stratagem together successfully. The party hats may be in the closet for some time.