Zenit draw tough, but not impossible for Liverpool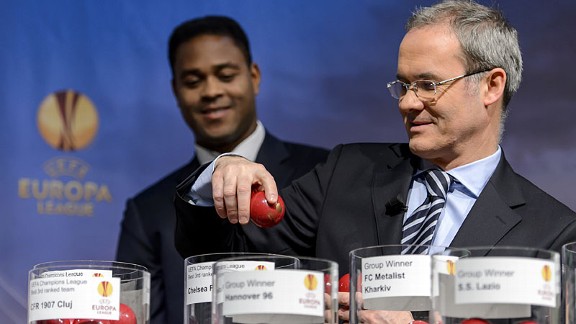 GettyImagesPatrick Kluivert (background) drew Zenit out of the hat
"A nice match," said Patrick Kluivert as he confirmed Liverpool's last 32 fixture against Russian side Zenit St. Petersburg. It is doubtful Brendan Rodgers will agree. Unlike fellow Russians Anzhi Makhachkala - who Liverpool faced in the group stages - there is little enigma about Zenit.

- Europa League draw: Liverpool land Zenit

Their UEFA Cup campaign of 2008 ensured that. Before that, there was little known about them, much like the Anzhi class of 2012; a relic of a time gone by, when teams in Eastern Europe were shrouded in mystery. Players such as Viktor Fayzulin, Igor Denisov, Konstantin Zyryanov and Andrei Arshavin were a joy to watch - not just because of the grace they played with, but the surprise they elicited, relative unknowns successfully taking on some of Europe's finest teams.

Five years later, Zenit are one of the most well-known teams in Europe, their squad bountiful with good players capable of playing for most of the top sides on the continent. Their summer pursuit of forward Hulk and Belgian midfielder Axel Witsel was the perfect summation of how highly they are regarded, as well as how little expenditure matters. The pair were signed for approximately £64 million, their wages enough to start yet another revolution.

Though Hulk and Witsel will be the names Liverpool will fear, everywhere on the pitch provides danger. The late runs from deep of Roman Shirokov will need to be shackled by Lucas Leiva and Joe Allen; Aleksandr Kerzhakov and Danny will be tough to contain alongside Hulk if both start in the front three.

Luis Suarez cannot be left out in the cold either with the strong defence Zenit possess: Bruno Alves, the modern-day Portuguese man-of-war, allows little to pass. Zenit have conceded just over a goal in every game.

That is not to say Zenit have no weaknesses. Indeed, their biggest strength is arguably their weakness. It is an impressive squad but one consumed with egotism, a number of players actively refusing to pass to star signing Hulk at the start of his time there. This is a team of individuals, albeit fine ones, and stark contrast to the 'group' Rodgers promotes so heartily to the media. That Zenit currently reside third in the Russian Premier League after 19 games, five points off leaders Anzhi with 11 games to play, highlights an inharmonious side.

There is also the conundrum of the winter break. Zenit will be two months into it when the tie is played. The instinctive reaction is one of positivity for Liverpool, with Zenit's last competitive match months ago, their players' minds kicking a beach ball in must warmer climes. Yet Liverpool's squad will undoubtedly be more tired; regardless of January purchases, Liverpool started the season on the second day of August, their thin squad stretched like rice paper in a torture rack. Liverpool will have more momentum, but possibly more injuries to contend with.

There is no doubt Zenit are favourites to advance into the last 16, but it is a draw Liverpool should embrace. For the supporters, it is an opportunity to be present for a true European tie, some of Europe's most underrated players testing their team under the burning Anfield floodlights. For Rodgers, it is a test for his young squad. A test of their mental resolve playing against good players in a high-pressure environment; a test for himself sitting in the opposite dugout to Spalletti, one of Europe's more astute tacticians, the man who brought the concept of not playing a striker to mainstream Europe before the words false nine were ever uttered.

For this young Liverpool manager and his young squad, all European experience is vital. They will learn far more against Zenit than they would have against BATE Borisov, for example, irrespective of the result. The club won't think about going through just yet, nor should they given the opposition - but with Basel or Dnipro waiting in the last 16, the carrot that dangles is a tasty one, a place in the quarter-finals tough but not impossible.