Liverpool must beware of window watching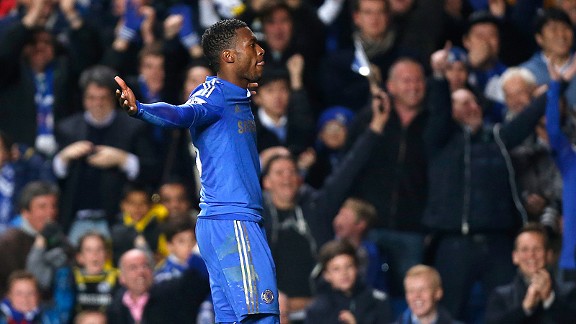 AP Photo/Matt DunhamLiverpool's £12m purchase of Daniel Sturridge is all but finalised
Most involved with Liverpool Football Club - owners, manager, supporters - have spent the past four months staring out of the (transfer) window. They sit there motionless, looking out longingly, intensely, indefinitely. Their unfaltering, unblinking eyes scan what rests outside, like a widow waiting for her husband to return from war. Nothing to be done.

- Liverpool to complete Sturridge deal

But there is a stark refusal to avert gazes amid paranoia that even a moment's glimpse elsewhere will miss some sort of activity on this barren land. Sometimes, you can focus too hard. Preoccupation on one detail leads to missing big things elsewhere.

For Liverpool, every misdemeanour this season has been caveated with the window they stare towards, waiting for the nanosecond it opens. Every ailment will be cured by January 1 and all that it brings. Once that transfer window opens, the land is no longer barren; footballers will appear synchronically. A brisk wave of a magic wand to propel Liverpool up the Premier League table.

With each missed opportunity on the pitch, the reassuring January transfer window shines light, for a goalscorer is all that is needed. When Raheem Sterling puffs out his cheeks, his energy slowly draining after another winding run, the Kop tell him to puff no more as help out wide will arrive imminently.

It is something Liverpool have told themselves since the Arsenal game on September 2. Two days previous, fate and fickleness conspired they would not make another attacking addition to the squad. As Santi Cazorla burst through in the second half, drilling the ball under Pepe Reina to make it 2-0, Luis Suarez looked at Steven Gerrard; Gerrard looked at Brendan Rodgers; Rodgers looked at the Kop. They all turned to stare out of the window, the countdown to January beginning in earnest.

With each setback comes the mantra, mainly from supporters: all the problems can be eradicated in January. A goalscorer and a wide player is all that's required.

But the reality may be slightly different. Identifying a problem and solving it are not necessarily bedfellows. Sometimes, staring at something so obvious for so long starts playing tricks with your eyes. Rodgers has already rubbed his, and sounded the warning.

"There is no doubt we will get reinforcements in and there is no doubt that we will get the backing, but it will come down to two things - the availability and affordability of players," Rodgers told reporters. "All our problems were never going to be solved in this window because the January window is one of the least productive.

"We will look to solve some of our problems in January if we can, and then we will look to revisit it in the summer knowing that then we will be in a much better place than we were last summer."

Rodgers might be right to be cautious, though his claim of January being poor for purchases is belied by the presence of Daniel Agger, Martin Skrtel and Luis Suarez in his team. Nevertheless, he is at a club who have a history of spectacularly missing the obvious, their transfer policy at times more akin to dispersed dandelion seeds hurtling towards a dartboard. Of the 32 players signed since 2008, many would be pressed hard arguing more than a quarter have proven successful.

In 2009, Alberto Aquilani replaced Xabi Alonso. Immaterial to opinion on the Italian's ability, it was recklessness to replace an important cog in a side so close to title-winning with one that was not ready to fully function. A season later, Christian Poulsen replaced Javier Mascherano, football's equivalent of turning wine into tap-water.

Kenny Dalglish's time at Anfield would also ultimately end because of poor decisions in the transfer market in the summer of 2011, irrespective of whether blame ultimately lies with him or supposed facilitator Damien Comolli. Liverpool played their best football towards the climax of the 2010-11 season, their 4-2-2-2 formation relying on quick-thinking, skilful players with an inclination for movement and goals. Instead of upgrading key positions of the set-up, Stewart Downing and Jordan Henderson arrived; Downing was brought in to provide Andy Carroll with more chances, while Henderson mainly played on the right-hand side of a rigid 4-4-2.

With Thomas Ince and Daniel Sturridge seemingly imminent, there is no denying the club are trying to address the well-documented susceptibilities of the squad, both with reputations as goal threats from wide.

But the pursuit of the duo has been met with lukewarm reactions by most: Ince was sold by the club 18 months ago albeit under different management, while Sturridge comes with notoriety, his potential matched only by his feeling of entitlement and self-worth.

When you stare at a window to nothing for months, imaginations run wild. Sturridge and Ince are not the sort of signings the supporters conjured in their minds; the newly-installed scouting team may be lacking some imagination of their own, travelling no further than a two-hour train journey for £18 million. There is also a nagging feeling acquisitions have to fit a certain profile, when the only one that should apply is the ability to improve Liverpool's squad, irrespective of age, nationality or resale value.

Ince and Sturridge will improve the squad and provide Rodgers with more options; the Chelsea man, in particular, could provide something different in the first 11 if he translates his belief into tangible performance.

But neither will be the difference most coveted in September; neither will bring the fortune that some have been dependant on since. It was said previously FSG must back Rodgers In January to see the club progress, and that remains true. The duo's presence should bring more goals and will rest weary legs, two aspects the side lack at the moment.

But while all at Liverpool placed their faith in watching the world out of the transfer window, the glass steamed up. Signing two potential goal threats will not complete this squad. The left back position still needs addressing, as does the midfield balance despite investment in the summer. Just as important is something that cannot be bought: a more consistent mentality. It is a squad whose mental strength flitters between that of mastodons and mice, the bravery at Stamford Bridge and Goodison Park in stark contrast to performances like Saturday's against Aston Villa.

Money cannot buy that - that is down to the work of Rodgers and his squad. Though the transfer window is significant, there's more to the task ahead; as much as Liverpool need more goals, it would be wrong to think everything is solved with two players, regardless of their profile. What's more, it would be wrong to expect that - owners, manager, supporters alike.