Four the magic number for Liverpool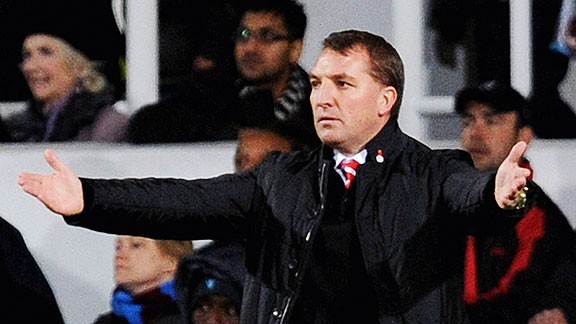 John Powell/Liverpool FC/Getty ImagesBrendan Rodgers might coax a fourth-place finish out of Liverpool
There is not a lot Brendan Rodgers can do when it comes to digesting Liverpool's 3-2 victory at West Ham. It is rare a match succumbs so forcefully to the wicked minds of the Fates. So many times the script was torn up, leaving it strewn across the Upton Park pitch like ticker-tape blowing in the whirlwind that played out around them.

Liverpool controlled well until Jose Enrique hobbled off through injury, their defence suddenly transforming from steady to steadfastly porous; then, Mohamed Diame clutched his hamstring, and with it, relinquished West Ham's grip on the contest.

By the time Jonjo Shelvey and James Collins combined to put Liverpool 3-2 ahead, the final, definitive re-write had taken many turns.

This was almost an entirely new experience for Rodgers, a post-match team-talk not tinged with disappointment or resentment. Instead, relief. Relief at his side not being near their best, but still three points won away to an in-form, ingenuous West Ham. Sam Allardyce's side are no insidious outfit, but that makes them no easier to play against; to approach the last 15 minutes a goal down and still win is the point Rodgers will dwell upon this week.

He will have little other option. Such was the bizarre nature of the 90 minutes, he can take little from it; what little he can will hardly be new.

Glen Johnson continues to be the country's best fullback, Lucas Leiva edges nearer to full fitness, Joe Allen needs some form of respite and the conspicuous Luis Suarez is the side's best creative outlet. Tick, tick, tick, tick; a checklist familiar to regular viewers of Liverpool. Only the emergence of Jordan Henderson from the bench will give the manager a fresher outlook, his arrival providing his side an attacking impetus lacking previously.

Though true he had an easier task without the fallen Diame on the pitch, a mentality so alien with the 22-year-old finally landed. His willingness to take responsibility and make incisive movements towards goal showed a different aspect to Henderson's game; it is one which Rodgers would be advised to coax from him more regularly.

The art of not playing well and winning is an underrated one, far more enjoyable than playing well and failing to claim victory. The latter has been a staple of Liverpool's season. But the noises of the performance being poor at Upton Park niggle at the ear. Though not vintage, the first 20 minutes had an air of relentless aggression; lateral and vertical movement approached a fraught West Ham defence with intent, a blinding red sandstorm engulfing those on the pitch. What came afterwards, prompted by Enrique's injury, will give Rodgers things to work upon; but for the opening spell, his side looked fully functioning, someone always ready to receive the ball, someone always willing to create space without.

There is a feeling starting to grow within the club this season may not be the disastrous, tear-infused blamange the doom-mongers were concocting. Rodgers will do well to tell that to the world - including his squad.

More than points won on Sunday, the points of order need re-iterating: the victory gave Liverpool back-to-back wins for the first time in a year, while the comeback heralded their first win from behind away from home since August 2009, when Bolton let slip a 2-1 lead to lose 3-2.

Nearer to the present, it's now three consecutive wins and just three defeats in 15 in all competitions; just as pertinently, fringe players previously thought to be crumped atop the scrapheap have suddenly found form.

Momentum is a word that will be oft-repeated between now and the New Year now the pendulum finally seems to be swinging Liverpool's way. The one-game-at-a-time mantra from the club betrays human inhibition to look forward and feel excited, optimistic, happy. With two home games against Aston Villa and Fulham, followed by two away days at Stoke and QPR, excitement, optimism and happiness abounds. It has been a while since such emotions resided at Anfield.

It is with good reason, though. Despite the paraphernalia and propaganda, the Premier League is not the magical, fantastical beans-to-beanstalk product it is supposed to be. Aside from the two Manchester clubs and Chelsea, this is a poor league. Six points separate 10 teams, the trademark 'race for fourth' becoming a destruction derby.

Teams in that bulging pack include an Arsenal side missing their 30-goal striker, a Tottenham team still adapting to life under their assiduous young manager, and an Everton side untested by any major setback so far this season.

Liverpool are not without their faults too, of course, but the discourse this is a poor side should have now evaporated. They sit just four points from fourth; indeed four, not three, appears to be the magic number. Such is the tight nature of the top half, four wins from four could even see Liverpool enter the New Year in fourth - unthinkable after an energy-sapping defeat to Manchester United in September, leaving them with just two points from five games.

A word of caution is necessary. Pride comes before a fall, so too overconfidence. There is nothing to suggest their place rests with Tottenham or Arsenal more than Stoke or Swansea. Teams will inevitably drop from the pack, but Liverpool have no divine right to not be amongst them. They must continue to develop the good and eradicate the bad; only then will they have a chance at qualification for Europe next season.

But what if Liverpool turn the year in the top four? Will Fenway Sports Group see that as Rodgers working miracles and give him more water to turn into wine, or instead hand him some vintage rioja to help sustain momentum? If all goes to plan in the next four games, then not since the summer of 2011 will Liverpool have such a glaring opportunity to capitalise on such a platform. Maybe the rebuilding process will not take as long as expected; maybe the foundations, somehow, shake a little less vigorously.

That summer of 2011 was a chance squandered, and sixth became eighth. Once bitten, twice shy might be the cry from some. But if Liverpool take 10 or 12 points in the next four games, Rodgers should be allowed a bite himself. After seemingly installing a fighting spirit into this squad and reminding them of the beautiful habit of winning ugly, it is the least he deserves.