In defence of the Europa League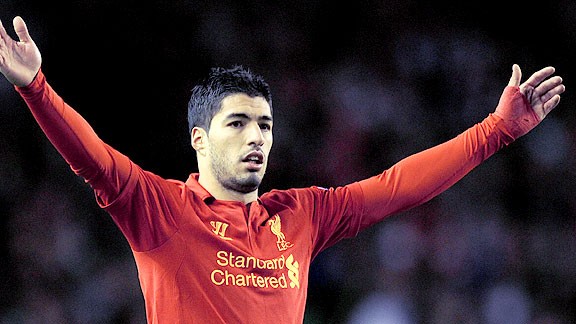 Chris Brunskill/Getty ImagesStriker Luis Suarez is suspended for this weekend's Premier League tilt so most expect Liverpool manager Brendan Rodgers to play the Uruguayan in Thursday night's key Europa League clash versus Udinese.
Irrespective of instinct or mischief, Luis Suarez's handball against Southampton on Saturday solved one dilemma for Brendan Rodgers.

First, the problem: Steven Gerrard's pull-back evaded Suarez's head, but not his hand. The ball still sailed over, with Suarez falling into the net instead. Referee Michael Oliver strode towards the entangled Uruguayan, his yellow card clenched between finger and thumb, flashing it in the darkening sky and suspending Suarez from Liverpool's game against West Ham on Sunday, leaving the side without a recognised striker.

Anfield's reaction ranged from apathy to disappointment. It was hard to get angry at a player so masterful, at an event so inevitable; like a tortoise who shuttles along an airport runway with a cross upon its shell, the crunch was inevitable, a matter of when not if.

Now, the solution: with Suarez unavailable at Upton Park, participation in the Europa League against Udinese is essentially guaranteed. Some would argue it is essential anyway. A draw may be sufficient for Liverpool, but only a victory safeguards their passage into the last 32 of the competition. No longer will Rodgers toss and turn at night weighing up whether to unleash Suarez in Italy, London or both. Suarez's stray hand forces Rodgers' own.

Perhaps there should be no quandary regardless. For all the disinterest and borderline disdain the Europa League garners from some, it has its uses even for the thinnest of squads. Liverpool's currently feels as if it is made of sodden rice paper, an unstable platform on which to build upon, but a platform nonetheless. For a club looking to rebuild its reputation and set the foundations of a dynasty, every building block should be cemented together.

Despite the energy-sapping trips, Thursday-to-Sunday travails and general malaise, the Europa League is that building block for Liverpool. Neither their fans, nor staff, can regard it as a second-rate competition for now -- particularly with the knockout stages reachable.

True, qualification brings more fixtures and further stretching of a see-through squad, but it also comes with positives. Ask players such as Steven Gerrard, Jamie Carragher, Sami Hyypia and Dietmar Hamann, Uefa Cup winners in 2001, the foursome cradled the European Cup just four years later. The circumstances were largely the same; the confetti dragging beneath their leaden boots, flashbulbs winking at their sweat-stained faces, cramps persisting from lungs downwards to tinge their smiles with painful grimaces. But if not for the rollercoaster victory over Alaves, perhaps Milan weather Liverpool's second-half, six-minute whirlwind; if not for professionalism against Roma, Porto and Barcelona in 2001, the trio of Leverkusen, Juventus and Chelsea might have feasted on naivety in 2005. As a banner so prominent during that Uefa Cup journey read: what we achieve in life, echoes in eternity. How fateful that proved to be.

Liverpool's squad is inexperienced, especially in European competition. A two-legged knockout affair is a more arduous beast still, every wound redeemable but simultaneously doubly damaging. It is 180 minutes of sporting theatre, a 15-round boxing match, the ultimate test in tactical nous and tenaciousness.

If Liverpool go through, those nights -- so imbedded in the tapestry of the football club, so important to its psyche -- could return. For too long Anfield has been denied some of the world's best playing their football on its stage of marvel; progression could see Atletico Madrid, Internazionale, Lyon and others return. How Raheem Sterling, Suso, Joe Allen and Jonjo Shelvey will learn in such an intense, pressurised environment; how we will learn more of them too, knockout football stripping them bare and revealing what lies beneath.

It can also add layers of character as well, the famous nights under the Anfield floodlights transforming players into extra-terrestrial beings, etching their legacy with a swift stroke of their foot. Sterling could soon discover how running towards a muted, seated Kop differs to the mass of vibrancy seen in those games against Roma, Barcelona, Juventus and Chelsea. Shelvey, sometimes so absent-minded on the pitch, may find new focus among the backdrop of waving flags and euphonious ocean of noise.

The same can also be said for the manager. Udinese is the first true must-not-lose event of his reign; job security will not change, nor his standing with most of Liverpool's support. But his first true test of this sort of game will be one he will be desperate to pass.

Progression could set the foundations for emotional development, but coefficients will also be a motivator. No longer does Liverpool's fine history count too highly. If Liverpool are to reach their ultimate destination of Champions League football, they will start with top seeding a faded memory. But the more success in the Europa League, the smoother any potential group would be in the Champions League. A thought quite far forward of course; a problem that would be nice to have.

Nevertheless, instilling a winning mentality is no bad thing for a side with just three away wins in 15 attempts excluding qualifiers. Udinese, already eliminated, might not quite provide the bloodshed of the Coliseum that stands 300 miles south, nor the hate-fuelled viciousness of Stadio Delle Alpi seven years ago, where Liverpool emerged from unscathed. This will not be the archetypal lion's den. Yet Udinese is a club keen for the scalp of Liverpool, a club eager to make an impression with the world watching.

Rodgers is about to find out what managing one of the world's most famous clubs, and the enormity of the task in regaining that standing, is all about. And he'll do it with the handy Suarez. Maybe Suarez knew what he was doing along.