Hindsight the way to happiness at Anfield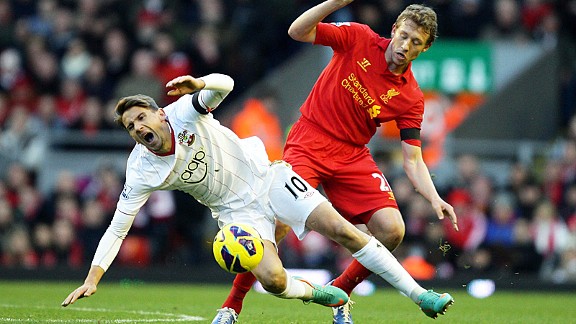 GettyImagesLucas Leiva, back in the Liverpool team, lets Gaston Ramirez know he's around
"Substitution for Swansea," came the gravelly voice from above, as if God himself was a fully-fledged member of the Kop. "Number 18 Jack Cork, to be replaced by number eight, Steven Davis." George Sephton, announcer at Anfield for 41 years, delivered Southampton's first substitution deadpan. It was a perfectly acceptable mistake to make. Southampton, in their changed white away strip, begins with the same letter as Swansea, for starters.

- Agger edges Liverpool past Saints
- Jolly: Lucas return brings balance to Reds

Still, comic relief was welcome. And with that, smiles and chatter swept through the stands. A song even broke out. Sephton might not have realised it, but he produced perfect comedic timing, perfect delivery. After 70 minutes, it was needed.

Anfield had been possessed with unnecessary anxiety once more. Daniel Agger's fine header as half-time approached was meant to be the start of the scoring, not the end. In fairness, Liverpool's fan base is one that has witnessed a lot of incendiary moments over the past few seasons, so their apprehension is understandable. Few clubs have possessed a propensity to not only shoot themselves in the foot, but use it as a demolition ball as well.

Re-assessment might be needed. Liverpool have only conceded three goals in the final 10 minutes of league matches this season. Not since Grant Holt's consolation at Carrow Road in September has a late goal blotted the afternoon, though Young Boys' late equaliser last Thursday clearly remains fresh, as do the nine times it occurred last season. No matter, for Liverpool are beginning to climax strongly in games; indication, perhaps, that Brendan Rodgers' vision of tiring the opposition through ball retention may be starting to manifest.

They could have won it late against Newcastle and they should have won it late against Everton. Jose Enrique came close to hammering a left-footed exclamation point away to Chelsea, while Stoke, Swansea and Spurs looked longingly towards the referee, like a heavyweight boxer circling the ropes as the clock counts down.

But hindsight is always 20-20, and there was none available at Anfield against Southampton. The reality was far more comfortable than the frenzy some worked themselves into. Though Liverpool were not excellent, they have to be. A brief battering-ram-cameo from Rickie Lambert aside, Pepe Reina was barely troubled. High balls into the box safely caught or punched, the defence resolute on what little pressure was exerted.

Yet still the Kop squirmed as the end edged nearer. Each miss solidified the notion of an unfortunate incident being imminent, each spurned opportunity an addition to the catalogue of woe which would be read out at full time. Voices were spared, for it did not materialise. It hasn't for the majority of the season. Relief met the full-time whistle, deep exhalations from the crowd an injustice to what had just been played out before them. This was not 90 minutes to be watched through cracks in fingers and sweated palms.

Hindsight should be kind to Liverpool. It will show it to be a strong performance, an afternoon where the home side produced some fantastic football. Once more the work in final third impressed, the profligacy an unfortunate end-note to some sterling build-up play, the final stroke once more slightly erratic. It is not hard to see how this is corrected in January.

The movement was of a higher standard than normal too, with Jonjo Shelvey, Raheem Sterling and Luis Suarez providing fluidity as a front three, pulling Southampton's defence apart and creating space behind to run into. Steven Gerrard and Joe Allen, both further forward than the last few months have dictated, kept finding success, while Jose Enrique's toro-style tormenting down the left-hand side gave a beleaguered Southampton defence yet more problems.

Hindsight will also celebrate the return of someone so vital to what Rodgers, and Liverpool, wants to achieve. The flowing, attacking mass of bodies was made possible by the return of Lucas Leiva. No, he is not the wave of a magic wand, nor a sprinkle of fairy dust to their season - but he provides a platform, one few other players in the league can do so with such success.

His first half was slightly tentative, no surprise or shame for a player who has failed to play a full game in over 12 months. But the second half was a gradual return to his tyrannical style, allowing few to pass him. His tackles became stronger, his positioning more assured, each passing minute a further sawing of the chains that have shackled Allen and Gerrard at times. That he was operating at 50% should delight and worry in equal measure, depending on allegiance.

But hindsight being kind ultimately falls on the shoulders of two men. Sephton's Swansea gaffe was all about delivery and timing, something both Agger and Glen Johnson combined perfectly for the winning goal. The delivery from the right back was sumptuous, the timing of the header finely tuned. It was an emphatic finish in a game that would ultimately lack another; if others took the chance as Agger did, Anfield would have been a far calmer arena, the instantaneous post-match reviews not tinged with mislaid angst.

Eight minutes after Southampton's Davis replaced Cork, time for another substitution. "Substitution for Southampton," said George, emphasis on the away team. More laughter and jesting cheers, more chatter and a buzz that has been lacking a lot this season. In hindsight, maybe everyone should learn to relax a little more. The enjoyable things might just be that little bit more enjoyable.