Draw tells nothing new for Liverpool
Rarely do you outdraw your reflection in the mirror. No wonder there was little surprise in South Wales that Swansea and Liverpool drew blanks Sunday afternoon.

One raised its left arm, the other raised the right; a crank of the neck one way was reciprocated the other. Although both Michael Laudrup and Brendan Rodgers have been at their new clubs for six months, this was not Laudrup's Swansea versus Rodgers' Liverpool. This was half of Rodgers' Swansea taking on half of Rodgers' Liverpool, the enhancements and imperfections providing the more cavalier moments in the game.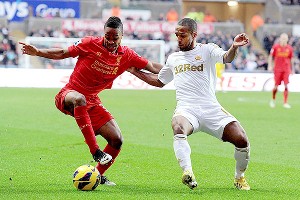 Andrew Powell/Liverpool FC/Getty Images)Liverpool and Swansea were mirror images of each other.
Before the whirlwind of hand-wringing and hysteria sweeps up all before it, the point of Liverpool being a work in progress is one worth making once more. Rodgers is not trying to reinvent the wheel at Anfield, granted. The notion of keeping the ball, using it wisely and winning football matches is one Liverpool, and most other successful teams, have subscribed to since pig was first skinned. But it's something they have failed to do in their recent history; it is something they clearly must relearn.

Over the past four seasons, Liverpool's fall from grace has been hopelessly graceless. The figures alone tell the story, let alone eye-witness accounts of a former great reduced to its knees. 86 points became 52; 25 wins from 38 fell to 18, 17, 14. A fall down the mountainside always hurts more when there are more jagged rocks to navigate. Some expect the inexperienced Rodgers to both halt the fall and stem the flow of blood within six months. Stopping the free fall, for now, is tough enough.

Some will say that is accepting mediocrity, but it is simply approaching Liverpool's current position with realism. Where the mentality lies depends on disposition. Some see Liverpool becoming a side hard to beat, unbeaten since their unfortunate 2-1 loss to Manchester United in September and unfortunate not to have more than three wins this season; others will take those three wins as less than the minimum requirement, 16 points from a possible 39 not good enough for the squad at his disposal.

The truth rests somewhere in the middle, and so it proved against Swansea. With each passing game, there are improvements to be noted. This time, it was the ball retention in the more dangerous areas of the pitch; Luis Suarez, Glen Johnson, Jose Enrique and Raheem Sterling worked well together on the edge of Swansea's box, showing an imagination lacking in previous games. This was not Suarez versus the world; the pressure was not solely on the phenom's shoulders, with the aforementioned trio alleviating his workload. Enrique continues his renaissance as a left-sided midfielder, while the right-side duo of Johnson and Sterling looks as potent as it is pacey.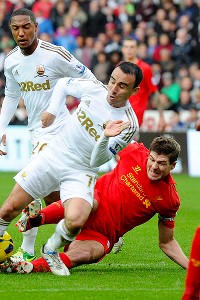 Andrew Powell/Liverpool FC/Getty ImagesOnce again Steven Gerrard struggled, bereft of those bursts of energy which made him so unique.
There were yet more positives for Rodgers' men across the pitch. Pepe Reina looked imperious between the sticks once more, confidently dealing with everything Swansea launched at him -- including Nathan Dyer's stray right boot. No matter; a bent jaw is better than broken confidence. Daniel Agger and Martin Skrtel were useful in front of the Spaniard as well, making it two consecutive Premier League clean sheets and just four goals shipped in seven, while Jordan Henderson kept things ticking along nicely when needed.

The issue for Liverpool is one that would make Aristotle wince. For a lot of this season, the sum of the parts has been greater than the whole. Individually, Liverpool did fine against Swansea -- but fine is not always good enough. If one or two cogs refuse to turn, the machine begins to sputter. So many times it looks close to working, but so many times the final stroke of the brush destroys the entire portrait. Even the scream of Edvard Munch was an erratic stroke away from a cackle of delight.

The solutions appear obvious, though Liverpool are yet to implement them. The first -- another goal scorer high up the pitch -- should be solved in January with the wave of FSG's chequebook. The second -- the mangled mess of a midfield -- is down to Rodgers and his players. What a curious web Rodgers has weaved already. If he knows how Steven Gerrard, Joe Allen and Henderson were supposed to function against Swansea, he would be advised to tell them next time, for they had little clue themselves.

Time after time, Allen was left short as Henderson and Gerrard pushed forward. Time after time, Henderson tracked back from a more advanced position than Gerrard. Time after time, Henderson would receive the ball, pass it smartly, move into space and be ignored. Time should be on Rodgers' side to figure out this conundrum, but the grains of sand may be starting to slip for some already.

Those grains may be starting to irritate Gerrard, too. Once again he struggled, bereft of those bursts of energy that made him so unique, his transformation from footballer to human fireball starting to extinguish more and more often. In a career forged on moments of impact, it is a strange sensation to see him doing little. He offered little creatively, nothing as a goal threat and even less defensively. History dictates writing off the 32-year-old would be folly, something Rodgers will hope proves true once again. But it is now, for the first time in his career, that the hope is stronger than expectation.

There are other options, of course; more twists of the kaleidoscope to discover the perfect formation of a midfield. Jonjo Shelvey came on as substitute and nearly won it for Liverpool, while Nuri Sahin missed out once more. Even Suso -- who has shown ability to play centrally -- was a roll of the dice not utilised on this occasion. There is also Lucas Leiva, close to returning to fitness after making an appearance for the under-21 squad, but his likeness with Pele ends at nationality alone. The Brazilian is a fine player and will be an asset on his return, but Leiva would need granite shoulders eight feet wide to carry the issues in the midfield.

To judge Liverpool against Swansea is a tough task. Swansea play very similar football, and ultimately, both sides canceled each other out. Their expansive style gave Liverpool more opportunities to work well in the opposition's half; their midfield, particularly when Ki came on at halftime, enhanced the problems of Liverpool's midfield three. Dichotomies reign once more in this topsy-turvy season.

But to judge Liverpool -- at all -- is a tough task, still. With just 13 league games gone, some things appear to be working, while others don't. It is impossible to make concrete assumptions, despite the hot air of some creating a whirlwind of woe. They rest nine points from fourth place, but just four behind sixth-placed Arsenal. Rodgers is making his side hard to beat. He now needs to find a way to build on that, both throughout this season and beyond.

The club are still falling down that mountain from a near summit so high four years ago. Whether he can stop that, both mentally and physically, is still unknown. But no one can deny it's not enjoyable finding out.