Liverpool discover experience cannot be taught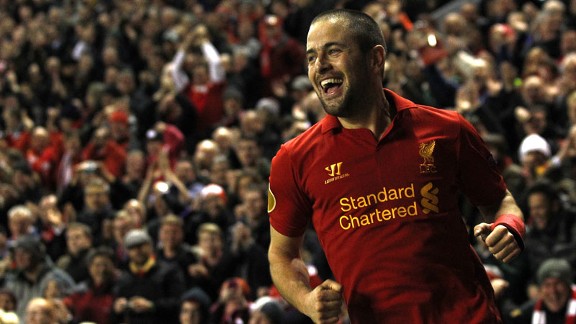 PA PhotosJoe Cole scored his first Liverpool goal in 19 months

Sometimes it is just not meant to be. As Joe Cole breathlessly left the Anfield turf, he did so as the match-winner. His assist for Jonjo Shelvey in the first half showed his vision has yet to fully dim; his goal, scored with 18 minutes remaining, was a reminiscence of when football was fun. A darting run, close control, smart pirouette and good finish. It does not change how his time there will be viewed, nor where he is heading, but for one night, Anfield appreciated him; a fine, just reward for a player who tries so hard to succeed at the club but has become the unfortunate million-pound millstone around the club's neck.

But it was just not meant to be.

His goal is now a mere footnote; a postscript in a game which could have far wider repercussions in a fortnight. With Cole on the bench, he – along with Brendan Rodgers and the Liverpool support – watched as Liverpool wilted under the floodlights of expectation. This was not death by football, but a dearth of footballing education.

The equation was simple. At 2-1, Liverpool were into the Europa League last 32, and with it, the opportunity to enjoy Udine. It was a chance for Rodgers to rest Luis Suarez and others ahead of a physical, bruising 90 minutes away to West Ham; there was the prospect of riding a gondola, sampling the local scenery and trying new things against Udinese with only the outside hope of top spot to play for. What's more, it would have given some players yet more experience of the European arena, and what is required to play at this level of football.

Stadio Friuli, home of Udinese, may not have been anywhere near full, nor would the intensity have been the same as a regular European tie with both sides' fate determined - but the look, the feel, the taste of travelling to Italy is one that would add an extra layer to the disposition of a player. It would add experience.

It was experience Rodgers' side lacked in those final 10 minutes. The equation was simple, so too the solution. If Young Boys did not score, Liverpool would be through; if Liverpool kept the ball, Young Boys could not score. But possession, a virtue so readily extolled by the Liverpool manager, was treated with disdain. The recycling of the ball had become a relinquishing of it – mainly by the younger players, though the senior ones were culpable as well.

Luis Suarez lost the ball as many times as he nutmegged a bewildered defender, legs akimbo as a mini-golf windmill. More alarmingly, however, was the failure of Steven Gerrard to find his burst in the build-up to Young Boys' second equaliser. The captain's burst of pace has become trademark through his career, like a video game character replenished with flashing icons; he sees the ball, he finds his deepest reserve to win it. Not so on Thursday, and this after only playing an hour after replacing Andre Wisdom in the first half. After his burst of pace failed him, so did his bearings, leaving his side exposed down the middle. The rest, much like Joe Cole's goal, is history.

This is not a time for scapegoating, however. The last 10 minutes was poor as a collective, experience of dictating the pace of a game, and keeping the ball under close control, missing from such youngsters as Jonjo Shelvey, Jordan Henderson, Raheem Sterling and Oussama Assaidi. Even Xabi Alonso, Dirk Kuyt and Yossi Benayoun had to begin somewhere; the Mona Lisa had a few erratic strokes before completion.

But that last 10 minutes will still annoy Rodgers. His side's strength suddenly became its weakness. He will have discovered that, for all his hard work on the training ground, experience is not a teachable skill. Experience will only be gained by playing more games in Europe. Rodgers, and Liverpool, will just be happy if they are playing there at all after Christmas.