Sub opens alternate reality - a happy Anfield
If you scrutinised Anfield and its surroundings enough with five minutes of the match remaining, you would be forgiven for fearing a shift in the space-time continuum.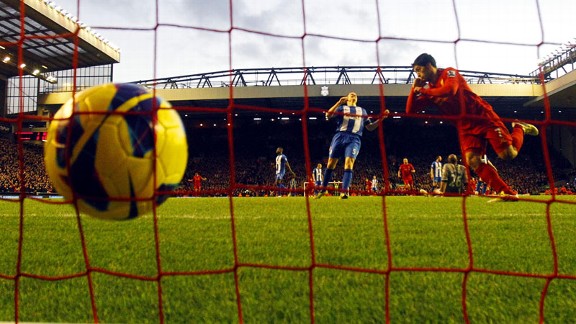 PA PhotosLuis Suarez was in form to help Liverpool triumph over Wigan

This was not the Anfield that Liverpool supporters had come to know and hate. Liverpool had possession of the ball, but more startlingly, were enjoying possession of the ball, shifting a tired Wigan Athletic side right, left, backwards and forwards, like a tiger pawing at a dreidel. The stands, where restlessness is so often married with nervousness, were relaxed; fingernails were intact, shoulders were no longer hunched, voices strained with pleasure as opposed to pain. Stranger than all, chairman Tom Werner was in the Liverpool directors' box to witness it live.

He picked the right time to visit. Few statistics make Liverpool's home form over the past 18 months look attractive: this 3-0 win was just their second home victory of the season, their fourth of 2012 and eighth since August 2011. Manchester City, by comparison, won 18 out of 19 in their Premier League-winning season last season. There might be little to choose from over the past season-and-a-half, but this performance ranked amongst the best at Anfield.

One of Rodgers' first acts as manager, before signing Joe Allen, promoting Raheem Sterling or having his life narrated by Clive Owen, was to mount the old 'This Is Anfield' sign in the stadium tunnel. Perhaps it should now read 'This Could Be Anfield', for it felt like the Anfield of old at times in the second half. Rarely, recently, has it felt that buoyant.

But it could have been much different. This happy Liverpool, this Liverpool that earned a three-goal cushion to the backdrop of ole from the Kop, is only one strand of the story. An alternate ending could have easily been manufactured. For the first 35 minutes, Anfield was quiet. The possession was still there, but the enjoyment was not; shoulders were hunched, voices frantically, futilely instructed towards an indeterminate pair of ears.

Rodgers did not like what he was witnessing and refused to rest on laurels. Half time, he decided, was not soon enough; he, and not the referee's whistle, would control the course of this game. Off went Suso for Jordan Henderson, much to the bemusement of the crowd. Perplexion reigned, injury to the Spaniard assumed. The manager would later confirm it was a tactical decision - given the anxiety of the crowd, it was a secret best kept until the full time whistle.

The change revealed a lot about Rodgers. To make an unenforced change before half time shows the testicular fortitude so prominent from Rodgers at times this season – but with that testicular fortitude comes tactical faith. Suso had tested Ali Al-Habsi with a drive from outside the area and spurned a header over, but Rodgers was not blinded by that. He knew his side needed to retain the ball better and recycle it quicker, moving it on to those in dangerous positions quicker. Steven Gerrard moved further forward and Henderson gave Joe Allen support he has been lacking for the past month.

The change worked. Against West Bromwich Albion on the first day of the season, Rodgers looked to improve the side by taking off Lucas Leiva and bringing on Joe Cole. 11 league games later, it was a more attacking player departing for a more defensively-minded one. If it was good enough in Istanbul seven years ago, it was certainly good enough on this bitty, frustrating afternoon at Anfield.

His decision changed the course of the game, and it could also change the Liverpool career of Henderson. He is the latest player to be bound at the altar of Anfield, a sacrificial scapegoat for when things are not going well. His confidence is a particular sticking point, though it cannot be easy being offered to Fulham as a makeweight for Clint Dempsey - particularly as the England under-21 captain has never been given an opportunity in his favoured central midfield role. He finally got his chance, in a Premier League game, against Wigan; Rodgers might have stumbled on the solution to Lucas' injury in the week the Brazilian returned to full training. You will find no rabbit feet in Henderson's boots. But he has given Rodgers something to think about.

But the butterfly effect of Rodgers' decision may still flap its wings; he must ensure all the dominoes remain vertical. Suso is young and delicate – his on-the-ball swagger should not cloud his inexperience - and must be told the reasons for his premature removal; Nuri Sahin and Jonjo Shelvey will wonder why it was not their role to shift the balance of the game. But Rodgers is on a roll after seven games unbeaten in the Premier League. Liverpool, if nothing else, are proving hard to beat.

And so with five minutes remaining, after one decision changed the direction of the afternoon, Anfield felt different. Some of the things remained the same: Luis Suarez was untouchable, Glen Johnson unflappable. But this time, supporters could enjoy their wonderment; they could enjoy the sight of Jose Enrique marauding up the left-hand side and Daniel Agger, slowly edging back to full fitness, striding from defence. They could look at their watches, and then the scoreboard, and know the three points were theirs.

And maybe, in the midst of this unfamiliar feeling spreading around Anfield, Tom Werner would have had a moment of enjoyable reflection himself in the directors' box.

As Rodgers prowled the touchline, stood opposite was Wigan manager Roberto Martinez. This was not Miami. There was no John W. Henry by his side holding his cup of coffee - milk, no sugar, with very few sprinkles of privacy and decorum on top – as they chatted on a roasting summer's day about the Liverpool vacancy. Henry and Werner would choose Rodgers instead. In a different reality, in the alternate ending, it might have been Roberto Martinez in the home dugout, and Anfield may have been different still.

But it wasn't. Rodgers was their choice and this certain afternoon was his reality, steered by that first-half substitution. What had once been normal - and has manifested into abnormal - seemed normal once more. It might seem confusing, but it really is not. Liverpool won comfortably and Anfield enjoyed itself.

So did the chairman. Perhaps he should visit more often. Rodgers, meanwhile, will simply be hoping that good feeling around Anfield becomes normal again.