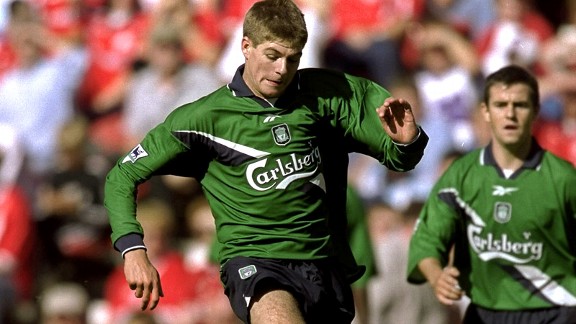 Phil Cole/AllsportSteven Gerrard has gone from a baby-faced wonder to an accomplished, hardened veteran in his 13 years at Anfield.
You always remember your first time, especially if it started with a song.

Though Rigobert Song's drilled ball infield was erratic, the young, unwieldy frame of Steven Gerrard brought it under control with a nonchalant left leg. Cumbersome no more, he burst forward and shifted on to his more favourable right foot. Gerrard went one way, two defenders went the other, and Anfield rose in anticipatory unison for the first time. It would not be the last.

He drilled the ball, as hard and straight as his hairline, past Kevin Pressman. It was the goal to sink a thousand ships and launch a million compilations. If those at Anfield knew what this moment would ultimately foresee, perhaps it would have been savoured more at the time -- the third goal in a routine 4-1 victory over Sheffield Wednesday seems almost unjust as the first frame of the highlight reel.

But no one was to know what would follow that prickly, bitter December evening. He was mobbed by Danny Murphy and David Thompson; it was those two who were supposed to go on and illuminate their sport with irrepressible talent, not the unravished man of quietness beneath them. But Gerrard's career has been founded on subverting the impossible.

It is easy to dismiss the notion -- 576 club appearances, 151 goals and 100 England caps after that Sheffield Wednesday strike -- that the 19-year-old midfielder would not make the grade at Anfield. How hollow the past 13 years would have been if his detractors had been right. How agonising the gaping hole would be if those who said he lacked temperament, intelligence or physical fitness, proved to be accurate.

For a while, he was no more than a fan favourite, necessitated by a series of boxes ticked. He was local, loved to tackle, left his entrails on the football pitch and ultimately played the game as anyone in the crowd would. The first alone was good enough for some given manager Gerard Houllier's multi-national revolution. But was he actually good enough? To ask that question now would produce a maniacal laugh, followed by inquisitive stares and an uneasy edging towards the panic button.

It was a question that was asked, though. That first goal for Liverpool came in his 25th game. He was not a goal scorer at the time, nor did he create many chances. Instead, he was deployed deeper, his energy, enthusiasm and effervescence in the tackle seeing him as a consummate defensive midfielder. His versatility also proved a hindrance, playing at left back, right back and right midfield as a reliable square peg. He would display his passing range on occasion, like a peacock fluttering its plumage, but it was all-too-rare for a player of such ability.

The goal against Sheffield Wednesday finally showed what Gerrard's game could become: The explosive turn of speed, the hunched shoulders and body over ball with a grace that belied his stocky, adolescent frame. The puncturing swing of his right foot to guide the ball where he wanted it to go, as if telekinesis was learnt on the streets of Huyton. But no run, drop of the shoulder or goal could prepare Liverpool for the phenomenon they would soon have at their club.

It has been a month of reflection with regards the 32-year-old, a time to recline and take note of everything he has achieved. Against Newcastle, he made his 600th appearance for Liverpool. Less than two weeks later, he became only the sixth player to reach 100 international caps for England. Though the Kop -- so dearly yearning for independence from the nation -- may ignore his achievements for England in favour of his time at Liverpool, both measure his eminence.

But yet, he will always be Liverpool's. It would be false to claim there have never been minor murmurs of discontent at Anfield, but never was he told that he let them down. That was the melody sung to him by opposition fans after England failed to qualify for Euro 2008. Every corner or free kick for months after World Cup 2010 would prompt a similar reaction, despite being one of Fabio Capello's best performers in South Africa. It took an incredible showing at Euro 2012 to end the rhetoric of Gerrard underachieving for his nation.

He never underachieved for England -- it is simply that his achievements at Liverpool cannot be replicated. Only the Premier League remains elusive. Three League Cups, two FA Cups and a UEFA Cup serve as a mouth-watering garnish to the big-eared apple of his eye. There were many legends on the pitch past the midnight hour in Istanbul, but only one was created. He had scored in cup finals before and dragged his side to glory, but never had he soared as high as he did that night, guiding the ball -- and with it, the hopes of a team, fan base and institution -- to places that seemed impossible. That night, the victorious captain slept beside the European Cup. That night, the European Cup would forever rest aside Steven Gerrard.

An attempt to describe his Liverpool career is futile. No one can portray the breathtaking beauty of the Iguazu waterfalls, nor question the structure of the Acropolis. That is why it is best to return to the beginning. The ability to trace the origin of a phenomenon is rare. No one knows who created the universe or how the pyramids were built, but it is clear when Gerrard was destined for greatness.

With Gerrard, one should not question but simply enjoy. Every flick of the picture book allows for warm reminiscence: the volley against Middlesbrough, the countless pile-drivers against Everton, the dying embers of the FA Cup final against West Ham. Few players in history could drag themselves from the floor a goal down in a cup final to produce a stunning display of power, athleticism and technique. His foot, as if disjointed by soft-handed slumber, arching towards the ball and the ball, arching away from West Ham goalkeeper Shaka Hislop, and into the net. So many men would be content with the European Cup medal on display. So many men are not Steven Gerrard.

A major criticism of Gerrard is that he is not a thinking footballer; that he is one that relies on instinct and sometimes presents issues for teammates dealing with his intuitive style. But without his lack of inhibition, without his desire to simply do what he would do on the hard schoolyard concrete, English football would have been denied some of its finest moments.

At 3-0 down in a European Cup final, the more meticulous footballer would take the ball on the edge of the box and attempt to retain possession rather than guide the ball towards goal with every sinew straining. At 3-2 down in stoppage time of an FA Cup final, the more cerebral midfielder would not strike the ball 35 yards out, but instead look for options in the crowded box ahead. He is a thinking footballer, make no mistake. He thinks he holds fate by the collar. History says that, a lot of the time, he has.

Gerrard will always be a divisive character. He is not a normal man, but rather is the paragon of normality. He is perfectly flawed, making mistakes throughout his career. No one would admit that more than him. But those mistakes, and his subsequent learning from them, now sees him as an ambassador of his football club, city and country. Those who dwell with beauty must accept that beauty must die. At the age of 32, his footballing powers may be starting to diminish, but nothing can erase the impact he has had on this generation.

That is not to say he is ready to finish just yet. There is a sense of more to come. Even if his overall impact begins to soften, there are moments still there to be created. As he learns and adapts to a new role under Brendan Rodgers, he no longer can be the all-action superhero English football is familiar with. But as an aging captain ensuring a young Liverpool manager gets a fair chance at Anfield, he can do so much more. No hungry generations tread thee down.

Whether it is 601 not out or 100 not out, it is an innings that still continues, as masterfully crafted as any. And to think it all started with an erratic bouncer. To think, it all started with a Song. The Cameroon defender would go on to become an Olympic gold medallist six months later, but his career highlight may be allowing Gerrard to go on to do much more than that.