Rodgers desperate for Christmas after Chelsea draw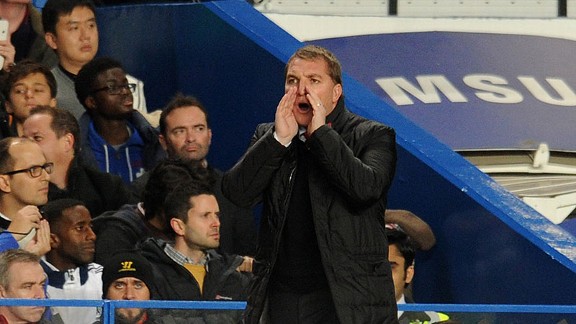 GettyImagesLiverpool have drawn six of their opening 11 Premier League games
Christmas is coming. It may not seem like it on this breezy, serene November day, but it is gaining at the speed of a reindeer-powered sleigh. In city centres across the world, decorative lights await their magical switch on; the first flakes of snow begin to fall; parents perspire profusely at the thought of finding the latest gadget all the children want. Even the Coca-Cola advertisements have begun. Brendan Rodgers cannot wait.

Not that the Northern Irishman has any particularly affinity towards obese, bearded men in red suits - just the suits that reside across the Atlantic in Boston. It will be them he turns towards at Christmas for a few new gifts.

For months, the manager has toiled with limited options after a transfer deadline day best forgotten, relying on dictionary-defined squad players and prototypical talented youngsters. It all very nearly came crashing down on top of him at Stamford Bridge but for a role reversal of gargantuan proportions; adroitness from Jamie Carragher, certitude from Luis Suarez. Two headers, one goal, a hard-fought point earned.

But regardless of the result, the message remains the same: this Liverpool squad is one that needs investment. That is not to excuse the mistakes made by Rodgers during his six-month tenure, but he is trying his best to recompense. Fenway Sports Group must do the same in January. Every day closer to Christmas, every cross on the calendar, is one day closer to the transfer window opening.

He is doing all he can for now. Jose Enrique began as left back, advanced to left midfield and roamed to the right of midfield at times. Glen Johnson, right back by trade, began at right back before shifting to left back. The midfield abacus was mangled as five became four; four became three; three were joined by two. Only Brad Jones and Luis Suarez, the bookends of the maniacal manifestation, remained consistent. Fortunately for Liverpool, they were consistently good.

That's not to say the squad is filled with dross. At his disposal is one of the best full backs in Europe, a majestic ball-playing centre back, a 22-year-old passing machine, a former Bundesliga Player of the Year, two prodigal attacking talents, Lucas Leiva, Steven Gerrard, Luis Suarez. But Rodgers needs, and Liverpool supporters expect, more.

The 90 minutes against Chelsea surmised Liverpool's season so far. Those looking for positives will find them, as will those who scrutinise for negatives. Rodgers' in-game management continues to impress, shuffling with the solitary card of Suso and rearranging the rest of the deck. But for the third consecutive league game, a shuffle was facilitated by poor pre-match choices. The genius of Luis Suarez also continues to flourish under his new manager, but that genius could do with being distributed around the rest of the team. When the side click, it can be devastating, but when they fail to gel, it can be disastrous. Liverpool were fortunate to not go in at half time 2-0 down, yet they were unfortunate not to grab a winning goal as the game entered its climax.

But despite the dichotomies and contradictions, this performance - and result - was the most impressive this season. To draw 1-1 with a side heaving with talent near the top of the table is an impressive one, even more so when flagrantly experimenting with the shape and formation throughout. Rodgers resembled a small child with a new toy at times on Sunday, pressing buttons to discover their function. 5-3-2 became 3-5-2. 3-5-2 became 3-4-2-1. 3-4-2-1 turned into his trusted 4-3-3 before morphing into a 4-2-3-1 and 4-4-1-1. Enough numbers to give the most titillated mathematician an aneurysm. It's been said it is a club in transition and that Rodgers is a manager who is learning as he goes along - it just wasn't to be expected it would play out in public before those watching at Stamford Bridge.

After the experiment comes the result - a 1-1 draw and 12 points from the first 11 Premier League games. Two wins, but only three defeats, highlights the treading of water in a transitional season. Perhaps acquiring that direct attacking threat in January will give the buoyancy they need to turn draws into victories and losses into draws. It won't solve everything, of course. Rodgers is yet to sort his midfield trio, and he must. Joe Allen is looking jaded after two months of playing three roles at once, Nuri Sahin looks cumbersome and Steven Gerrard is not being utilised properly. Though Lucas' return is rightfully anticipated, he is not simply a solitary wave of the Brazilian wand.

At least Liverpool have a genial run of games ahead to solve these conundrums; it's always harder to discover your best system against an attacking four worth £130 million as Chelsea began with today. In this season's first 11 games, Liverpool have faced all seven teams who finished above them last season, as well as high-flying West Brom away and bogey side Stoke City at Anfield.

In the next 10 games comes five winnable home games on paper - but paper alone will not be enough to beat Wigan Athletic, Southampton, Aston Villa, Fulham and Sunderland. It still represents a chance for Rodgers, however, to start constructing the Anfield fortress he spoke about in the summer. Away from home, Liverpool will travel to Swansea, Tottenham, West Ham, Stoke City and Queens Park Rangers. The paper grazes a little bit harsher, but the wound is not mortal. Now is the time to start winning away if Liverpool are to move up the table.

Rodgers should hope for at least 20 points out of a possible 30. That target could change if the sight of Suarez's kiss of the wrist and impish grin begins to fade through injury, suspension or accurate Mayan predictions. That is what it seems it will take to stop the Uruguayan. Liverpool will hope none of the three occur.

And so to Christmas. The holidays are coming. The next 10 league games take Rodgers beyond the festive break, and into the window of purchasing players. If he can continue to juggle his options and begin picking up wins, he will be in a good position both with the support and in the league itself.

It seems cliché to say the season starts now for Liverpool. It began at the Hawthorns and Rodgers' every move has been analysed and judged ever since. But from now until Christmas, he can make the most of what he has, and give his side a good platform to build upon in January. It won't be easy, but it might get easier.

People are reticent to judge Rodgers after these 11 games, but it will be inevitable as Christmas comes and the season is over halfway through. He will be hoping he gets what he wants, but first, he must decide what that is himself.