Pleasure and pain leaves Liverpool feeling the cold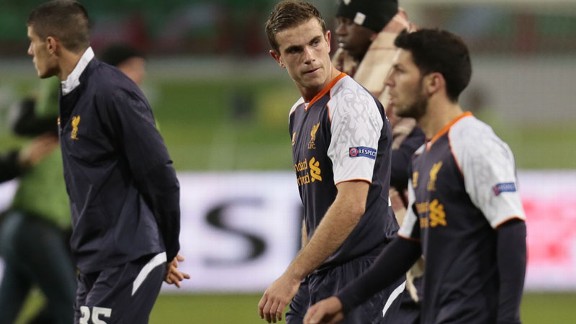 GettyImagesDejected Liverpool players after defeat to Anzhi in Moscow
Shrieks of rapture emanated from the sparsely populated Lokomotiv Stadium with less than added time remaining. Anzhi Makhachkala, whose only experience of Europe before this season was a first-round exit to Rangers in 2001, were about to dispose of five-time champions of Europe, Liverpool. Their greatest day was about to conclude. How the meagre have risen; how the mighty have fallen.

As the rouble dropped for the supporters of Anzhi on what they had achieved, Liverpool manager Brendan Rodgers will have surveyed his surroundings carefully. As special as this moment was for the Russian side, this could have been anywhere for Rodgers and Liverpool: Rotterdam, Rome, West Bromwich, Anfield.

It's been a topsy-turvy reign so far; it's been a topsy-turvy group. But amidst the cold, hard facts at the freezing winter midnight hour, a glimmer of hope once more. Déjà vu, this time against the Dagestanians. A performance which the result failed to correlate with; they won a few wars, but the battle was lost once more.

And with that, Liverpool's sadomasochistic affair with the Europa League continues. Though this is the second-tier of European football officially, and many notches below for some clubs mentally, it is still a tough prospect, a competition to tire the body and mind. It is one that features Christopher Samba or Danilo in defence; it is one that features Lacina Traore, Antonio Di Natale or Samuel Eto'o in attack.

Taking a young, inexperienced side to the depths of Moscow against an expensively-assembled side verges on the illegal. Conor Coady will recall to his grandchildren the biting wind and the biting tackles of Mehdi Carcela-Gonzalez; Jon Flanagan will wince as he reminisces about his late night in the Russian capital and the uncompromising Rasim Tagirbekov. Names they will remember, though not entirely pronounceable. But with the pain comes pleasure, like any good sadomasochist: pleasure for Coady and Flanagan, making their European debuts; pleasure for Rodgers, who saw both acquit themselves well.

Both will be hoping their performances can provide a springboard, much like it did for Raheem Sterling and Andre Wisdom after their showings against Hearts and Young Boys Bern respectively. If the Europa League is now a stage school for fringe players and youngsters, consider some granted call-backs. It's just a pity both Coady and Flanagan serve areas so replenished already.

They were not the only ones to catch the eye. Wisdom impressed in the more familiar role of centre back, his largely successful duel with the Traore-Eto'o duo belying his 19 years and 11 senior appearances. Adam Morgan showed flashes up front with his movement instinctive and work ethic impeccable. The two senior players, Jamie Carragher and Stewart Downing, were admirable in their babysitting.

This competition is very much an opportunity for Rodgers to experiment, evidenced by Coady and Flanagan making it 30 different players used in Europe this season by Liverpool. With six points from a possible 12, he's still to find the right formula. What cannot be measured is the experience gained by these players. Devoid of atmosphere the stadium may have been, but it was an exercise more worthwhile than any under-21 fixture, played in front of a smattering of disinterested applause.

Not that there was much of a choice. With 11 points from 10 Premier League games, Rodgers swiped the passports of Luis Suarez, Steven Gerrard, Joe Allen and several other first-team players – an interesting change of personnel, given the strength of the team that started the reverse fixture two weeks earlier at Anfield with the Merseyside derby 72 hours later. With several of the first-team back at the club's Melwood training ground, this is what Rodgers was left with. He did well with what he had, showing pragmatism at a level reached only in the second half against Everton; each player was in a role that, in theory, played to their strengths. Even Joe Cole, until that pesky phenomenon of cardiovascular fitness took its toll, looked lively.

But it was still a defeat. Déjà vu, this time against the Dagestanians. A performance which the result failed to correlate with. Proof is not needed on how far Liverpool have fallen in three years, but sadomasochism reigns supreme: against PSV Eindhoven in December 2009, a second-string including Daniel Agger, Lucas Leiva, Albert Riera and Robbie Keane won 3-1. The second-string of 2012, a kaleidoscope of raw youngsters, younger players failing to establish themselves and overpaid, underplayed parasites on the wage bill. Each twist reveals a further reason why the squad needs more investment, in January and beyond.

Rodgers will look at both sides. He will take heart from the performance of some, but will wonder whether consistency will follow; he will despair at the showing of others, but will facilitate their involvement because he has little other option. He will look at the cameo of Suso through the centre, with the Spaniard's hair and mind flowing as one, the blood through his veins matching the sub-zero temperature on the ground; he will look at that flowing tranquillity, coupled with the unlikely bedfellow of irrepressible alacrity, and know it is not possible on the right of midfield in a Premier League game. He will know Suso central could be the answer – he just is not sure what the question is just yet.

More questions than answers, much like how it has been throughout the season. It's unfair to expect them at this early stage, and it is good for Liverpool that there are questions being asked. They need to be. When the shrieks of rapture die down and Moscow to Makhachkala falls silent, Anzhi will realise what they achieved was not so special after all. So will Brendan Rodgers, who knows he has work to do, both to qualify from this Europa League group and restore Liverpool to where he wants them to be.

It's going to take a lot of graft; a lot of pain, even. Rodgers must be relishing it.