Suarez magic hides disappointment of missed opportunities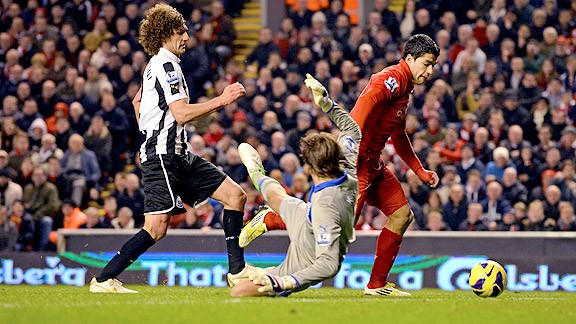 Paul Ellis/AFP/Getty ImagesLuis Suarez's finish was sublime, but Liverpool need to start creating -- and then converting -- more chances.
The Fog on the Tyne may very well be all Paul Gascoigne's, but a storm lurks on the River Mersey. Liverpool's 1-1 draw with Newcastle ticks the most familiar of checklists, seemingly soldered onto the walls of Anfield: control of the football, missed chances aplenty and three points denied. For the fifth time in six attempts, Liverpool failed to win at Anfield. For what seems like the longest time, they remain in the bottom half, six points from Champions League qualification.

It may seem droll to suggest anything other, but the draw with Newcastle was a missed opportunity. A victory over Newcastle would have been justifiable if not entirely deserved; it would also leave Brendan Rodgers justified, just four points behind fourth-placed Everton. For all the complaints over squad depth and lack of striking options at the club, the season is not ready to be tossed into the waste paper bin just yet. But they cannot keep tip-toeing around the rim.

Fourth is probably out of Liverpool's reach this season – the deadline day dalliance did little to help that ambition -- but there is no doubt Rodgers keeps making perfunctory eyes at that Champions League place, even if neither Fenway Sports Group nor Rodgers himself expects it this season.

Underselling Liverpool and overselling the strength of the Premier League should not become common-place: Liverpool's first 11 is youthful, inexperienced, but extremely talented. Arsenal and Spurs are not the strongest they have been over the past few years; Everton, while impressive so far, are yet to play four of last season's top six; Newcastle, as evidenced by Sunday's game, are not far ahead of Liverpool.

Alas, two points dropped and missed opportunities at Anfield once again make any comparisons with potential rivals for European qualification futile. Supporters will keep looking down as much as they look up, still looking for liberation from the nagging worry this season of transition could be more painful than previously imagined. Liverpool were better than Newcastle, but not by much.

Liverpool missed the opportunity to build on a magnificent start. The first 10 minutes had Newcastle reeling; Suso, Raheem Sterling, Luis Suarez, Nuri Sahin and Steven Gerrard hissed their way through a static Magpie set-up, but it amounted to little in terms of chances on goal. Rodgers will be annoyed how flat the game then fell; the home side started to pass to those in black and white shirts, and with it, the game's initiative.

More missed opportunities punctuated Yohan Cabaye's opener. Andre Wisdom took a foul throw – a criminal act in itself – but his team-mates were presented with ample opportunity to eradicate the threat. The criminality continued. Liverpool would not touch the ball again until kicking off. Jose Enrique was beaten too easily by Hatem Ben Arfa on the right hand side; Cabaye peeled away from attention too easily, his shot evading a flapped attempt from Brad Jones. Four mistakes within 15 seconds, any good work from Liverpool in the first half undone.

The second half provided some improvement, prompted by Suarez's goal. After that, Liverpool transitioned from scrappy to swagger. But the missed opportunities continued – literally. Jonjo Shelvey had three, for starters. Momentum began to infect the home crowd, the decibels rising with each passing minute. The piercing blast of the full time whistle deflated that. Just five more minutes were needed; but then again, the 94 previous should have sufficed. The downbeat patter on the Anfield pavement post-match is becoming a familiar soundtrack to the season.

But enough of the ordinary; now for something extraordinary. With 23 minutes remaining, a divine intervention. In an era where the cost of football has reached extortion, a moment worthy of the admission price alone, produced by a player worth double. Enrique's ball forward was met by Suarez's shoulder. It stopped dead and dropped to that magical right foot. His body went one way, his foot the other; Tim Krul could do nothing but fall to the ground belatedly. Suarez had already decided its fate; the hardest of chances transformed into a simple tap-in.

That is what an opportunity grasped looks like; that's how good it feels. The hardest opportunity of all seemed to take an age to be converted, but in reality it took two seconds. That is how quickly Luis Suarez operates, his feet and brain in lightning tandem, his body contorted like a snake entangled in a slinky.

His goal was fine reward for his performance; his performance fine reward for those who pay hard-earned money to watch football. Watching Suarez is akin to watching a Minotaur perform Swan Lake. He floats into space with the grace and poise of a ballerina, but when he receives the ball, he immediately transforms, driving at defenders with pugnacity and tenacity, motoring past them with a rare combination of skill and strength. He tires them physically and mentally, the red card of Fabricio Coloccini a fine example of the damage done.

Even better is how Suarez plays the game with an amalgamation of delight and disdain upon his face. The cherubic face which smiled after drawing Liverpool level quickly turned into a cantankerous contortion when the game resumed. He loves playing for Liverpool; he hates anyone who doesn't.

Where Liverpool would be without him will give Rodgers food for thought. They are not a one-man team – the performances of Glen Johnson, Daniel Agger, Joe Allen and Sterling this season disproved that theory. But there is no doubt Suarez provides the spark. That can sometimes be a curse to the system; the Uruguayan is at times as likely to relinquish possession as he is to produce magic. Yet he is someone who can make the most of opportunities, no matter how minute. That is the thing Rodgers will focus on. Some of the intricacies of Liverpool's play impress, but the narrative ultimately remains the same.

Once Liverpool play Chelsea, they will have faced six of the top seven with half of November remaining. Ample opportunity to close the gap on those above over the festive period, then, before unleashing themselves in the January transfer window - but Liverpool will be wary that so few, with the exclusion of Suarez, are taking those at the moment. Until they do, those threatening storm clouds will refuse to dissipate.