Sympathy for the Swans... starting Monday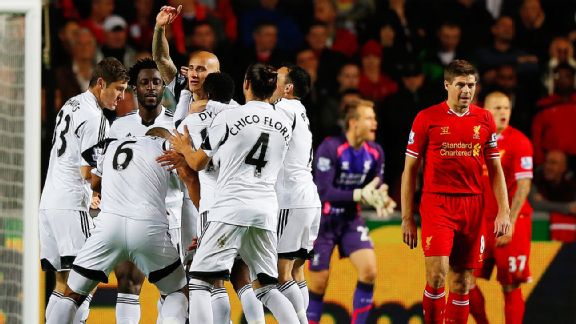 Andrew Yates/AFP/Getty ImagesLiverpool drew Swansea 2-2 in September but both clubs have enjoyed wildly differing fortunes in the months since.
Football certainly does change quickly. In almost this same week last year, Liverpool were worrying how their Europa League campaign would impact on their league form.

Trapped in the dismal Thursday/Sunday routine that any sane supporter hates, the visit of a fluent Swansea side caused a little panic at Anfield last year. Michael Laudrup was being lauded as a great manager in the making, and even a few Reds fans initially disenchanted with Brendan Rodgers had cast an envious glance in Swansea's direction.

They had already won at Anfield 3-1 en route to the Carling Cup final, but there was no need to worry as Laudrup picked an almost unrecognisable side, including his eventual replacement, Garry Monk, which tamely surrendered 5-0.

It was a strange day. Swansea did have that cup final the following week, but did all those players really need a long break to beat Bradford City? Not that Rodgers himself was complaining immediately after a wearying schlep out to St. Petersburg and back.

Now it's Swansea City who have the European commitments with a completely different manager after Laudrup was sacked via e-mail (classy), while a regularly revered, Rodgers-led Liverpool side rests up from their valiant but ultimately fruitless FA Cup effort against Arsenal.

- Report: LFC's preseason U.S. tour announced
- Usher: Could Liverpool have done better in UCL?

The Reds now have the chance to take all of that irritation and bitterness out on somebody else, and what better chance than in a home game against a midtable side that certainly put in quite a shift against Napoli on Thursday?

Yet football supporters, especially from Liverpool for some reason, are incredibly nervous types. Show them anything resembling a sure thing and they will immediately pick holes in it. Before you know it, it's their team that's doomed! Swansea City play some neat intricate football, and the Reds' current boss is one of the men they have to thank for that.

There has still not been universal acceptance of the current Liverpool ownership, with one or two teething troubles with the largely absent baseball fanatics. They certainly cannot be faulted in their eye for a manager, or whoever it was who advised them. There was the infamous picture of John Henry taking a leisurely Florida stroll with the then-Wigan manager Roberto Martinez -- also a chief architect of the Swansea style -- and presumably chatting about the vacancy in the Anfield manager's office.

Henry even dipped into the petty cash to buy Roberto a takeout coffee. At least I hope he did.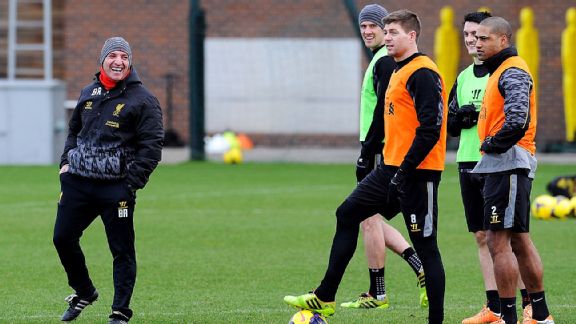 Andrew Powell/Liverpool FC/Getty ImagesLiverpool and Brendan Rodgers must show no mercy against Swansea.

Liverpool eventually settled for Rodgers, while Martinez (presumably still miffed about having to pay for his own coffee) went on to win the cup for Wigan and moved to Everton. The presence of both Merseyside clubs in the race for fourth place and the manner in which they've gone about it shows that Fenway Sports Group, for all its faults real and imaginary, knows how to pick a coach -- in whatever sport it embraces.

Swansea has a resonance with older Liverpool fans, seeing as they were once virtually a retirement home for some of the club's iconic players; Ian Callaghan, Tommy Smith and the great Ray Kennedy all ended up there after their Premier League and European success for the Reds in the 1970s and early '80s. Jan Molby, a man who simultaneously flattened and wore out many an Anfield centre circle in his day with his effortless midfield control, was also Swansea's manager for a spell in the '80s.

The one moment I'll always remember whenever Liverpool play City is the day they came to Anfield shortly after Bill Shankly's death in 1981. Their manager was John Toshack, another former Anfield giant (in more than one sense). During the prematch tribute, "Tosh" took off his tracksuit top to reveal a Liverpool shirt.

Many appreciated the gesture; others, notably the Liverpool board, saw it as a clumsy PR stunt to gain sway with the fans and take pole position in the race to replace an aging Bob Paisley. Perhaps the board balked because Liverpool's form was poor at the time despite being European champions, but eventually they chose the even older Joe Fagan two years later and carried on winning trophies.

Toshack wound up at Real Madrid, but after that his managerial career fizzled. As I've said before, it's interesting to contemplate the road not taken.

But back to the present day. Sunday's game will be tough. Nearly everyone in Britain likes the way Swansea play, as it can all too often be the easy way out for a "new" Prem team to take the Tony Pulis route and slug its way to safety.

During Brendan Rodgers' only visit to Anfield as an opposition manager in 2011, there were times when Liverpool simply couldn't get the ball off them. They have persisted with this policy, and though it is so tight at the bottom of the league, even 10th-place Swansea can't get too comfortable, though most people want them to stay up.

I'll wish them good luck in that -- from Monday onward. That's because Liverpool have fourth place to consolidate and an outside chance at the title to pursue.

It's mildly disconcerting that this side now appears to be struggling in the games that ought to be the easier tasks. Aston Villa and West Bromwich Albion were awkward enough to take a point, while Fulham came within a whisker of joining them on the Liverpool "bête noire" list. By contrast, Everton and Arsenal have been absolutely pummeled, in the league at least!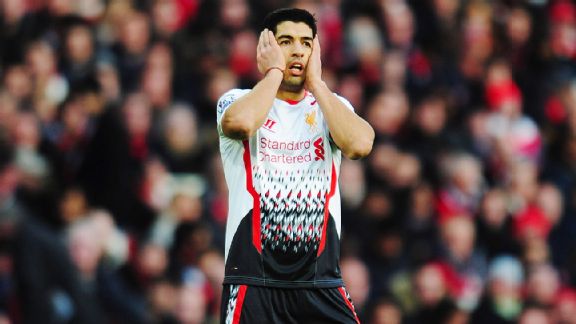 Shaun Botterill/Getty ImagesWhatever happens on Sunday, it's vital that Luis Suarez rediscovered his scoring touch.

Swansea's weakened side gave as good as they got in a 3-1 loss to Everton on Sunday, while the first team caused Napoli plenty of problems in a 0-0 draw on Thursday night. Swansea didn't seem to have a cutting edge up front without Michu, but those can be famous last words in football, and there is always Jonjo Shelvey, who can be either saint or sinner in a matter of seconds as his performance in the 2-2 draw with Liverpool at the Liberty Stadium in September amply demonstrated. He will at least be feted as the only Anfield employee, bar Kenny Dalglish, to tell Alex Ferguson exactly what everyone here thought of him!

On a serious note, Liverpool need a standout performance from Luis Suarez soon. He did plenty of good things in the Everton and Arsenal matches, but he's gone unnervingly quiet in others and the goals have dried up a little. Someone should remind him about Swansea captain Ashley Williams and his tawdry attempt to flog a few books on the back of Luis' notoriety last season. I'm sure Rodgers will mention it at some point.

The Fulham performance was important because it hinted at the emergence of a Liverpool side that could find another gear in the second half. For most of this season, they've been on fire in the first 30 minutes of a game and played out time once the result was assured.

Versus Fulham at Craven Cottage, Liverpool had to struggle right to the very end and ultimately got their reward. Though the recent fight-back at the Emirates was unsuccessful, there was enough within that performance to hope for more to come.

The past seven days' rest may be helpful in the short term, but watching other sides in their European campaigns tugged on the heartstrings. Liverpool, much as outsiders might mock, remain this country's most successful European club by some distance. Brendan Rodgers' team talk on Sunday may very well centre on a few key questions: Did you watch the Champions League matches? How did that make you feel? Wouldn't you prefer to be playing rather than watching?

The supporters will know if that was incentive enough by 3:30 p.m. on Sunday afternoon.