What has Webb done for Liverpool?


There is a section of Liverpool supporters, bless them, who are ever mindful of what the rest of the country thinks of the club's fans; i.e., loud, obnoxious, whining gasbags who are swift to take offence. We shall call them The Appeasers.

They work hard to counter this stereotype via admirable objectivity and sweet reasonableness. So much so that they sometimes end up being agreeable to something that ought to anger them. As you can imagine, (a) they are very much the minority, and (b) they are having quite the fit right now.

Stop going on about the referee, they cry. Nothing's going to happen now. Move on, think of our reputation, blah blah blah. Or the classic, "You sound just like an Evertonian moaning about Clive Thomas" (who disallowed a late FA Cup semifinal goal against Liverpool in 1977). Yeah, it's been all of three days since Arsenal! Just another 37 years to go, then...

- Howard Webb escapes demotion
- Usher: Let down by Webb and wastefulness

I like to think I'm one of the most levelheaded Reds you could possibly meet, but on one subject all that flies right out the window. Only one man can summon up this foam-flecked, rambling mass of irritable, irrational fume -- and that's Howard Webb. Move on? To hell with that noise. The one thing we mustn't do now is pretend that none of this matters. It has become much too much, much too often. In my opinion, not only should he not take a Liverpool game again, but the FA should withdraw his credentials for Brazil 2014.

They really don't want the South Americans laughing at this authentic example of English mediocrity. Besides, they've already got Roy Hodgson for that.

Liverpool manager Brendan Rodgers was probably regretting his own lack of clairvoyance a mere four days after he'd blasted Lee Mason for the Manchester City defeat in December, because not only was the linesman at fault that day and subsequently a waste of a good fine, but he could have kept his powder dry for Webb's doubly atrocious performance at Stamford Bridge that swiftly followed.

The display and result were uncannily duplicated at the Emirates on Sunday. Samuel Eto'o stamping on Jordan Henderson early on? See Nacho Monreal's dreadful assault on Joe Allen's ankle. Oscar's red-card challenge on Lucas Leiva? See Lukas Podolski's sneaky little fouls all afternoon.

Luis Suarez being floored in the area by Eto'o, with Webb perfectly positioned to see it and refuse it? Alex Oxlade-Chamberlain took the honours this time around. Back in December it might have been interpreted by Rodgers as swift retribution for his clumsy criticism of Mason, but what happened when his Liverpool team were taken out of the FA Cup by an outside force is only what the fans have come to expect over the last five years. In the past 22 Liverpool games that Webb has refereed, the Reds have suffered 14 defeats, a whopping 64 percent of them.

The Appeasers, of course, had their own take on things: if only Sturridge had put his chances away; maybe the reserve keeper should have been selected; if the Reds keep conceding two goals; should Gerrard have walked -- all of which was perfectly valid. Liverpool have also not been too great in recent years, either, and a lot of those fixtures were difficult to begin with, but as the Reds steadily improve, Howard still keeps his average up; in fact, he's improving it! I also don't see what relevance there is in Liverpool beating Swansea last season and Sunderland this season under Webb's beady but less than watchful eye. Swansea put out their reserves for that game a week before their league cup final, and Sunderland were in a dreadful state post-Di Canio. Manchester United could have beaten them then.

One straw that is constantly clutched is the theatricality of Suarez. True, he did appear at one instant after the Oxlade-Chamberlain challenge to be doing a break-dance head spin. Look, I know Luis is crazy, but even he wouldn't risk a broken neck just to win a penalty. Would he?

With Arsenal displaying a similar zeal in the tackle to Chelsea, you begin to fear the message has gone out to other clubs that when this particular referee takes charge of a Liverpool game, a few liberties can be taken. Their incredulous reaction to the penalty Suarez actually did get hinted that Arsenal thought they would get away with just about anything, and Oxlade-Chamberlain's subsequent reckless challenge duly emphasised this.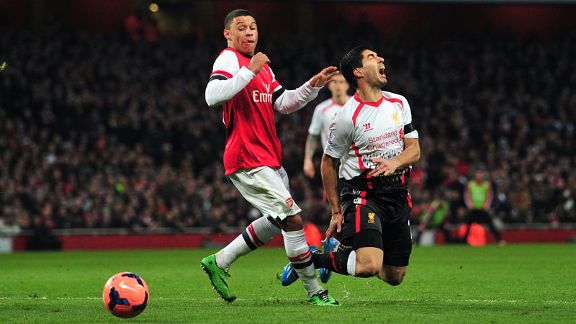 GettyImagesAlex Oxlade-Chamberlain challenges Luis Suarez in the area but referee Howard Webb said no penalty.
The newspapers and television grumbled for a bit, chuckled and shook their heads -- and then, almost unthinkingly, from force of habit perhaps, the shutters came down. Move on, nothing to see here. Terms like "error," "big mistake" and "poor judgment" were trotted out. It was when they tried to explain WHY Webb did what he did that it began to unravel. He didn't want to give a second penalty so soon after the first; it was Suarez after all; away teams rarely get two penalties, etc. All of which is completely irrelevant.

One long article in the Telegraph, groaning under the weight of its own statistics, "proved" that Webb was a man frightened of making the big decisions. Excuse me? We are really through the looking glass now. There are no gradations of decision in football. They're either right or wrong, surely? Webb made a big decision when he decided not to make a big decision -- have you any idea how cracked that sounds? Penalty awards do not come in big sizes, small sizes or medium-sized chunks with the corners cut off. How is not giving that penalty a smaller decision than the blatantly more obvious choice to give it?

What they meant, of course, but were too scared to say was that Webb saw the penalty and refused to give it. There's the real discussion right there; the rest is just filler, but no one wanted it because our referees are just wonderful. Except they're not, and haven't been for years.

Liverpool fans have been stewing in this particular juice since 2009, when returning from a win at Hull City. Glued to their radios, they heard Manchester United were losing to Tottenham 2-0, which could have given the Reds a final lifeline in the title race. Webb then gave United a penalty, and that became the end of that. When viewing the decision later, I could not believe my eyes; it wasn't even close, and nobody else thought the decision was either correct or understandable. That was forgiven and forgotten, too.

It wasn't to be the first time Liverpudlian eyebrows were raised. After winning at Old Trafford 4-1 that same year, the next three games they had at Old Trafford were given to Webb. This is entirely unprecedented; it simply never happens. He has trouble with the big decisions? Not when United appealed for a dubious penalty in the first 30 seconds of a cup tie with Liverpool in January 2011 and got it. Not when they wanted Steven Gerrard sent off for one foul after 30 minutes of the same game, and got that too. He wasn't remotely troubled by magnitude that day.

The year before that, he got the World Cup final between Spain and the Netherlands and made an unholy mess of it. When Nigel De Jong karate-kicked Xabi Alonso in the chest, Webb's laissez-faire attitude created a storm of a match, a snarling, card-infested nightmare. It appeared that Webb didn't want to be the man who ruins the World Cup, but he wouldn't have been -- that honour would have been De Jong's.

Yet he is still the FA's No. 1 man, and despite universal condemnation of his most recent performance (not just over the refused penalty) there was never any question of his being demoted as other referees have been. Once again, we see spin triumphing over the right thing to do.

The reaction of the outside world to Sunday's decision was "get over it." It was even more irksome coming from Arsenal fans. Isn't it exactly this that Gunners fans complain about when Arsenal games are awarded to Mike Dean? It's not even as bad a record as Liverpool-Webb, but they will still squeal and complain when Dean gets his next match there, and rightly so, in my opinion. The good sides win more than they lose, and if that record swings in the entirely opposite direction when one particular official has their matches, supporters have a right to ask questions.

Facts have to be faced; there probably isn't an awful lot the club could do here except register a protest that will undoubtedly be ignored again, but when will it become acceptable to the outside world for the Reds to complain about this? When Webb's record gets past 70 percent of games ending in defeat for Liverpool? Eighty percent? When he waves away a blatant penalty for the third Liverpool match in a row? The fourth?

Or, as the rest of football seems to believe, Liverpool can never question it. Ever. This is an important issue, since the club are basically being bullied into acceptance of a situation where nine points are gone before a ball's been kicked. If this is simply a matter of perception, then it's up to the club and, yes, the supporters to keep hammering away at this, especially in any week before Webb officiates at his next Liverpool fixture.

"What does it matter now?" say The Appeasers. When the gesture's all that's left, it matters a great deal.