When it comes to transfers, players shouldn't mess with fans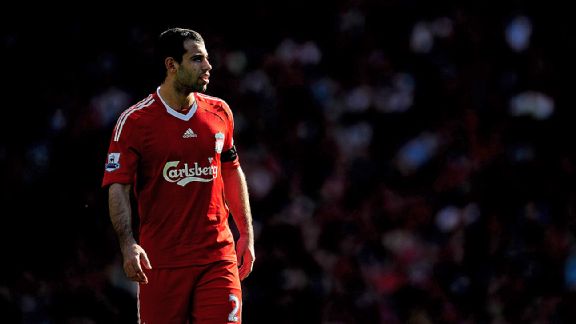 Jamie McDonald/Getty ImagesJavier Mascherano's comments about his LFC exit are confusing.
A common trait shared by football supporters the world over is that they don't like good players leaving the club they support. Some departures are handled better than others, of course, and quite often it can be a clean break with no hard feelings and a mutual "good luck for the future" from both parties.

But even when it's an amicable enough split, football fans as a rule do not like to see their best players leave.

Supporters of the bigger clubs tend to take these "breakups" far worse than those who follow sides lower down the leagues. Players "moving up the ladder" is just a natural part of life for a supporter of a small club, but for fans of the big boys there's a much bigger grey area in terms of what is considered a "step up" -- and that can often lead to bad feeling when players move on.

When it's clearly a case of a player getting a much better offer -- one that not even the most fervent of supporters could begrudge them -- more often than not, depending on the club he's moving to, said player tends to move on with the best wishes of the fans ... providing he's done it the "right way," of course.

Which brings me nicely on to Javier Mascherano, who made headlines this week after an interview he did in the Times that apparently "revealed the reason" for his Anfield departure.

Didn't we already know the reason for his exit? Moving to Barcelona at that time was a complete no-brainer; not even the most biased of Kopites could have made a compelling case as to why Mascherano should have stayed at Anfield when opportunity knocked at Camp Nou.

No, what the fans really wanted to know was his version of events relating to the accusation that he refused to play in a game at Manchester City just before he moved to the Spanish giants.

After reading what the Argentine had to say, I have to say I'm still none the wiser as to what happened. Liverpool boss at the time, Roy Hodgson, claimed at the time that Mascherano was not selected because he was "not in the right frame of mind" to play, but it was widely reported that the midfielder had refused to play. A move to Barca had been mooted for weeks, but no fee had been agreed and as far as LFC were concerned, until a deal was agreed, Mascherano was a Liverpool player and should have been available for selection.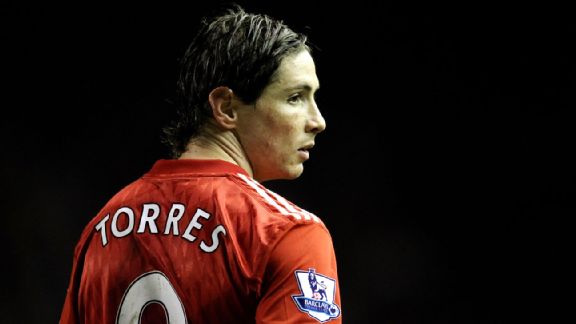 Alex Livesey/Getty ImagesPlayers can't control the way fans feel. Take, for example, Liverpool supporters' feelings toward Fernando Torres.

"I did not wake up one day and refuse to play" he said this week, without elaborating on what really happened. "I didn't want to say anything at the time because of my respect for Liverpool. [It's] a special club and it does not deserve to be treated badly. The people who were there at the time -- the manager and Christian Purslow -- have now gone, but they know the truth. Maybe that was a mistake because it allowed other people to say bad things about me. But I do not regret it."

Call me cynical, but I'm struggling with the notion that he kept quiet out of "respect for Liverpool" when his name was being dragged through the mud by, erm, Liverpool. Not even I would do that -- and I've been a Liverpool fan my entire life! If lies had been told about me, I'd be setting the record straight immediately, so I'm puzzled as to why Mascherano didn't and indeed still hasn't.

If his problem was with Purslow and Hodgson -- who ranked somewhere in between Margaret Thatcher and Jose Mourinho on the popularity scale -- then putting the boot in on those two would certainly not have damaged his standing with the majority of Liverpudlians. If anything, it would have enhanced it. As he says, they've both gone now, so why not give us his version on why he didn't play that night?

I loved Mascherano when he was at Anfield and I'd have him back in a heartbeat if it were in any way possible, but that night at City did tarnish his reputation somewhat. So if he's been wrongly portrayed as the bad guy, then let's hear what really happened instead of this ambiguous piffle about "broken promises."

It's the easiest thing in the world for a player to say what he did -- "I left because the club didn't fulfil promises they made to me" -- and then not elaborate on what those promises were. Liverpool fans know exactly why Mascherano left, and I've yet to encounter a single one who had any problem with him wanting to join Barcelona.

After all, it's not his departure that left a bad taste in the mouth; it was the manner of it and that apparent "refusal" to play at Manchester City.

"We had been talking about completing the transfer for 20 days because the club also wanted to make it happen, but then they started to make things difficult for me" he explained. So what happened then? He refused to play at City in a bid to force Liverpool's hand? Maybe that's not the case, but we don't know because for whatever reason, he's not going into any detail. And how exactly were Liverpool "making it difficult" for him? By not accepting a low-ball offer from Barca, or was there something more sinister?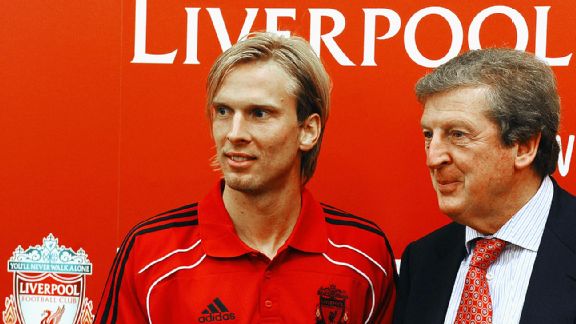 Paul Ellis/AFP/Getty ImagesPart of the reason for Mascherano's departure was reportedly to do with Roy Hodgson, but we still don't really know the truth.

The "broken promises" excuse was also used by another who fled the sinking ship around that time, Fernando Torres. "The Liverpool fans don't know the truth about why I signed for Chelsea," he said shortly after his defection to Stamford Bridge. "The fans don't even know half of what happened. They don't know what the people in charge at Liverpool are like," he continued, before failing to enlighten us on exactly "what they are like."

Three years on and we're still waiting to hear what these "broken promises" were.

Tell the truth!
Look, we're not stupid -- we know that both players left Liverpool because they wanted to join clubs that gave them a better chance of silverware. What's more, both have since won enough trophies to be able to justify their decisions.

But instead of simply saying "Hey, it's a short career and I wanted to win stuff, don't hate the player, hate the game," they opted to blame others for the manner of their departure because they want to have their cake and eat it. They want the medals at Chelsea and Barcelona, but they want to still be thought of fondly by Liverpool fans. In the main, Mascherano probably still is, but Torres most likely never will be.

Their respective choice of clubs is obviously a major factor in that. Had Torres signed for Barca and Mascherano joined Chelsea, it would be a completely different story, but the difference in how both players are viewed by Liverpool supporters is not solely a result of their destinations; respect for the shirt is a big part of it too.

While it can be argued that Mascherano disrespected the shirt by refusing to wear it against City (if indeed that is what happened), that is the one and only time that accusation can be made of him. When the little Argentine says he "gave everything for the red shirt" against Arsenal in his final game, he's not lying. In fact, he gave everything every time he stepped onto the pitch, there can be no denying that. If Torres were to make such a claim, he'd be laughed out of town.

No matter what "promises" had been made or broken, there is simply no excusing a player's earning in excess of one hundred thousand pounds a week just "downing tools" as Torres did -- Jamie Carragher's words, not mine -- and not giving maximum effort when he pulled on the shirt. Whatever led to Mascherano not playing in that Man City game, his commitment to the cause was exemplary prior to that, and if he were to return to Anfield as a Barcelona player for a Champions League game next season (and wouldn't that be nice!), he'd probably be assured of a warm welcome.

Torres, on the other hand, is a whole different kettle of fish. Even if you leave aside the lack of effort and general disinterest shown in his last year at the club, signing for Chelsea was never going to go down well on the Kop. Leaving for Real Madrid, Milan, Juventus, Inter or Barcelona is one thing, but jumping ship to a rival English club is simply not acceptable, no matter whom you play for.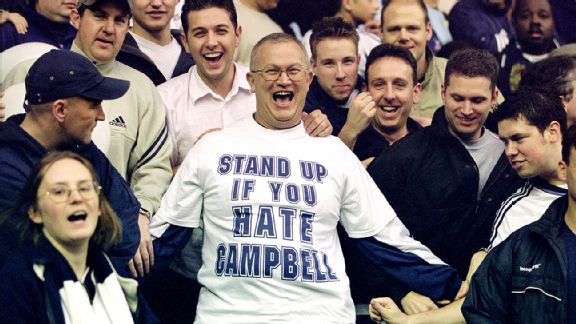 Ben Radford/Getty ImagesFans are rarely happy when their beloved players leave. Think Arsenal and Robin van Persie, or Tottenham with Sol Campbell.

Think Arsenal and Robin van Persie, Tottenham and Sol Campbell, Sunderland and Darren Bent, Everton and Nick Barmby (not to mention the late Gary Speed), to name but a few. Football fans simply don't like players walking out on them to join rival clubs, whether it's a geographical/historical rivalry or one simply based on the league table at that moment in time.

Of course, it's somewhat different when the player isn't getting a game and is no longer a part of the club's plans. For example, Peter Beardsley and the late Gary Ablett both moved across Stanley Park to join Everton, but there was very little animosity from Liverpool fans towards the pair because the club (or rather Graeme Souness) had deemed them surplus to requirements. Had Beardsley forced through a move to Goodison Park back when he was a key member of Kenny Dalglish's side, the perception of him would have been vastly different.

If a footballer wants to leave a club and still be well thought of by the supporters they are leaving behind, there are three simple rules to follow.

1. Always continue to do your best as long as you are employed by the club.

2. Do not refuse to play/produce subpar performances in a bid to force through a transfer.

3. Do not sign for a rival club.

Of course, players can choose to ignore all of the above and do their own thing; after all, it's their career and they can do what they like. Just don't play the victim when those fans let you know they aren't happy with your actions. Torres broke every one of those rules, Mascherano only one. That's why one of them is still generally regarded with some affection by the Kop, and the other is Fernando Torres.

So the message to any players who may be reading is that we football fans don't like being dumped, but let us down gently and perhaps we can still be friends.

Maybe.