Liverpool let down by Webb and wastefulness
It's often said that a week is a long time in football, and Liverpool and Arsenal certainly proved it at the Emirates on Sunday.

Last Saturday, the Gunners were humiliated by the rampant Reds at Anfield, but fast forward eight days and it was Arsene Wenger's men who were celebrating following a controversial, hard-fought 2-1 win that deprived Liverpool of a mouthwatering all-Merseyside FA Cup quarter-final clash against Everton.

It could so easily have been different though as, unlike last weekend, the best team was not victorious on this occasion.

Whilst never hitting the heights they had in that 5-1 demolition, Liverpool were nevertheless the more impressive side at the Emirates and can point to two reasons why they failed to get something from the game; poor finishing and Howard Webb.

- Brewin: Gunners gain revenge
- Palmer: Webb's mistake
- Rodgers rages with Webb

Profligacy in front of goal is not something that has been associated with the Reds of late, but being on the wrong end of Webb's decisions is a well-established trend that will have surprised few Liverpool fans.

It was going to take something special from Webb to top what he did at Stamford Bridge in December, when he failed to send off Samuel Eto'o and then denied Luis Suarez the most blatant of penalties after a foul by the Cameroonian, but his incredible decision to not award a spot-kick when Alex Oxlade-Chamberlain clattered the Uruguayan may have done just that.

It was truly staggering. Webb had given a penalty just minutes before when Lukas Podolski had clumsily tripped Suarez, and that was perhaps on his mind when he failed to give a second for what was an even more obvious foul (and the first one was pretty obvious).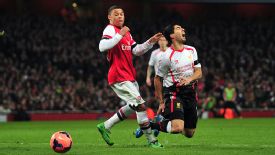 GettyImagesOxlade-Chamberlain challenged Suarez in the area but Howard Webb said no penalty.
It's rare for an official to have to give two penalties to the same team in such a short space of time, but a foul is a foul irrespective of the circumstances of the game and there is simply no excuse for Webb not doing so.

At that point in the game, Liverpool were playing superbly and Arsenal were under intense pressure. That non-decision took the wind out of their sails, however, and Brendan Rodgers' side never really regained the momentum.

I'm not going to say too much more about Webb's performance except that other referees have been banished to the lower leagues for much less obvious mistakes. They, though, are not the FA's World Cup representative. Above all, if this is England's best referee, then what does that say about the rest of them?

Whilst it's more than fair to point to Webb's performance as a significant factor in Liverpool losing the game, the Reds also need to look at themselves as they played no small part in their own downfall.

An ongoing inability to keep clean sheets is incredibly disconcerting. I wrote a few days ago how it seems like Liverpool need to score twice away from home just to get anything from a game and here was another case in point.

At least this time the goals were not gift wrapped with a pretty bow on top and a card marked "Best wishes, love Kolo x" but, still, they were both avoidable.

It's always a tall order when you need to score three goals to win a game, especially against an opponent such as Arsenal, yet such is their firepower that Liverpool could easily have done so.

Daniel Sturridge failed to convert two fine early chances and you have to wonder how Arsenal's psyche would have coped had they fallen behind again. Unfortunately, Sturridge couldn't take either opportunity and Suarez was also denied by a smart save by Lukasz Fabianski.

The pattern continued into the second half as the Gunners' back-up keeper repelled attack after attack, denying Suarez and Sturridge with fine saves as Liverpool set about clawing back an undeserved 2-0 deficit.

The only time Fabianski was beaten was from a typically clinical Steven Gerrard penalty. That was the only way Liverpool were going to score, which makes it all the more frustrating that Gerrard wasn't given a second opportunity from the spot.

Sturridge has been brilliant since signing for Liverpool and went into this game having found the net in each of his last eight games, equalling a club record. On another day he could have had a hat-trick but this time his luck was out.

He didn't put any of his chances away but he didn't do a great deal wrong with any of them either: sometimes the ball just doesn't want to go in. He was crestfallen at full-time, no doubt blaming himself for not taking any of the opportunities that fell his way.

In truth, Sturridge shouldn't let it play on his mind for too long though; strikers will always have days like these regardless of how clinical they usually are, it's an occupational hazard.

When it happens in a league game there's always the next match but, in a knockout competition there is no "next week" and Sturridge and his team-mates will be hurting after this one.

When you play as well as this at a difficult venue such as the Emirates you really should not be coming away with a defeat, but hard luck stories away to top six opposition have been an all too familiar tale for Liverpool under Brendan Rodgers.

This was another one of "those days", but sometimes the cards just don't fall your way and defensive errors being punished combined with an inspired opposing goalkeeper is never conducive to a securing a positive result.

Whilst the FA Cup was important to Liverpool and the fans would have loved a trip to Wembley this year, all is far from lost as there's still everything to play for in the Premier League.

The players and supporters will be feeling many things after this defeat -- angry, frustrated and disappointed all immediately spring to mind -- but one thing they should not be feeling is disheartened.

In fact, it's quite the opposite in fact. Arsenal will know they were fortunate to emerge victorious from this pulsating cup tie and Liverpool should take plenty of encouragement moving forward from how they played.

Defeat always hurts, but the Reds need to suck this one up, take heart from how well they performed and look to win as many of the dozen Premier League games they have remaining and see where that takes them.

Plus, of course, they could say a prayer to the footballing gods that Webb isn't assigned any more of their fixtures between now and the end of the season.