Still up for the cup, whatever anybody else says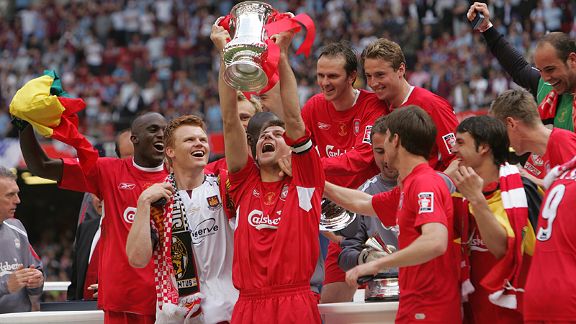 PA PhotosLiverpool captain Steven Gerrard last lifted the FA Cup in 2006.
Perhaps it is a generational thing, but I can't wait for Sunday's FA Cup game. Arsenal versus Liverpool is always a colossal match whatever the occasion, and though both clubs now seem to have one beady eye on the greater prizes that lie ahead, neither will want to be vanquished by the other. The needle will certainly have been increased by the scale of the Liverpool victory in their previous encounter.

I'm not expecting the Reds to win the cup this year, in a practical sense rather than the normal Buzz Killington guise I adopt 24/7. Apart from a fruitful phase in the late '80s, Liverpool space out their Wembley visits in five- or even six-year intervals, with a short interlude in Cardiff. Since Liverpool's last trip was in 2012 it's a bit too soon for a return. I meant "trips" of course, because Liverpool's immensely satisfying semifinal win against Everton was played there too.

- Usher: Gerrard spearheading Reds momentum

Despite that final, and a League Cup success, it was decided that Kenny Dalglish could no longer cut it. This season's exciting football and swift accumulation of league points -- Liverpool have more with 12 games to go than Kenny managed for a whole season -- means the decision to hire Brendan Rodgers has paid off, though some fans (again a generational quirk) won't be fully on board with The Project, or whatever daft term he's using this week, until Brendan wins a trophy.

So why not this one? I watched the British coverage of the Super Bowl recently, and Channel 4's American-born experts were asked if they remembered similar thrashings in the main event and they couldn't. My mindset is so competitive that I immediately tried to remember old FA Cup finals, the English equivalent, and I traced them all back to my year of birth! Now I'm no Rain Man I can assure you, it just indicates that the FA Cup holds a special place in some people's hearts which is sadly beginning to deteriorate while something like the Super Bowl is still revered and seems to get bigger year upon year.

At least it will actually be the climax of the English season this time around, after years of yet more wretched tampering with Tradition. They still do their best to wreck it though. There will be eight matches for the last 16. Honestly, there is; as Liverpool's American cousins might say, do the math. They will however be played at seven different kickoff times, over three separate days. This is to make sure that almost every game is televised live, because obviously the English game is so poverty-stricken it needs to grab every last penny it can. For this match at the Emirates, it was considered a favour to Liverpool supporters from Arsenal that ticket prices were knocked down from £93 to a mere £54. Greedy, greedy people.

Although Liverpool's games were well attended, watching the previous rounds with row upon row of empty seats at other stadiums saddened me greatly. Everyone's got something else better to do. In the bottom half of the table, they want to stay up in case those Premier League big bucks float away to someone else. In the top seven they want to board the Champions League gravy train.

Will Liverpool and Arsenal be any better? In the wake of Liverpool's league progress and Arsenal's upcoming battle with Bayern Munich, you have to suspect not. It's curious how often Liverpool draw Arsenal in cup competition right next to the corresponding league fixture. In 2002, the Reds went to Highbury twice in a couple of weeks. In 2007, Arsenal visited Anfield twice in four days for FA and League Cup ties. In 2008 the league game separated the Champions League quarterfinal matches. And now here we are again, twice in the same week. Maybe you can have too much of a good thing?

I do admire Arsenal as a football club, but some of them have often made it difficult. What helped make the 5-1 so very special was years of hearing them shout "hoof!" after every Liverpool defender's clearance, which gained widespread usage shortly after Arsene Wenger got there because "oh yaaaah, we play proper football now don't you know." This from a club that was symbolised by Tony Adams' upright arm calling for offside, once upon a time. Though you have to admire this Road to Damascus-style conversion, there was no need to be so cheeky about it -- but then that's football fans for you.

Wenger has had his moments of irritation and sour rancour, but what a great manager he's been. I recall with great annoyance how a French subscriber of the fanzine I was editing in the early '90s wrote me a letter about the Monaco coach who was a great admirer of Liverpool FC, and also a tireless advocate of the way the team played the game, especially in the late '80s. He went on to write that the club could do worse than hire M Wenger (for it was he -- the manager, not the letter writer!) to replace the execrable, not-waving-but-drowning Graeme Souness. Even if I had a time machine they probably wouldn't listen to me if I went back and begged Liverpool to do it, but it's always intriguing to ponder the road not taken.

I wonder who will have the greater desire to win this tie. At a guess I'd say Liverpool wouldn't welcome a replay exactly, but for Arsenal it would be a nightmare. It will certainly be an interesting test for a Liverpool side that seemingly has a phobia about clean sheets, and given Arsenal's desire for swift vengeance I fully expect the home side to come at the Reds fiercely from the off. Revenge, being the home side, fear of a replay; all the cards would appear to be in Arsenal's initial favour, but this is a Liverpool team playing with great confidence and even if Liverpool didn't fully get their act together at Craven Cottage they came away with an important win against a Fulham side that clearly doesn't deserve to be bottom of the league.

Arsenal wouldn't be human if they weren't a little distracted by the upcoming Bayern clash. It's actually quite stunning how such a big club hasn't won the major prize and Chelsea has, but then you recall how dismissive Wenger was about Liverpool reaching Istanbul in 2005 (he likened the Reds to Millwall reaching the FA Cup final) and the bile begins to flow again.

Liverpool fans will snipe back at Jose Mourinho for his fixture list remark but he makes a point. On Sunday it's the opposition who will be worrying about extra games while Liverpool seemingly haven't a care in the world. I hope the Reds go for it. The team selections will tell us a lot, though obviously Brendan Rodgers has less room to manoeuvre in that department. Even when losing heavily at Anfield, Wenger could call on more quality from the bench with Kieran Gibbs, Lukas Podolski and Tomas Rosicky entering the fray.

Liverpool will have seven days afterwards to focus on and rest up for their next game in the unexpected but intoxicating chase for a 19th league title. Why not go all out for victory here, and at the same time give an ailing competition a much-needed shot in the arm?

There are some old fossils that will thank them for it.