Gerrard spearheading Liverpool momentum
As Liverpool captain Steven Gerrard channeled his "inner Yossi Benayoun" with a dramatic last-gasp winner versus Fulham at Craven Cottage, even the most sceptical, pragmatic, disbelieving of Kopites must have thought -- even if just for the faintest of moments -- that "maybe, just maybe, this could be our year."

Late Gerrard goals have led to silverware before, of course. Liverpool were in danger of being eliminated from the Champions League at the group stage back in December 2004 until Neil Mellor's cushioned header was spectacularly lashed into the Kop net by Gerrard. The Reds famously went on to win the competition that season, but without that late goal from Gerrard against Olympiakos months earlier, it would not have been possible.

The following season, Liverpool were trailing 3-2 to West Ham United in the FA Cup final at the Millennium Stadium. With almost the last kick of normal time, Gerrard struck an unerring half-volley into the bottom corner from 35 yards out and Liverpool went on to triumph after a penalty shootout. He may be entering the twilight years of his career, but it seems that Gerrard is still capable of nipping off into the nearest phone box, donning his Superman costume and saving the day for Liverpool.

- Kelly: The mark of a champion?
- Report: Fulham 2-3 Liverpool

Gerrard is Anfield's own man of steel. Time and again he has delivered when under the utmost pressure, and if Liverpool were to somehow upset the odds and finish top of the pile this season, his nerveless conversion of that stoppage-time penalty kick at Fulham may well be looked back on as being the pivotal moment -- the Olympiakos moment, if you like.

We're a long way off knowing just how important Gerrard's spot kick will be, of course, but it sure felt pretty important when he lined up to take it. I could barely bring myself to watch; it felt like the entire season was on the line even though, in reality, it obviously wasn't as there's an awful lot of football still to be played.

By converting that high-pressure kick, Gerrard ensured the growing momentum being built up by the Reds was not halted in its tracks. Having made such an emphatic statement against top-of-the-table Arsenal at the weekend, the last thing Liverpool wanted was to fail to beat bottom club Fulham a few days later. Psychologically, that would have been a big blow, not just to Liverpool's outside chances of winning the title, but also to their hopes of a top-four spot. With Spurs trouncing hapless Newcastle at St James' Park, the gap would have been closed to just a single point had Gerrard not buried that penalty. If he was feeling pressure, he certainly didn't show it.

So Liverpool take the three points and continue to roll on, looking upward to try to catch those above them rather than simply attempting to hold off those behind them. Only time will tell how important the win at Craven Cottage will be, but right now it feels monumental, not necessarily due to the result itself but more because of the manner in which it was achieved.

Liverpool have had other close away games that have gone down to the wire this season, but the steely determination, incessant pressure and sheer overwhelming desire to summon up a winning goal when things weren't going smoothly has usually not been there. There were no grandstand finales such as this in the draws at Swansea, Newcastle or West Broom, for instance.

This felt different somehow, and it certainly didn't feel like a game in mid-February. This felt like a late-season game when the stakes are at their highest, as Liverpool pushed and pushed and pushed for a late winner and the scenes were jubilant when it duly arrived. Liverpool wanted this one badly. Gerrard wanted this one badly.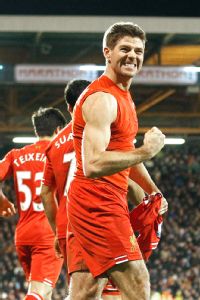 AP Photo/Sang TanSteven Gerrard has helped Liverpool muscle its way into title contention.
The captain's manic celebration after converting that winning penalty spoke volumes. Did that look like a man thinking, "Woo-hoo! This will keep us three points ahead of Spurs." Or was it a man with much loftier ambitions? Are Liverpool's players now beginning to believe they can win the title? I think they just might be, you know. And well they should.

The official LFC party line continues to be that nobody at Anfield is thinking about the title, but with only four points between Liverpool and top spot with a dozen games still to play, and with the side scoring goals at an unprecedented rate (66 goals from 26 games represents a top-flight club record in the Premier League era), it's becoming increasingly difficult to build a convincing case as to why Liverpool cannot win it.

Of course, it's easy to pick holes in Brendan Rodgers' side, as the holes are there for all to see; the defensive errors are a major concern, as is the less-than-convincing form away from the home comforts of Anfield. It often seems that Liverpool have to score at least twice in every away game just to get a point, and that makes it extremely difficult to win titles. Liverpool are unquestionably flawed -- they have been for most of the season -- yet they are still within touching distance of the top. So what does that say of the sides they are competing with?

All season, the vast majority of Liverpool fans -- including myself -- have been pointing out the reasons their team cannot win the title. Many are still doing so, but it's becoming a less convincing argument with every Liverpool win and every game in which one of their rivals unexpectedly drops points.

"Not holding onto a lead at the Hawthorns shows why Liverpool can't win the title," some said. So does that mean Chelsea can't win it either, then? And what would Liverpool fans' reaction be to a goalless draw at Carrow Road, as Manchester City had last weekend? I can't even imagine the fallout if Liverpool let in 11 goals in two games against fellow members of the top four, as Arsenal have done this season.

We keep telling ourselves that these sides are so much stronger than Liverpool, and on paper that may well be the case. Certainly, a look at the respective substitutes' benches of the top four or five sides would suggest that Liverpool are the poor relations. On the pitch, though, do any of those sides currently look to be significantly better than the Reds? Not for me.

There will unquestionably be some bumps on the road for Liverpool over the run-in, as it's highly unlikely that they will win every game, but surely the same can be said for everyone else too? The Reds are at best third favourites in this race (Arsenal's upcoming run of fixtures could possibly see them drop off the pace), but they are truly in the race now, and having positioned themselves on the shoulders of the leaders, it's now just a sprint to the finish line.

If Liverpool are to last the pace, they are going to have to find a way to grind out wins when it looks as if things may not go their way. The result at Craven Cottage, therefore, was just what the doctor ordered, and in its own way it was as much of a statement victory as the thrashing of Arsenal. And when Steven Gerrard is scoring dramatic late goals, well, good things often follow.