The mark of champions? Whisper it, but it just might be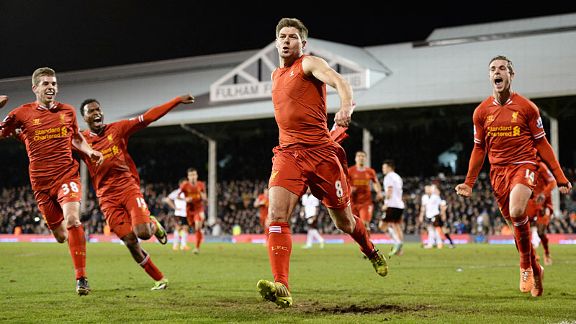 GettyImagesLiverpool celebrate after Steven Gerrard scored their late, late winner at Fulham from the penalty spot.
They're not going to do it the easy way, are they? Liverpool came from behind twice and edged past a gritty, skillful and well-drilled Fulham in the last minute with a typically cool Steven Gerrard finish from the penalty spot to win 3-2.

Craven Cottage is one of my favourite places -- sometimes. On a sunny spring day or summer evening it is a sheer delight, but on a midweek winter night like this, dark and damp, it has thrown up some strange conundrums for the men in red.

- Report: Gerrard hits late penalty winner
- Rodgers: 'No limits' to ambition

Something bizarre always happens there. There was an extraordinary game which first hinted that Rafa Benitez was special, coming from two down to win 4-2 despite being reduced to 10 men. There was a second-string defeat which the ex-Sheffield United manager Neil Warnock has never forgiven Liverpool for, much to every Kopite's shame and pain (ahem). That magic April night when Yossi Benayoun won the league title for Liverpool -- or so it was thought. The visitors in red will either turn it on in fine style or have players sent off before leaving in humiliating defeat.

Although this particular game saw no premature departures, it matched all of its predecessors for excitement and nail-biting tension, capped finally by euphoric victory. I shouldn't get my blood pressure tablets from the NHS; I'll probably send the bill to Anfield from now on.

So much of the game's buildup indicated an easy Liverpool win, which of course only rings more alarm bells rather than fewer. Fulham had run themselves into the Old Trafford pitch, while The Reds surfed in on a gargantuan wave of Gooner humiliation the day before. There was talk of the game being postponed, which naturally had the Liverpool Twittersphere in utter uproar: the cheats, the cads, the cowards, etc. Chicken noises were clucked.

This sort of hubris, combined with the loud mockery of Mancunians who could not even beat this motley ragbag of refuse, takes aim at the football gods and shouts "What are you going to do about it?" People really ought to know better. Fans made jokes about Fulham praying for rain and a flooded Thames. The levee didn't break but my sides almost split. It was like sticking your chin out to Muhammad Ali at his peak and saying "Go on, take your best shot, I dare you."

And Fulham did precisely that. Their pressure deserved a reward, like West Bromwich Albion's before them, but why does it always have to be Kolo Toure who provides it? The ball bobbled up for sure but it typified the panic that this makeshift back four spread throughout the team like a virus. They're OK if you give them a four-goal start to protect, but the Londoners hunted and chased everything. Weren't they supposed to be tired after Sunday? It was all very rope-a-dope, and guess who played the part of the dope?

Philippe Coutinho was barely in the game, Luis Suarez even less. Fulham's defenders had clearly been alerted to Raheem Sterling, as every time he touched the ball a white shirt steamed into him. Even so, he looked Liverpool's best hope of hitting back. Darren Bent could have increased Fulham's lead, but out of the blue, from a stunning Gerrard pass, Daniel Sturridge had equalised. It's wonderful that he's getting the same serenade as Patrik Berger, another left-footed magician who scored for fun.

It was suggested during half-time that the adrenaline Toure's clanger had given the home team would quickly dissolve, and so it proved for the opening 10 minutes of the second half. Suarez had finally woken up, a constant menace to the Fulham defence. Steve Sidwell and Lewis Holtby were doing great work in the Fulham midfield, but their colleagues were beginning to look decidedly ragged. A goal was coming.

And it did -- for Fulham. Who knows what Martin Skrtel and Simon Mignolet thought they were doing, but Kieran Richardson won't score an easier goal. Anything central in the six-yard box must be the goalkeeper's, whatever calamity should befall anybody else. He's a good shot-stopper, but there is a lot more than that to being a great keeper and Mignolet is going to have to take a refresher course one day.

Liverpool's Achilles' heel had been pierced again. Suarez went back to his meandering ways, looking thoroughly disillusioned. It must be hard to deal with, having to score twice to ever win. Now it had to be three. Fulham received another energy jolt just when it looked like they could not have survived much longer. Why does this team keep doing this to us? The wretched start against Villa, the awful Toure pass at Albion and now this. The gloom rapidly descended once more.

To be fair Fulham had done well. There was none of the dawdling arrogance of a Mesut Ozil that had cost Arsenal so dearly. They knew they were in a fight just to keep up with us, and they certainly battled whilst keeping it simple and effective.

There is always a goal in this Liverpool team though, and Coutinho equalised with what looked initially like a brilliant shot but turned out to be deflected. I might have known, but he was getting more room and putting clever balls through to the forwards. Last-ditch defending was now the only thing keeping Liverpool at bay.

It was now clear who wanted the win and who wanted the brave little soldiers' reward of a point. Coutinho almost scored again, Sturridge was now a constant threat and was suddenly clear. A Fulham defender lunged, and it was a penalty. The substitute keeper got far too close to it for comfort, but there The Reds were. In front. Bedlam.

Daniel Agger was sent on for the remaining five minutes of a predictable aerial bombardment, but after a few scares the final whistle blew. Nearly five years after Benayoun's miracle, Liverpool supporters were delirious again on the banks of the Thames, asking anyone who would listen if they also believed The Reds were going to win the league.

The actual performance on the night screamed "Of course not, you laughable Scouse poltroons," but emerging with three points from such an erratic night made a few more outsiders pout, shrug their shoulders and mutter, "Well, it's possible I suppose."

Liverpool fans won't actually care who is begrudging in their praise and who is genuinely rattled now. It doesn't matter how you get the points, as long as you get them. Or does it? Braver souls will claim that Liverpool can do that from now until May and it wouldn't matter to them one iota. I'm not sure I could handle it, though.

Nurse, the pills!