Cup exit intensifies need to improve in the league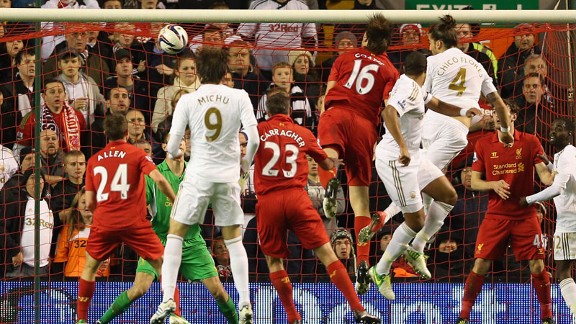 GettyImagesChico (4) heads Swansea in front against Liverpool
On the full time whistle at Anfield, amidst murmurs ranging from disinterest to discontent, came an anguished howl. This was no werewolf, nor the phantom of Anfield - it was a monkey firmly on the back of the club's managing director Ian Ayre, who claimed in the summer that domestic cups are not important to Liverpool. Here was the first chance to test its legitimacy; Liverpool's grasp on the League Cup had been relinquished. His comments were about to come back and haunt him. It was Halloween, after all.

- Rodgers: Cole wasted chance to impress
- Holders Liverpool dumped out
- Spirited Swansea down cup holders

In the aftermath of Kenny Dalglish's usurpation in May, it was Ayre's words that cut supporters deepest. It is a club whose tapestry is woven with so many moments in the FA Cup and League Cup, a club whose supporters possess a bulging mental scrapbook of magnificent memories from the past six decades. Ian St.John weaves into Keegan; Keegan into Dalglish; Dalglish moves Rush; Rush into McManaman; McManaman into Steven Gerrard. A picture perfect history. After spending hundreds and thousands following their side to two cup finals last season, it was a final slap in the face for supporters already showing welts of woe from Dalglish's dismissal.

It was poorly phrased by Ayre, but in reality was merely another sandwich in the picnic of public relations disasters the club have feasted on over the past two years. That he was speaking from a business perspective was understandable, but it is hard to understand the business sense in telling customers their hard-earned money spent watching Liverpool is regarded as futile. It is hard to understand, too, how trophies can be classed as unimportant when the tears of Liverpool that stained Wembley in May have only just started to fade.

But within the poorly-timed, poorly-articulated remarks hides a shred of truth. Though the two cup campaigns last season provided more matter for the mental scrapbook, qualification to the Champions League is needed to bring the club closer to their first league championship since 1990, no matter how distant that may seem. It's a simple equation: Champions League football attracts better players; better players improve the squad; improving the squad brings that elusive title closer. Improving the squad also allows the team to fight for every cup. Some are more worthy than others, but none of them worthless.

But Ayre's comments in May undermined that thought process. Some supporters took it to mean Kenny Dalglish could only save his job if he had finished fourth and some expect Brendan Rodgers has to achieve fourth-place minimum to avoid the same fate as the legendary Scot. Neither is necessarily true.

No matter. Liverpool are out of the League Cup - the cup they held aloft proudly in February - after a comprehensive defeat to Swansea. It was a game that exposed the emaciation of Rodgers' squad, with a central midfielder at right back, a scarcely-tried 18-year-old up-front alone and Joe Cole on the pitch. If the cups do not matter, then Rodgers can count himself fortunate, for he had little to work with on Wednesday with Everton three days gone and Newcastle three days ahead.

But the cups do matter to supporters. The limp, lifeless 3-1 defeat to Swansea is the first real setback for the manager since his ascension to the Anfield throne. Supporters want to see progress from Kenny Dalglish's 18 months - Rodgers losing the trophy Dalglish won does not help that. It is the first tangible comparison between the two managers and, unfortunately for the current incumbent, his back is against the dugout wall.

Comparisons are ultimately futile, and undeniably unhelpful. Unlike Dalglish, Rodgers has the Europa League to contend with; unlike Dalglish, who had striking options such as Dirk Kuyt, Craig Bellamy and Maxi Rodriguez in reserve, Rodgers must juggle his young, threadbare squad like confetti in a hurricane. But when Liverpool's hierarchy dismisses domestic trophies, whether intentionally or not, a greater importance is placed on league position - a league Liverpool currently occupy the bottom half of.

The defeat to Swansea was not down to any misplaced comments in the summer, though. This defeat is one Rodgers will take responsibility for. Though his options are limited given the paucity of depth in the squad, more pragmatism with his squad is needed. Much like Sunday against Everton, it was clear some players are struggling to adapt to the demands of his philosophy. He cannot change the players, and he certainly should not change the philosophy, but he failed to react to the problems both his own players and the opposition were providing. It is a system that requires 11 good players; there were not 11 good Liverpool players on the pitch, and not even success in the much-maligned pursuit of Clint Dempsey would have changed that.

Perhaps an exit from the League Cup will prove useful over the course of the season. Less games to stretch the squad even further and less microscopic exposure of players who have to be tucked up in bed if the match goes into extra time. Short-term pain, long-term gain. Indeed, that is the mantra Rodgers will stick to in light of this defeat. He will point to his former club Swansea as proof of that. The Welsh side came to Anfield with a style and swagger that Liverpool have lacked for years and to reinstall that into a faltering red machine may be the biggest task of all.

The cups might not be important to the Anfield hierarchy, but most of the supporters disagreed at full time. So, too, will Rodgers if his side don't continue their climb up the table. His focus - now, more than ever - will be on the Premier League. With just two wins so far, it simply has to be.