The pressure of a Suarez escape bid is still there (and that's fine)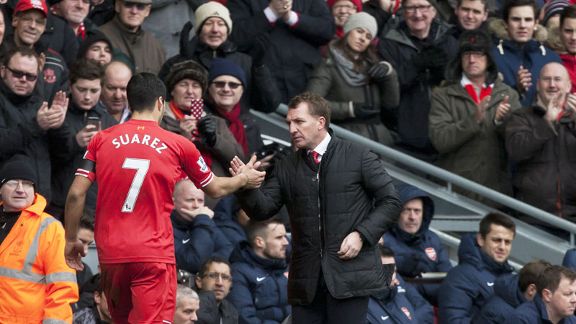 APLuis Suarez was not on the score sheet versus Arsenal but still shone.
Luis Suarez has not been performing as well as we know he can do in recent games. Take the thrashing of Arsenal for example. Just the four outstanding pieces of genius on Saturday: setting up the sitter that Daniel Sturridge missed, the thunderbolt shot which hit the post, the clinical pass to give Raheem Sterling a tap-in and the quixotic free kick that brought an amazing save. A few fancy dribbles and near misses, nothing that great.

A display that would have most footballers dining out free for weeks, but for Suarez, Liverpool Striker Season 2013/14, it almost amounted to invisibility. I had two strokes of luck at the weekend -- one was to acquire a seat almost on the pitch itself for such a fine performance and the other was Liverpool's storming start that killed the game as a contest. That gave me a chance to indulge in one of my favourite pastimes: Suarez Watch.

- Usher: Can Liverpool win the title?

It's like seeing a famous movie actor do Shakespeare in a cast full of nonentities. You forget the others and their lines are integral to the story as this gigantic ham chews the scenery knowing all eyes are upon him. Liverpool were winning 5-0 in the second half, with the clock ticking its way to safety and victory, but you'd never have known it watching the number seven. He was a bundle of energy, thigh slaps, shrugged shoulders and pantomime protestations whenever a pass to him went slightly astray. There were also the overblown apologies to any opponent he'd brushed against, never mind knocked over -- he's a good boy now, don't you know? And then there's the face; that pained, permanently quizzical, crazy face.

Liverpool supporters have always got at least one friend, be it an Evertonian or a United fan, who gives the same response any time you text/email about the recent brilliance of the Uruguayan. "Yeah, you weren't saying that in August though were you?"

Of course not! I'm not going over the old ground of the cheeky "extra pound" Arsenal bid, or his desire to shield his daughter from tabloid excess by, erm, moving to London, but it amazes me how footballers and journalists still think fans should render a hearty "bon voyage" whenever anyone turns around and says the club you've loved your entire life and cannot ever give up is no longer worthy of their continued presence.

There may be the odd loon who burns a shirt or sends a death threat, but for the rest of us once you're gone, you're gone and you no longer get to bathe in the warm glow of The Love: that pathetic, rose-tinted worship which renders any half-decent footballer impregnable to the barbs of the cruel outside world.

I suppose the first one who made Liverpool fans bristle was Kevin Keegan. Even when he was leaving behind a side that was English and European champions, with some much-vaunted fella called Kenny Dalglish still to come, the fans weren't in a forgiving mood. Years later it got worse with Michael Owen going off to Real Madrid, leaving a side he'd done much to prop up for six years to fend for themselves. Steven Gerrard also seriously considered packing his bags for more silvery climes that summer but that still never gave Owen, vilified to this day, any respite whatsoever.

If anything the alarm bells ring far earlier these days. The merest hint of a tumble down the table has the modern footballer speed-dialing his agent and searching for the emergency exit. It's understandable when players want to return to their own country of course. The likes of Xabi Alonso and Alvaro Arbeloa were largely forgiven, especially when Real was their destination too, but as Rafa Benitez's side began to struggle the exodus became mass rather than a trickle and Fernando Torres, Javier Mascherano and Pepe Reina all began knocking on the door. Gone are the days of Billy Liddell and Ian Callaghan, though locality can still throw up a Gerrard or a Jamie Carragher.

With football media packed out with ex-players, you can expect no sympathy for the supporters' point of view, just huffy retorts about the player "having every right to pursue their ambitions" -- like the fans themselves were happy enough with any old rubbish. Of course that clannishness did benefit Luis after the penalty episode against Aston Villa, when old/dab hands such as Gary Lineker and Alan Shearer backed him to the hilt. The only condemnation came from professional troll Stan Collymore, who was curiously silent about Alex Oxlade-Chamberlain's "professionalism" for Arsenal's consolation goal.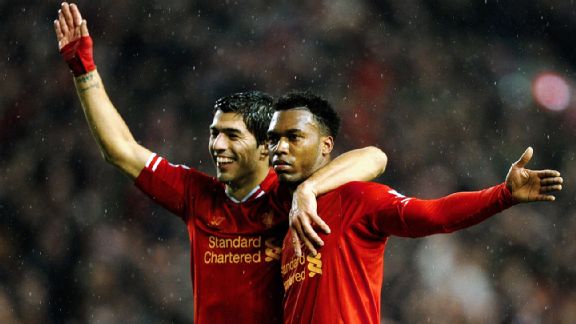 Laurence Griffiths/Getty ImagesDaniel Sturridge is doing his best to ensure Suarez is not the only big fish.
Lots of Liverpool fans condemned Suarez for his escape bid to the Emirates, since the Londoners were hardly pulling up any trees themselves. Yes, they're regular Champions League qualifiers and all that, but there's an important difference between being in a tournament and competing for it. Having said that, Arsenal's response this season has been terrific and actually supported the Uruguayan's judgement in seeking a move there. The next few weeks may well see everything turn to dust for them but they've proven people wrong up to now.

Expecting anyone to stay nowadays seems like a fairy tale. It was pointed out that before Saturday Liverpool hadn't won a home game against Arsenal since 2008. Six years is not that long in football, but only Martin Skrtel and Gerrard played in that Champions League quarterfinal for Liverpool, while Kolo Toure played for the Gunners. Two of those players don't have a lot of time left. It's a huge turnaround of personnel in such a relatively short time, but one everyone has to get accustomed to. The conveyor belt moves faster and faster. Welcome, my son, welcome to the machine.

Last season the genius of Suarez and the club's dependency upon one man spoke volumes about the mediocrity in the squad. Liverpool were therefore asking the manager to add players worthy of playing alongside him and to produce a style of play not only conducive to producing his best but to make the seemingly average players already at Liverpool give their all, whatever that was. In short, to make the pond bigger so the big fish didn't stand out so much or become so hemmed in he'd want to swim away as soon as possible.

Whatever doubts may linger about Brendan Rodgers, the success of the manager's response to those demands is there for all to see. There could be more consistency from Philippe Coutinho and better performances from Joe Allen, though it doesn't look as if Jordan Henderson actually needs resting, ridiculous gait notwithstanding. The goalkeeper can still give you the fear sometimes, nearly blowing the great start against Arsenal. The occasional clean sheet would be nice, but all of this is par for the course with a "work in progress." There is genuine confidence within the support that any work still required will be done rather than could be done.

In Bill Shankly's day the players did as they were told, were squeezed dry like lemons and casually tossed aside for fresher reinforcements. The team was first, it was last and it was forever -- until you couldn't cut it. A state of affairs that has vanished along with many other things in football, some good, some bad. The pressure to succeed becomes even greater as a result.

Rather than cower and whine in the corner at the rampant unfairness of it all, Liverpool have come out fighting, using that fear to drive them on and it's been wonderful to witness. Long may it continue.