Can Liverpool win the Premier League?
After another pulsating performance from Liverpool at Anfield saw a shell-shocked Arsenal obliterated in 19 glorious minutes, I was left with a whole host of questions to ponder: Is Raheem Sterling the best winger in England, as manager Brendan Rodgers claimed afterward? How many goals does Daniel Sturridge have to score before he gets the kind of media recognition he deserves? Has Jordan Henderson stopped running yet? Did Arsene Wenger make a grave tactical error in abandoning the extra protection of his trademark "sleeping bag coat" for a regular suit jacket before taking that unfortunate tumble in Liverpool's Lime Street train station as the Gunners made their way back to London with their collective tails between their legs?

- Report: Liverpool 5-1 Arsenal
- Kelly: Tempo the key in Anfield master class
- Brewin: Three things: Liverpool vs. Arsenal

But the biggest question on most people's lips after the Reds' latest demolition job on a top-four rival seems to be: Are Liverpool now in the title race?

If it's a simple "yes" or "no" answer you're looking for, then you would have to say that if a team is just six points off the top with 13 games to go with the league leaders still to play at home, then it is a categorical "yes." That doesn't mean that they have a particularly strong chance of winning the race or that they will even still be in the race in three weeks, but as of right now, Liverpool have to be considered as being in the title race.

Outsiders they may be, the Reds are most definitely in with a shout. Despite his public proclamations to the contrary, Rodgers is fully aware of that. The players are too; they have to be. After all, when you've made short work of Arsenal inside 19 minutes, hammered Spurs at White Hart Lane, pulverised Everton and held your own in contentious defeats to Manchester City and Chelsea, then why wouldn't you fancy yourself?

Jose Mourinho's laughable "little horse" comments and embarrassing attempts to play down Chelsea's title chances are fooling no one. Chelsea and Manchester City are more than likely going to be slugging it out to decide who are the Premier League's top dogs, and so they should be, considering the huge amounts of money invested in their squads in recent years. Chelsea were European champions just two years ago and must have spent 200 million pounds improving that squad. It almost beggars belief, therefore, that Mourinho can try to play the underdog card.

In stark contrast, Liverpool have been in the wilderness for several years. They have not spent anywhere near as much as some of those they are competing with and are rightly seen as being outsiders. Outsiders have won races before, though.

I'm not getting carried away. I don't think Liverpool will win the title, but I didn't think they would win 5-0 at Spurs or pulverise Arsenal and Everton either. It's been the most unpredictable Premier League season I can remember. Every week it seems there's a result either at the top or bottom that causes shock waves around the country -- *cough* Darren Bent *cough* -- and with that in mind, right now I wouldn't rule anything out.

When you see Liverpool completely dismantle a top side like the Gunners in the manner they did, it's perfectly natural to ask, "Why can't they win the title?" The answer is that they can, but in all probability they won't. When Liverpool win, they tend to win big and look as good as anybody in doing so. Countless teams have been steamrolled by the Reds this season, especially at Anfield.

When the game is close, however, it's usually a different story.

The inability to win the tight games is what is holding Liverpool back and is the reason they sit fourth instead of first. It's also the reason they are just three points ahead of a vastly inferior Tottenham Hotspur side. Liverpool's goal difference is a whopping 33 goals better than the men from White Hart Lane, yet only three points separate them. Why? Because Liverpool have not been able to win the close games. If only the Reds could have turned frustrating draws at West Brom, Swansea and Newcastle into wins or managed to find a late winner at home to Aston Villa.

In contrast, Chelsea know how to win the close games. They haven't been hammering teams in the manner Liverpool often have -- scoring 16 fewer goals than the Merseysiders -- but they know how to get a result when they need it. Liverpool don't have that yet, but in just his second season on the job, Rodgers has the side playing at a much higher level than most expected.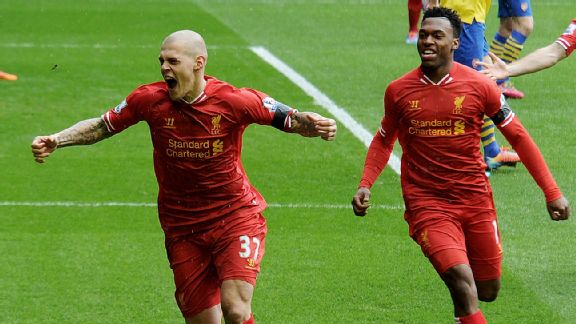 Andrew Powell/Liverpool FC/Getty ImagesAgainst Arsenal on Saturday, Martin Skrtel and Daniel Sturridge once again showed why it is nearly impossible to beat Liverpool at Anfield.
There's a fine line between first and fourth this season, and Liverpool are treading on the wrong side of that line due to that inability to win on the days when they fail to dazzle. It's impossible to play well and score four or five every week. Sometimes you have to just grind out the win however you can. That's an art Liverpool have yet to master. Three consecutive 1-0 wins to start the season suggested they were on the way to cracking it, but they have failed to win by that scoreline on any occasion since.

Who's to say that won't change over the coming months, though? If the Reds are to have any chance of catching those above them, it will need to do so.

In Liverpool's favour is that, following the trip to Fulham on Wednesday, that could be it for the season as far as playing two games in a week is concerned. If they overcome Arsenal in next weekend's FA Cup clash, Rodgers may still have a midweek game or two to negotiate, but in comparison to the other sides at the top, Liverpool's fixture load could be a relative walk in the park.

While Chelsea, Manchester City and Arsenal all have to deal with the added demands of the Champions League (for one more round at least), and in City's case a Capital One Cup final to boot, Liverpool's players will be on the training ground preparing for their weekend game with no energy-sapping trips to face Europe's elite to hamper their preparations. There will be no squad rotation from Rodgers either, as when a team is playing only one game a week there's no need to rest players. As Mourinho seemingly never tires of mentioning, that's a definite advantage, especially when you have a squad as small as Liverpool's.

Time will tell if that proves to be significant, as it's an advantage only if you can stay relatively injury free. Unlike the sides they are competing with, Liverpool do not have a star-studded substitutes' bench. If the starting lineup can't get it done, it's unlikely the bench will offer much assistance, and that's perhaps part of the reason they've been unable to win the tight games. It certainly helps when you have genuine talent to throw on in the closing stages of close encounters, but Liverpool have not had that all season as all of their genuine talent is usually already on the field.

All things considered, Liverpool probably won't win the league, but it's nice to be back in the conversation. I, for one, am going to enjoy it for as long as it lasts.

And there is so much to enjoy about watching this Liverpool side, especially at Anfield. You would have to go back to King Kenny's sides of the late 1980s to see this kind of exciting, attacking "football without fear" on a regular basis. Only Manchester City have scored more goals than Liverpool this season, but the gap is closing fast.

Liverpool have shown this season that they can beat anybody and beat them well. Now they need to show they can win the scrappy, close games. The trip to Fulham on Wednesday night looks a much easier fixture on paper than the Arsenal game, but this is exactly the kind of scenario when Liverpool have often been found wanting. They followed up the huge win over Everton by delivering a damp squib against West Brom, and if Liverpool have any ambitions above and beyond fourth place, they need to ensure there is no repeat of that lacklustre display at the Hawthorns.

Former Anfield boss Gerard Houllier once said, "If we aim for the moon, maybe we can land among the stars." That's appropriate for the current situation. There's no reason why Liverpool should not be aiming for the moon while it's still within sight, but the likelihood remains that they'll have to settle for a place in the stars. Regardless of where they eventually land, the next few months promises to be a fun ride for Liverpudlians.