Past and future tensions aggravate deadline day fears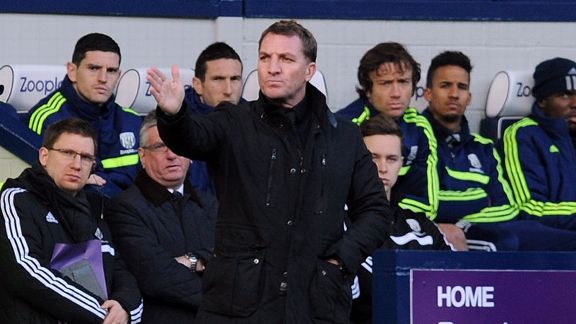 GettyImagesBrendan Rodgers targeted wingers last month despite Liverpool's defensive concerns.
The 1-1 draw at The Hawthorns would have been cause for concern even if Liverpool had landed any of their January transfer targets. That it happened immediately after another fruitless and far-too-public attempt to buy a winger for a side crying out for defensive reinforcements only exacerbated matters.

• Usher: Out of sorts Liverpool
• Rodgers defends Konoplyanka failure

The previous game, a thumping win over local and top-four rivals Everton, gave succour to those who wanted to believe additional players weren't entirely necessary. The second-half struggles against West Bromwich Albion, coupled with a forlorn glance toward the bench at the meagre resources available to the manager once Victor Anichebe levelled, diluted such optimism almost to transparency.

Fans will recall the excellent business done by Brendan Rodgers in the previous winter window. Philippe Coutinho brought guile while Daniel Sturridge immediately created a second major goal threat. It improved Liverpool's season immeasurably while diverting attention away from the disappointments of his first two major signings, Joe Allen and Fabio Borini.

The summer, however, brought more agitation. The goalkeeper, Simon Mignolet, has been good, although his trepidation with aerial bombardment makes everyone in the stands as skittish as a Newcastle police horse. Iago Aspas and Luis Alberto seem like a waste already, whilst Mamadou Sakho was surely overpriced. Tiago Ilori has never even been seen, and if he couldn't put Kolo Toure under pressure for a place he never will be.

This amounts to a significant stash of wasted funds already. It could be perceived that less-than-enthusiastic pursuits of Mohamed Salah and Yevhen Konoplyanka were a lack of confidence in the manager's transfer judgement, although there are persistent claims they were offering the full market value for the latter. It seemed outrageous to many that the club left it until mid-January to make any sort of move. Since the winter window is primarily meant to fine-tune the team, or the squad at the very least, the overriding necessity became harder to pin down as the weeks wore on.

The fitness struggles of Lucas meant a defensive midfielder was a must originally. Then Glen Johnson finally broke down after weeks of niggles (though cynics might say this news camouflaged plenty of sub-par performances). Aly Cissokho continued to frustrate and irritate. Rodgers' substitutions rarely come off, but given the choices, that's hardly surprising. The priority shifted from game to game, with one new absentee after another, until it felt like we needed half a new team -- though this is ludicrous, of course, in the light of the team's position and the excellent football that has been supplied with a regularity thought impossible a year ago.

A determination appears to have been made that we should not make any long-term purchases for short-term problems. The injured defenders will eventually recover, and that would inevitably summon up that dreary cliche -- "His return will be like having a new signing." A quick glance at Daniel Agger's career might suggest that was wishful thinking!

Cooler heads were in short supply, though, as the battle for the copper medal of fourth place hots up. The great fear fueling such seizures is the possible departure of Luis Suarez. That horrifying thought gets everyone in a funk, with good reason -- he's been absolutely incredible, to the point where any financial reparations would be deemed insufficient as he's virtually irreplaceable. One prolonged bout of eye-fluttering at Arsenal has set that particular train of thought in motion, and it was never really halted.

Managing director Ian Ayre bore the brunt of supporter vexation. Given this isn't the first time we haven't landed our targets, it's understandable. There were renewed calls for a "proper football man" to be hired, whoever that might be, but would it make much difference in the long run? We could hire the canniest, velvet-tongued negotiator on the planet, but if you send him into these deliberations armed with a peashooter, the outcome will be just the same.

So all eyes turned to Boston and our absentee landlords, with some supporters arguing that they should go all out for the manager's chosen targets, dig deep into their own pockets, force these clubs to part with their players. That's City and Chelsea they're thinking of -- but, in reality, Fenway could pay a far higher price for losing Champions League football and also, by a simple deduction (no crystal ball required), the next global superstar. It's a completely false economy.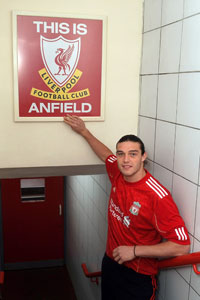 GettyImagesThe signing of Andy Carroll from Newcastle in the 2011 winter window proved disastrous.
Perhaps they are still haunted by the ghost of Andy Carroll. Not that anyone had forgotten or forgiven, but they spent 35 million pounds on a player who's now Sam Allardyce's battering ram, and they did it in an impetuous rush meant to appease supporter demands that something -- anything -- must be done. Sakho was secured late too.

Sometimes it isn't just about the money. Salah chose Chelsea, that's his prerogative, but he won't play for them nearly as much as he'd play for us -- which was precisely the bait that helped capture Sturridge from Stamford Bridge. Character matters almost as much as talent. Suarez is gifted but it's that desire to win that takes him to his current dizzying heights.

Maybe we kept defensive targets a secret, although that seems unlikely given how swiftly the other bids became dirty public linen, but it was the pursuit of a winger that raised eyebrows. Had we captured Konoplyanka, he'd have taken his place in the side alongside Sturridge, Suarez, Coutinho and Sterling. I hate to act the ugly pragmatist, but who's doing the work? A number of Liverpool games this season have resembled basketball matches, and when they tried to settle on a one-goal lead on Sunday they were found wanting.

Could we be preparing for yet another episode of Anfield's favourite quiz, "Guess Which Person Bought Which Player"? Ah, memories of Rafa Benitez's battles with Rick Parry, and Kenny Dalglish being blamed for Carroll even though he was only caretaker manager at the time. There are occasional mentions of "The Committee," a shadowy body straight out of a conspiracy thriller that might have you shot if you get too inquisitive. Supporters assumed it was Rodgers who wanted a winger because of the unshackled football we've played thus far.

People question Liverpool's defensive capabilities but I'd like to see them all completely fit, organised and fully protected by midfield before passing final judgment. I'm not sure how long we'll have to wait before any one of those scenarios become reality, though.

For now, in the absence of any discernible chequebook heft, we'll just have to depend on the forwards and the boffins in the treatment room to get through this already bewildering, brilliant season.

Or prayer. That's good, too.