Out-of-sorts Liverpool fail to press home advantage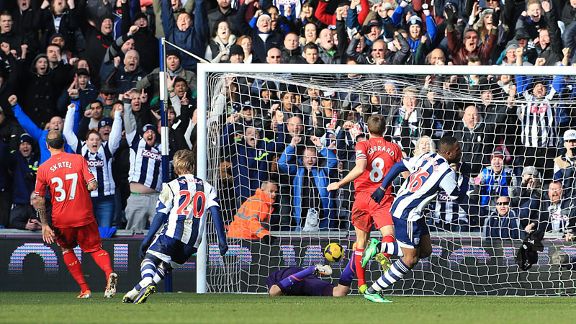 PA PhotosVictor Anichebe levels for West Brom following Kolo Toure's stray pass.
It was an unfortunate case of after the Lord Mayor's show for Liverpool as the Reds followed up their spectacular midweek demolition of Merseyside neighbours Everton with a somewhat deflating 1-1 draw with West Bromwich Albion at the Hawthorns on Sunday afternoon.

The win over Everton had put Brendan Rodgers' men in pole position for a place in the top four and their cause was aided further by rivals Manchester United and Tottenham Hotspur both dropping points on Saturday. Everton had taken maximum points against Aston Villa, of course, but nevertheless this game was a great opportunity for the Reds to exert their authority on the race for a Champions League qualifying place and to give the top three a little something to think about, too. They failed on both counts.

- Jolly: Three Things: West Brom vs. Liverpool
- Rodgers: Toure is devastated

Liverpool never hit top form in the first half, but West Brom were so poor that it was perhaps a little bit too easy for Rodgers' side. One moment of quality from the dynamic duo of Luis Suarez and Daniel Sturridge separated the sides at the break -- the Uruguayan expertly picking out his strike partner for a tap-in at the far post -- but Liverpool never really got out of second gear. They didn't have to.

However, West Brom were always going to improve after the break and Liverpool should have been prepared for it. Instead, they remained in second gear and paid the price.

It would be easy to place the blame for the squandering of two points on the broad shoulders of Kolo Toure -- after all, it was the defender's horrific error that handed the equaliser to West Brom -- but for Liverpool fans there was a lot more to be disappointed with than just the blunder from the veteran Ivorian. Liverpool's second-half display was completely insipid; it appeared as though they were happy to hang onto their slender lead rather than looking to increase it. That's not what we're used to seeing from a side whose biggest attribute is the ability score goals. Liverpool don't defend particularly well, so trying to do so with just a one-goal advantage isn't the high-percentage play.

I'm not suggesting that Rodgers sent his players out with instructions to repeatedly give the ball to the opposition, concede as many silly free kicks in their own half as possible and to repeatedly squander any opportunity to counterattack, but that's how much of the second half played out. Liverpool had destroyed Everton through winning the ball and launching quick, devastating counterattacks to exploit the spaces left by Roberto Martinez's side. With a 1-0 halftime lead at the Hawthorns, perhaps Rodgers felt his side could do the same to West Brom; sit back, fill the spaces and hit them with quick counters. Given that Steven Gerrard was almost operating as a third centre-half at times, that's certainly how it appeared.

Unlike in the Everton game, it didn't work, probably due to a combination of the players not reaching the standards of five days earlier (in particular Philippe Coutinho, who was majorly disappointing at the Hawthorns after dazzling in midweek), and the Baggies being a bit more streetwise than Everton. West Brom didn't send their full-backs on marauding raids as Martinez had done, they kept their defensive shape much better and they were also quite happy to utilise the cynical foul when necessary. As a result, Liverpool's front three were generally shackled.

Raheem Sterling was lively enough, but so often when he looked like breaking free he was fouled, usually by a tug of his shirt. Suarez and Sturridge had their moments, too, but many of their touches were in areas far from goal and West Brom generally did a good job of keeping them at arm's length. Suarez had one clear chance after the break when he harassed his international teammate Diego Lugano into an error only to be denied by a brilliant save from Ben Foster. That would have put the Reds 2-0 up and probably out of sight, but Foster's save lifted Albion and in the end they were good value for a point.

Simon Mignolet's fantastic reflex save had denied Gareth McAuley, and the Belgian keeper had also made a smart stop from a Chris Brunt free kick. It appeared as though Liverpool had weathered the storm, but then out of nowhere the Baggies were level. Former Everton man Victor Anichebe probably couldn't believe his luck, but Toure's error had been coming. In the first half he gave the ball away several times but got away with it and he just didn't look comfortable.

The mistake he made in passing the ball to Anichebe was a shocker, but that's the risk you run when protecting a one-goal lead. It takes only one error, one wonder strike or a scruffy set piece and suddenly it's 1-1. When you are in front you need to press home your advantage and ensure such an eventuality is a mere irritant rather than something decisive, but too often Liverpool have had their opponent on the ropes only to step back and allow them to shake off the blows and come firing back with punches.

It's becoming a slightly worrying trend, this is the fifth time this season that Liverpool have taken the lead away from home but failed to win the game. Twelve points have been squandered from winning positions and they could have made a huge difference to the standings. Other teams can point to similar "what ifs" and regardless of who you are it's unlikely that you'll win every game that you take the lead in. That said, Liverpool's inability to kill teams off, combined with their habit of defensive lapses, is certainly holding them back somewhat.

Liverpool's football is as pleasing on the eye as any in the league and they score goals for fun. Despite the goals-against column not looking too impressive, they actually have good defenders, too, but those good defenders have been prone to making individual, costly errors. Some would argue that this is a consequence of the style employed by Rodgers; he wants his players to pass the ball, even his goalkeeper is encouraged to do so. That carries an element of risk, but Liverpool have always played the ball out from the back and the error made by Toure could have happened in any era. He didn't make that mistake because Rodgers wants him to play out from the back, he made it because he made a bad decision and somehow failed to spot the giant Anichebe lurking.

If Rodgers was guilty of anything in this game, it was of not getting Joe Allen on the field quicker when it was clear that Liverpool had no control of the midfield area and were not able to keep possession of the ball. The Reds improved after the Welshman was introduced. Playing on the counter worked like a dream against Everton, but it won't work in every game, especially if Coutinho is not on his game. At this moment in time, however, Rodgers isn't exactly blessed with too many options to change things and the side more or less picked itself against West Brom.

It was a disappointing afternoon and it has to be seen as two points dropped rather than one gained, but if the Reds can collect maximum points next weekend against Arsenal then this point won't look quite so bad. Fourth place with a two-point cushion is certainly not the worst position to be in at this stage of the season, but Liverpool really need to find a way to deliver that knockout blow away from home if they are to remain there.