Konoplyanka failure disappointing, but not the main issue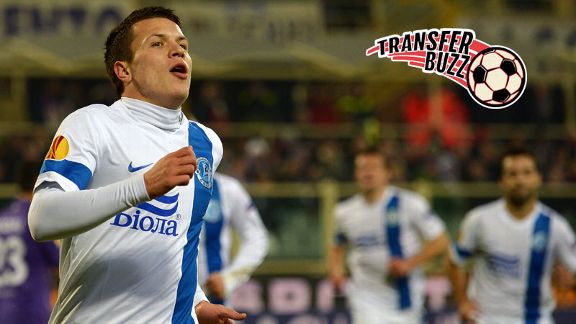 GettyImagesYevhen Konoplyanka is highly rated by Ukraine.
When Liverpool's pursuit of FC Basel's Mohamed Salah ended in all too predictable fashion with the winger signing for rivals Chelsea, I was more upset about missing out on another target than the loss of the player himself. When the transfer window slammed shut with managing director Ian Ayre flying back from the Ukraine without Yevhen Konoplyanka… well, that just rubbed salt into the open wound. Whatever the reasons for Liverpool's failure to add to the squad, they've come out of this window looking amateurish at best and incompetent at worst.

The recriminations of who is to blame for this latest shambles can wait for another day. Right now, I'm trying to work out the thought process that led to Liverpool prioritising the addition of a wide attacker when there appeared to be much more pressing areas of the team in need of reinforcing.

The vast majority of Kopites would say a midfielder should have been Liverpool's overwhelming priority in this transfer window, possibly followed by a full-back. A top class winger was needed, of course -- you can never have too many of those -- but that would have come a distant third for many fans and could even be seen as being something of a luxury signing at this moment in time.

Missing out on Salah probably isn't going to have a huge impact on Liverpool's push for the top four, but it was nonetheless irritating to see another target choose to go elsewhere. The Reds appeared to dither and allow a rival club to come in and get a deal done by offering more money than Liverpool were prepared to pay.

Had Salah been a powerful, dominant central midfielder, the response to missing out on him would have been vastly different. Some LFC supporters might even argue that the loss of Salah was a blessing in disguise if it meant funds not used on the Egyptian were put towards bringing in that much-needed midfielder.

That was a view I shared, so what I found somewhat surprising was that the next player Liverpool moved for was also a winger, Dnipro's Ukraine international Konoplyanka. Missing out on him hurt a lot more than Salah for several reasons, not least because most people seem to think he's a much better player.

It's been reported by the Liverpool Echo that the deal did not happen because the Dnipro president apparently refused to sign the paperwork even after a buyout clause had been met and a medical passed. Surely, if it were that simple, Ayre would have bundled the player onto the back of his Harley Davidson, told the Dnipro owner to "eat my dust" and raced back to Merseyside and let UEFA deal with it. That seems a little far-fetched to me but, irrespective of why it didn't happen, the fact is it didn't -- and Brendan Rodgers yet again cut a frustrated figure as a transfer window closed.

Of course he tried to put a brave face on it, saying all the things you'd expect him to say, such as: "The club have tried hard" and "I'm happy with the players I have," but it would be understandable if he felt somewhat let down. It's becoming a recurring theme. Last January aside, Liverpool's transfer dealings since Rodgers came in have not been up to scratch -- and that, more than anything, threatens to undermine all the great work he has done with the team in that period. He's doing superbly with what he has. Imagine how well he could do if they actually got him more talent to work with.

Leaving the disappointment of Konoplyanka aside, it's worth looking at why Liverpool's efforts seemed to be centred almost exclusively on bringing in a wide attacker rather than strengthening the areas most observers would have said appear far more of a priority. Why would a side so desperately short of central midfielders be prioritising another forward player, especially when they've had problems accommodating all the attacking players they presently have?

Then there's the full-back issue. Jose Enrique has been a long-term absentee and is still nowhere near a return, Glen Johnson was playing with through injury for several weeks until he eventually had to be shut down "indefinitely," Martin Kelly has not looked the same player since returning from an ACL injury and Aly Cissokho is -- in the words of Rodgers -- "trying his best" but offers very little. That leaves young Jon Flanagan as Liverpool's No. 1 full-back right now. Surely that should have been addressed in this window, along with the midfield?

Liverpool have been tentatively linked with several midfielders this week -- but it seems that position was not as much of a priority as a wide man. It also looks as though bringing in a full-back was not a focus, given that Rodgers said a couple of weeks ago that they were hoping to bring in one or two players but no new defenders would be arriving.

On the midfield issue, Liverpool clearly need to play three players in the centre of the park. When they've veered away from that the results have not been good, but with only Steven Gerrard, Jordan Henderson and Joe Allen to call upon for the next couple of months, the Reds are being stretched to breaking point in that area -- especially as Allen has been plagued by injuries all season.

So how was signing a winger going to help solve Liverpool's lack of depth in midfield? The answer to that question may have been provided in the midweek demolition of Everton in the Merseyside derby, as Philippe Coutinho played in a slightly deeper, more central role than usual, and did it to great effect.

Could it be that, in the long term, Rodgers sees him as more of a central midfielder than as part of his front three? I wondered a few weeks ago whether Coutinho could perhaps end up being used in a similar manner to that in which Spurs utilised Luka Modric. I think it was after yet another disappointing finish from the talented Brazilian that the thought crossed my mind that his skill-set may be more suited to playmaking than goalscoring. Coutinho is actually much more effective 40 yards from goal than he is in the penalty area. Modric started out as an attacking player and was converted into more of a deeper lying playmaker by former Spurs boss Harry Redknapp. Could we see that happen with Coutinho?

The Everton game saw him produce by far his best display of the season, and he thrived on the added responsibility of playing centrally. He wasn't playing too deep, but he wasn't in a typical No. 10 role either. Rodgers ideally likes to play with a midfield three, either with one sitting and two further forward, or occasionally the other way around. "Flipping the triangle," he likes to call that.

That's what he did against Everton, with Coutinho at the point of the triangle and Gerrard and Henderson tucked in behind him offering protection to the back four. It worked a treat. Coutinho's ability to retain possession and link the midfield and attack gave Liverpool the ideal platform from which to build attacks, but his workrate and pressing of the opposition also caught the eye.

Clearly, Liverpool do not just have three central midfielders to choose from -- they have four, and that probably explains the club looking to add to their options out wide instead.

If the transfer of Konoplyanka had gone through, Coutinho would most likely have been used in a central role while the Ukrainian battled it out with Luis Suarez, Daniel Sturridge and Raheem Sterling for a place in the front three. Given Konoplyanka's versatility, Rodgers would have had a lot of tactical flexibility and goals at his disposal. But he didn't get Konoplyanka, so that plan has been shelved until the summer –although LFC can probably expect a lot more competition for his signature then.

Nevertheless, the form of Sterling lessens the need to use Coutinho in the front three. Liverpool's attackers were on fire against Everton, and the Blues simply had no answer to it. The counter-attacking was dazzling at times, and the front three gave Everton's defenders all manner of problems with their pace, skill and movement. Adding another top-drawer attacker to that group would have made Liverpool an even more formidable proposition, but with the players they have they're currently the second most prolific attack in the Premier League. Missing out on Konoplyanka was disappointing, and Ayre & Co. arguably deserve whatever flak comes their way -- but ultimately it shouldn't have too much of a detrimental effect on the rest of Liverpool's season.

The decision to not strengthen in midfield and at full-back is far more likely to hurt the Reds, especially if they lose any more players to injury. The one straw for Kopites to clutch at is that the deployment of Coutinho in that more withdrawn role could be like having a new signing. Let's face it, that's the closest thing Liverpool have to one after another disappointing transfer window.