Deadline day disappointment looms

The end is nearly here. The final day of this putrid, sideshow of a month is upon us. Thirty days have passed, and just one remains. Even that may have expired by the time you read this. This article will self-destruct in five, four, three ...

And so, it is said, will Liverpool's season if they do not manage to purchase a new player on this day, the last of the transfer window. To say self-destruct is reactionary and hyperbole, of course, but this season represents the best chance the club have had of reaching the Champions League since they last qualified in 2009 and so to manage 31 days without any sort of progress would be borderline slapstick.

Liverpool have had an entire month to focus on obtaining players in three positions that needed strengthening: full-back, central midfield and wide in attack.

So far, not so good. Wide man Mohamed Salah has been their only public target, and Chelsea stole in after negotiations between FC Basel and the Merseyside club went awry.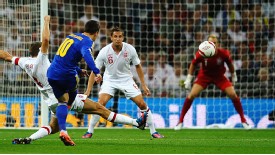 GettyImagesKonoplyanka, seen here scoring against England, remains a Liverpool target.
Now, Ukrainian left winger Yevhen Konoplyanka, originally a summer target, has been lined up but, much like Salah, another Premier League club (thought to be Tottenham) is looking to leave Liverpool empty-handed as the clock strikes 11. Liverpool's season does not wholly depend on who does and does not arrive but it will seem like that.

Brendan Rodgers could continue with Aly Cissokho at left-back until Jose Enrique returns while, in the absence of Lucas Leiva and Joe Allen, he could endure a two-man midfield, irrespective of opposition, in the hope of replicating the performance against Everton. Meanwhile, with no extra wide man, Philippe Coutinho, Daniel Sturridge and Luis Suarez can rotate in that role.

There has to be some sense of perspective, somewhere, as Liverpool are fourth, three points clear of fifth-placed Spurs and just seven points off the top. Their performance in the Merseyside derby was breathtaking and showed how good they can be, even when missing three of their first-choice defensive four and two central midfielders.

A summer of oddity saw Liverpool brought in eight players, only two of which -- Simon Mignolet and Mamadou Sakho -- would be considered first-choice when everybody is fit. Normality needed to be restored in January. Showings like the one against Everton do not, and will not, happen every week.

Maybe the last window explains the reticence throughout this month. No matter who sanctioned the Iago Aspas, Victor Moses and Cissokho signings, Liverpool cannot afford to sign more players on big wages who have little hope of doing anything other than warming the bench unless there's a painful shortage of options. Buying players to fill out the squad has not proved successful.

When considering Aspas, Moses and Cissokho, consider Milan Jovanovic, Christian Poulsen and Sotirios Kyrgiakos: players Liverpool have brought in over the past five years or so in order to swell the squad, to add an option on the bench and to give the favoured legs a rest. They became a waste of resources, journeymen lacking direction who were nowhere near good enough for the level Liverpool aspired toward.

- Liverpool face Konoplyanka competition
- On The Move transfer blog

And so, maybe this is why Liverpool still wait for their first signing of January, even though Rodgers had just 15 fit players in training before the FA Cup tie with Bournemouth. Far better to have Jordon Ibe and Brad Smith on the bench against Everton, rather than a short-term option on high wages and with low desire.

But then, the argument always circles back towards the crucial factor: the Champions League. It is the competition to supposedly make Suarez stay, to release more funds to improve the team further and make them genuine, consistent title challengers.

The performance against Everton should not have prompted contentment at what Liverpool have, but rather enthusiasm at what Liverpool could be. Rodgers has done well with what he has but now he must be allowed to do even more.

The pursuit of Konoplyanka, like Salah, shows the club's priority. Rodgers wants to move Coutinho centrally -- he was fantastic there against Everton -- which would be easier to do if the left-sided, right-footed wide man came in.

It is thought the Ukrainian is hard-working and will help out his left-back defensively, something that is necessary given Rodgers' ultimate desire to see his two full-backs join the attack.

Maybe a defender or midfielder isn't necessary. If Rodgers wants just first-team players to arrive, it would not be wise to fill the squad with short-term players who will play a maximum 20 games and cost the club money.

But an extra attacking player could at least continue the pattern of this season: Liverpool have obliterated many opponents and adding Konoplyanka may make this even more likely. If Champions League qualification is secured, then the extra money -- and the allure of being in the competition -- can be used to upgrade both defence and midfield in the summer.

It is a gamble, and it most certainly is a big if. To not quality for the Champions League, especially given the club's current position, would be potentially calamitous.

The scouting department have had months to not just watch players, but to speak to clubs, find out what players are available and formulate a plan. It is difficult to believe defenders and midfielders did not enter the conversation.

But with a day to go, it looks like Konoplyanka or bust. Liverpool are not alone in conducting their business last-minute, of course, but there seemed to be more necessity for action given they have been very good this season, with the potential to be even better.

Even the devil's advocate can be burnt, however. No attempt of reasoning will matter if Liverpool do not strengthen by the end of the evening. There may be a long-term plan, granted but, short-term, the club must get into the Champions League. They remain on course, but signing good players, in positions desperately needing reinforcements, will give them a greater chance of doing that.

Few will listen to excuses if they fail to strengthen and then fail to finish in the top four, rightly or wrongly. If there was nobody available, then they should have looked harder. If another club stole in, then the negotiations were not good enough. Whoever is responsible will be brought to bear.

By the time you have read this, it may have all changed: three players may have come in, all of them good enough to start against Arsenal next week. Over a thousand words erased, rendered pointless, by the proactive -- if a little rushed -- nature of the final day.

But that it's ultimately unlikely is most damning of all. Rodgers and his players have done a lot to get Liverpool where they are this season. Now is the time for repayment, and not an opportunity missed.

Anfield expects but Anfield, ultimately, expects little.