Rodgers' dilemma over setup not a happy one
There is a footballing maxim used any time there is a hint of competition for places in the team: It's a nice dilemma to have.

A brief sortie into the sport's vast archive reveals dilemmas of all wonderful shapes and sizes. Steve McClaren had one in 2006 at Middlesbrough when deciding which two of Mark Viduka, Jimmy Floyd Hasselbaink and Yakubu to start; last month, Nuneaton Town manager Kevin Wilkin had one with his centre-back pairing after the return of Gavin Cowan from injury; even Tony Hibbert has been part of one, according to Everton coach Alan Stubbs, with his availability giving David Moyes a dilemma at right-back before last season's Merseyside derby.

They are three of thousands of throwaway utterances in news conferences and postmatch interviews. The concept is strong enough, as is the theory that competition in the starting lineup is welcome. It means there are a range of options, good ones at that, hinting toward that all-important squad depth.

But speaking of these good dilemmas, as if jigsaws of zoos to be solved by a tearaway adolescent, ignores something even more important in football: knowing, and selecting, your best starting 11.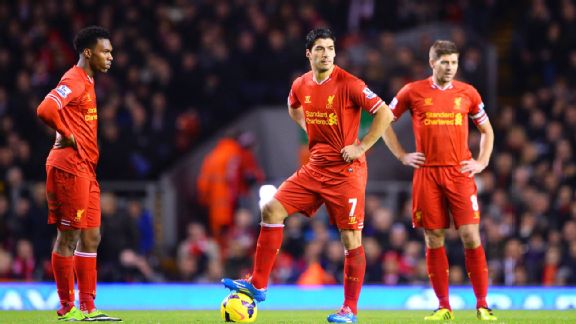 Michael Regan/Getty ImagesBrendan Rodgers has to play both Luis Suarez and Daniel Sturridge for Liverpool to win matches. But who's the best supporting cast for them?
There was no dilemma for Sir Alex Ferguson in 1999, despite what is said, when he had four strikers in his arsenal. Andy Cole and Dwight Yorke were his first-choice partnership while Teddy Sheringham and Ole Gunnar Solskjaer were devastating backup options, the kind who win European Cups. For Arsenal and their unbeaten league season of 2004, it soon became obvious their dilemma -- whether to retain the old guard or place faith in the youth of Gael Clichy, Jeremie Aliadiere and (later) Jose Antonio Reyes -- did not exist.

United's treble-winning side and an Arsenal team to create history are bumptious examples, granted, and neither would have happened without good options from the bench, but both were founded on knowledge and recognition, not dilemma. If there were truly dilemmas, then the higher probability was a manager making a costly mistake in team selection.

And so to the south coast, to Dorset, to Liverpool's 2-0 win over AFC Bournemouth in the FA Cup on Saturday. It was a scrappy win for Brendan Rodgers' side, one that brought up the full house of cup cliché bingo. Banana skin avoided, a professional job well done, and the lads are just pleased to be in the next round, no doubt.

But the focus, inevitably, fell upon the performance. With Everton visiting Anfield on Tuesday in the biggest league Merseyside derby in a generation, it has to.

Liverpool were disjointed. The 4-2-3-1, with one of Luis Suarez and Daniel Sturridge stationed on the right and then swapping positions with the other, was odd. The two struggled to replicate performances earlier in the season, where their positioning seemed a lot more fluid and a lot less predetermined; West Bromwich, Crystal Palace and Fulham are three sides of a higher standing than Bournemouth that glanced at the referee in hope the end was near, succumbing with every passing minute to the guile and force of the duo. Bournemouth would eventually fall after an hour, with Suarez finding Sturridge and Sturridge finding the net, but it had been laboured until then.

Liverpool have one of the world's best players in Suarez and a striker who has scored 25 goals in 33 appearances in Sturridge. They are players who, even when subdued, can produce one moment to win the game. How do you fit them into the same team? Well, it's a nice dilemma to have.

Except it isn't. Already established is how nice dilemmas don't really exist in football, and also, there is no dilemma with Suarez and Sturridge. The two of them simply have to play together, as much as possible, for Liverpool to win football matches. Rodgers cannot leave out Suarez or risk a mob uprising at Melwood, but he also cannot really contemplate leaving out Sturridge, who would be heralded as England's great hope if not for the presence of Suarez beside him.

And so, the dilemma -- if it can be called that -- is how the other eight outfield players fit in around them. Judging by recent outings, it most certainly is not a nice one. Bill Shankly's quip of how a football team is like a piano, needing eight men to carry and three to play the damn thing, has been subverted. In this current setup, with this current injury list, Suarez and Sturridge play on furiously, fingers tiring at the joints, while most have had the piano fall on their heads, like an Acme anvil dropped by the Road Runner.

It was evident at Bournemouth, where a poor first half lacked any sort of cohesion before the tiring Championship side allowed Liverpool to play their game in the second half. With so many players out of their natural positions, it was no wonder.

Kolo Toure, a centre-back who wanted to be right-sided, was once again to the left of Martin Skrtel. Steven Gerrard is still learning his new deployment as the deepest midfielder while Jordan Henderson's role as doing everything else in the two-man midfield is not something he is used to. Suarez and Sturridge rotated being out of position (though Suarez can play right if necessary) while the expectation upon Aly Cissokho and Martin Kelly to supplement the attack amply was optimistic at best.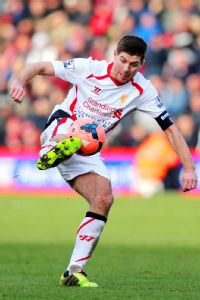 Ian Walton/Getty ImagesSteven Gerrard is still learning his new deployment as the deepest midfielder. But is it his best position?
Liverpool have looked best under Rodgers when playing with familiarity and intuition, when spaces opened up effortlessly and passes found them relentlessly. Henderson delighted in flicking balls to a space he knows Suarez or Sturridge loiter in, as he showed against Cardiff and Aston Villa; Gerrard, albeit higher up the field, seemed to find players without a secondary glance. In the absence of Suarez, Philippe Coutinho struck up a partnership with Sturridge; in the absence of Sturridge, Raheem Sterling combined well with Suarez. Even Jose Enrique and Glen Johnson, when not inhibited by injury or foolishness, added to Liverpool's attack.

There was none of that against Bournemouth, and there hasn't really been since the New Year. Players adapting to new positions, or simply filling in for others, usually equates to a performance lacking synergy and consistency. Suarez found himself deeper than Kelly at times, a footballing heresy, while Sturridge would receive the ball on the halfway line with little options ahead. Henderson was unsure whether to assist Gerrard or Coutinho, which ended up with Gerrard being exposed and Coutinho isolated. On the rare occasions the Brazilian received the ball in space, Suarez and Sturridge were closely followed, with only Victor Moses available out wide given the fullbacks rarely ventured forward. No surprise Moses' most productive game in a long while came at Dean Court, his well-taken goal reward for a player playing in a position resembling his best.

This was not necessarily Rodgers' fault, given what was available. Liverpool had just 15 fit players, he told a news conference on Friday, an injury crisis at the worst possible time with Everton on Tuesday. Ninety minutes for Gerrard (33 years old), Sturridge (recently back from injury) and Suarez (phenomenal) was not ideal, but there was little option. Questions, admittedly, would have been asked of the exclusion of Luis Alberto and Iago Aspas if Rodgers hadn't already answered them with his continued non-selection of the pair.

The manager knows what Suarez and Sturridge can do and how they combine. He must now formulate some sort of system around them to ensure both stay high up the pitch, where they are needed, and are offered chances aplenty. It would, potentially, mean one of Coutinho or Sterling missing out in the attacking setup; it could, possibly, see the plug pulled on the new midfield system, with Gerrard as the deepest midfielder abandoned.

The solution may come when players return from injury, when Lucas Leiva or Joe Allen can make it a three-man midfield once more, when Mamadou Sakho or Daniel Agger can offer something extra from defence and even when Enrique offers his head-down, el toro style of fullback play.

But only Sakho and Allen have the faintest of hopes of returning for the derby, the game that could decide the course of Liverpool's season. Bournemouth were brave and spirited, but Everton have been excellent this season. Such lethargy and misdirection from Liverpool will be punished against Roberto Martinez.

The win against Bournemouth showed, once again, Liverpool's quality in grinding out results when not playing as well as they can. That's now three 2-0 wins in January and three wipes of the brow upon the full-time whistle. The fear is that they cannot grind against Everton, not with so many players in unfamiliar positions and Suarez and Sturridge simply expected to create magic alone. They are good enough to do that, but there has to be something behind, something resembling a midfield with players knowing their roles.

Rodgers' side is akin to a malfunctioning Frankenstein's monster at the moment, with bolts loosened, flying furiously in every direction. He knows what he wants and what the team needs -- for Suarez and Sturridge to win them games. It is something they are capable of, as they showed against Bournemouth. Playing good players together is enough to bring success to a club.

But with Everton closing, he must decide what combination of those players works best for Suarez, Sturridge and Liverpool. The sooner it stops becoming a dilemma, the better for Rodgers and his side.