Bournemouth give Reds a good test ahead of derby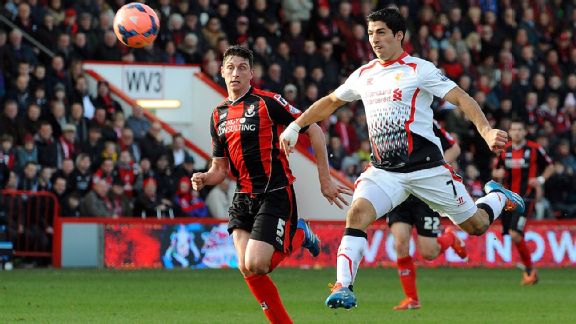 John Powell/Liverpool FC/Getty ImagesLiverpool were tested by a determined Bournemouth but the Reds clinched a win thanks to Luis Suarez's two assists.
While they never hit top gear and at times looked somewhat less than comfortable, Liverpool will be elated with a fairly routine 2-0 road victory over Championship side AFC Bournemouth in the FA Cup fourth round on Saturday.

Clearly motivated by their home support, Bournemouth gave the Reds a feisty first half and only one moment of quality, a 26th minute goal from Victor Moses separated the teams at the break. Liverpool improved considerably in the second half and should have had more than just a Daniel Sturridge strike to show for their efforts. Still, a clean sheet and a comfortable enough victory without any additions to a worrying injury list will be more than enough to keep manager Brendan Rodgers happy.

Bournemouth gave a good account of themselves and certainly lived up to their reputation as an attractive footballing side. Their approach play more than matched Liverpool's -- in fact in spells it eclipsed them -- but the Championship side just didn't have that same quality in the final third that Rodgers was able to call on, and that proved decisive. Luis Suarez was not at his best and for once failed to get on the scoresheet, but he still managed two assists and, as always, carried a constant threat. Sturridge was in fine form, but the system employed by Rodgers meant that both he and Suarez shared right wing duties in the 4-2-3-1.

The results of that were mixed, the longer the game went on the better Liverpool got in terms of keeping the ball and retaining possession, but ideally Rodgers won't want either Suarez or Sturridge having to chase back covering the opposing full-back too much.

Bournemouth tried to take advantage and attacked down their left as much as possible in the first half, meaning either Suarez or Sturridge (they seemed to be taking turns playing that role) would have to track back to assist the overworked Martin Kelly.

The upside would be that the midfield did not get overrun in the way it had against Aston Villa seven days earlier. With Joe Allen missing again through injury (questions remain: Is this a new one or a recurrence of an old one?), Rodgers' midfield options were extremely limited and once again highlighted the dire need for some decisive action in the transfer market. A team that ideally wants to play three central midfielders went into this game with only two available, and one of those is 33-year-old Steven Gerrard, who needs his playing time managed carefully to avoid injuries. It seems almost incomprehensible that Liverpool will not bring in another midfield player in the transfer window, but time is running out as the deadline approaches.

One man who benefited from the formation was Moses, who looked spiritedly in the first half. He didn't get as much of the ball as he would have liked, but any time he received possession in advanced areas, he tried to be positive and had several good runs into the penalty area. It was pleasing to see him back on the scoresheet, too, as he's had a bad run of form recently, not least when he was hooked at half-time in the previous round. But there is no question that Moses can play, and perhaps this goal will be the confidence boost he needs.

For him to have an impact, he obviously needs to be on the pitch, but that won't be easy as Raheem Sterling has been in a hot streak lately and will surely come straight back into the side after being rested against Bournemouth. At least this performance shows that Moses hasn't completely thrown in the towel, and he may still be useful to Liverpool between now and May.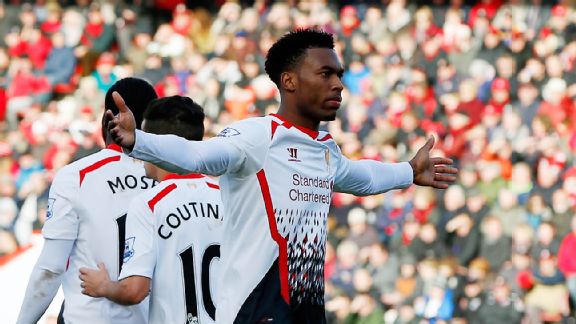 ADRIAN DENNIS/AFP/Getty ImagesDaniel Sturridge's goal in the second half sealed the win for Liverpool.
Despite Liverpool's result, Bournemouth may feel somewhat aggrieved to have lost the game. The club was denied on what looked like a clear penalty when the score was still 1-0, and minutes later, Sturridge doubled Liverpool's lead on the break.

Kelly clearly pulled the shirt of Simon Francis right in front of referee Lee Probert, but as we've seen so often this season, match officials do not want to give those decisions. Martin Skrtel has gotten away with several high-profile grappling incidents from corners, but in fairness, most of those have been at close quarters with an opponent, rather than simply grabbing the back of someone's shirt as they ran away from him, as Kelly did. The full-back was extremely fortunate not to be penalised for that.

But Bournemouth weren't the only side with complaints over officiating, as Liverpool were also on the receiving end of at least two highly dubious offside calls that cancelled out goals. Some clarity from officials as to what constitutes a penalty and what doesn't would be beneficial to everybody, though, as if what Kelly did is now deemed OK, then others may follow in his footsteps.

Overall, it was far from being a great performance by the Reds, but they were worthy winners and deservedly take their place in the draw for the next round. As spiritedly as Bournemouth were, Brad Jones didn't really have a shot to save. He flapped at a few crosses and there was the occasional anxious moment defensively -- especially in the first half -- but most of Bournemouth's attacks were dealt with before they reached the Reds' backup keeper. Skrtel in particular defended stoutly, even continuing to impress after a nasty clash of heads that led to him having staples inserted into a gaping wound at pitch-side ... Ouch!

It was somewhat disconcerting that Mamadou Sakho was nowhere to be seen once again. He was back in full training two weeks ago after apparently recovering quicker than expected from a hamstring injury, but still hasn't made a match-day squad since. These developments surely cast doubt over his availability for next week's Merseyside derby. On a positive note, Jon Flanagan made his return from injury and will now presumably start that game, although it remains unclear on which flank.

Rodgers fielded a stronger lineup against Bournemouth than he would've ideally liked, but the game itself did not appear to be especially taxing for the players (aside from Skrtel no doubt having a very sore head for the next few days). The team came through relatively unscathed and will hopefully be fresh and raring to go on Tuesday night against Everton.