Backup keepers should remain just that for cup ties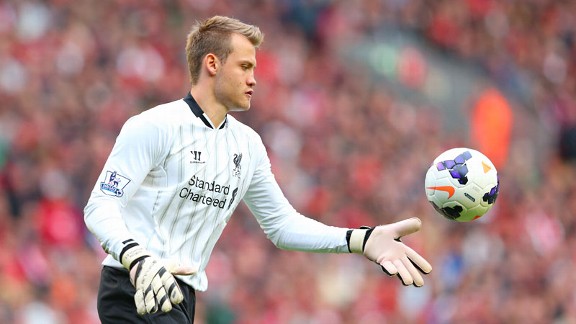 Alex Livesey/Getty ImagesSimon Mignolet is Liverpool's best goalkeeper and should not be dropped for cup games in favour of Brad Jones.
Liverpool boss Brendan Rodgers spoke of the need to restore the confidence of goalkeeper Simon Mignolet following a series of costly errors by the Belgian in recent weeks. It is therefore a counterproductive decision to opt to play Brad Jones between the sticks in the FA Cup tie at Bournemouth this weekend as it is a game that could give Mignolet that boost.

In the previous round, backup 'keeper Jones was given a rare outing, of course, as the Reds overcame plucky Oldham Athletic. But it's a policy that I completely disagree with., and one employed by many clubs these days.

Whilst there is a need to occasionally rest outfield players, the same does not apply to goalkeepers and it appears that the main reason for selecting the backup is sentiment. "Oh he's a good pro, he trains hard every day, let's give him a game in the FA Cup". Sorry, but no. Backup goalkeepers at top clubs are financially compensated for their lack of playing time. For me, that's enough reward for training hard and being a good pro. If they were motivated by playing time they wouldn't have signed for a team knowing full well they were only going to be a backup.

- WhoScored: Who can fill Lucas Leiva's boots?

Perhaps that sounds harsh, but it's true. The likes of Jones, Costel Pantilimon, Lukasz Fabianski, Joel Robles, Henrique Hilario etc... all knew what they were signing up for when they joined clubs that had a clear number one goalkeeper in place. So why should they then be given playing time in the cups when their presence weakens the team?

It's nothing personal against Jones, I'd feel the same whoever the backup was, unless there was very little to choose between him and the first choice, which is very rarely the case. The Australian has had some good games and some bad ones, as you'd expect from an understudy. He does not give Liverpool the best chance to win games, however, and therefore picking him in cup games is not wise. In fact, it's asking for trouble.

I'm still emotionally scarred by the performance of Charles Itandje in an embarrassing FA Cup Fifth Round loss at home to Barnsley in 2008. What good reason was there for him to start ahead of Pepe Reina? It's not like the warning signs weren't there, he'd let two in against non-league Havant & Waterlooville in the previous round.

And had Reina played against Oldham last year perhaps Liverpool might have avoided that embarrassing defeat too? We'll never know of course, and I'm certainly not pinning that loss on Jones as there were others at least as culpable, if not more so (I'm looking at you Martin Skrtel and Sebastian Coates). The odds of victory are increased by selecting your best available goalkeeper though, and therefore this nonsense of clubs using the backup in the cup competitions should stop.

Jones is a popular figure in the dressing room, he's one of the good guys, who everyone seems to like; a model professional a good teammate. The problem is, he's not good enough to be first choice at Liverpool and in fact, he's mostly been a backup throughout his entire career. Indeed, he wasn't even in the Middlesbrough side when Liverpool signed him and in the nine years he spent on Teesside he played just 57 games. In effect, he swapped the bench at the Riverside for a seat with the Liverpool subs.

There's a reason most backups are just that. It's very difficult for clubs to have two goalkeepers of similar ability, because if you are an accomplished goalkeeper, who is good enough to play at the top level, you aren't going to be happy to be sat on somebody's bench and rarely playing - with a few exceptions.

Whilst the top clubs look to have as much competition for places and strength in depth as possible in the outfield positions, it's far more difficult to have that with a goalkeeper. Even if you can somehow attract a top quality goalkeeper to provide competition for your number one, it can sometimes do more harm than good. Goalkeepers will make mistakes, it goes with the territory, but when you have two players of similar ability and one makes a mistake, there is often a clamour for the other to be brought in. Such a situation is seldom beneficial to a team as stability is required at this position more than any other.

That's why most Premier League sides usually end up with a Brad Jones or a Ross Turnbull on their bench; men who are faced with the choice of a Premier League contract but a backup role, or a starting spot at a Championship side.

Last year Rodgers played Jones in all the domestic cup games and also in some Europa League ties. This year has been slightly different, with Mignolet starting both League Cup ties and Jones' only appearance to date coming in the FA Cup. Rodgers' previous track record suggests he may go with Jones again against Bournemouth, but surely the sensible option would be to stick with Mignolet and hopefully allow him to build some confidence ahead of the Merseyside derby next week.

Mignolet is the undoubted first choice at Anfield, despite his recent errors, and Jones is not a threat to his position or a viable option to replace him. Therefore the Belgian needs to be allowed to play his way through bad spell as he's not going to regain confidence from the bench.

The FA Cup is Liverpool's last realistic chance of a trophy this season and whilst it's understandable that some players will need to be rested -- Steven Gerrard being the most obvious example -- there is no need to mess around with the goalkeeping position, especially as Liverpool's back four has been so vulnerable of late. The last thing the defence need is to be playing in front of a keeper they're unfamiliar with. As the saying goes, those who fail to learn from history are doomed to repeat it.