Rodgers prepares for maiden third season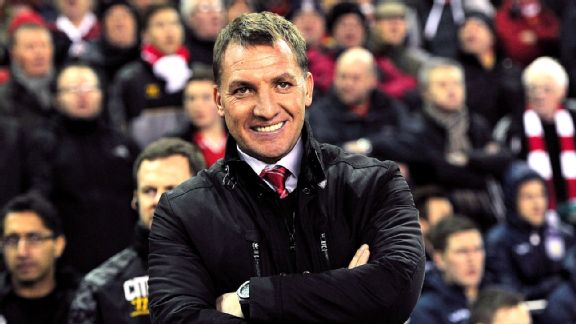 John Powell/Liverpool FC via Getty ImagesManager Brendan Rodgers is halfway through his three-year contract at Liverpool.
Brendan Rodgers is slowly edging toward uncharted territory. He is already there, in a way. Never before has he managed a side top of the Premier League at Christmas; never before has he been in the reckoning for Champions League qualification when Big Ben chimes at midnight on New Year's Eve. Before taking charge at Liverpool, the highest position he reached was eighth, for just one week, with Swansea.

- Usher: Lucas loss a blow to Reds
- Report: Liverpool not chasing Nigel de Jong

A lot of this is uncharted territory, uncommon ground, parts unknown. The mantra of the Northern Irishman learning on the job has never been more pertinent than now, as he tries to establish how to keep his side in the top four with Everton, Tottenham and maybe even Manchester United lurking. Central to all this -- quite literally -- is the redeployment of his captain, with Steven Gerrard's shifting role feared to be the right move at the wrong time with so much still to be won and lost.

But there is something else, something potentially more career-defining. Rodgers is close to doing something he has never done before. He is moving toward his third season as a full-time manager.

It is a reminder of how young and inexperienced he remains. He does not turn 41 until Sunday and his longest spell as manager of a club is just two seasons. He left Watford, his first job as manager, after just seven months. He did so to take the Reading job, where he lasted six months. He then joined Swansea but, after promotion and subsequent consolidation of topflight status, was not allowed a third season as Merseyside called.

It may not feel important right now, but it is -- he is halfway through his three-year contract. Rodgers would have been forgiven for asking a few contract-related questions to principal owner John W. Henry on his weekend visit to the city. Maybe he did, and maybe the gung-ho 2-2 draw against Aston Villa was not the most compelling of pleas.

A third season at Liverpool means it is a move into the unknown for everybody. In this, his second season at Anfield, similarities with his time at Swansea have emerged, although comparisons are muddied slightly given one season was spent in the Championship and the other in the top flight.

Rodgers joined Swansea and looked to add more goals to the side with attacking football, while also retaining the defensive stability of the previous manager: The jump from 40 league goals in 2010-11, to 69 goals in 2011-12, is a similar one to Liverpool's 24-goal increase in his first season. That is added to a slightly worse defence, but not by anything significant. He also made Swansea the best home side in the league and turned the team's most creative player -- Scott Sinclair -- into the focal point of attack, much like he did to Luis Suarez; Sinclair scored 24 goals in all competitions, while Suarez scored 30.

Swansea's second season, their first in the top flight since 1983, came with an attempt to build upon the good work of his maiden season, but also to tweak the play into a more domineering style. Despite being newly promoted, he looked to add depth, range and synergy to his attack (which didn't fully pay off), while his defence would flit between cast-iron and comedic, keeping 14 clean sheets but also conceding three or more goals eight times. The latter part correlates nicely with this season for Liverpool and their wacky races defending, but they also have the benefit of Suarez and Daniel Sturridge instead of Danny Graham to lead the attack.

Football is not an exact science, of course. The changes Rodgers implemented at Swansea are not exactly the same changes Liverpool are now undergoing. Likewise, David Moyes' first six months at Manchester United have not been identical to his first six months at Everton; Jose Mourinho's first seasons at Porto, Chelsea and Inter Milan all differ, even if the onset of an aging squad's deterioration is ultimately the end result.

But when any manager joins a new club, his history is used as a guide, particularly in the modern era. No sooner has Pepe Mel hired an uncharismatic translator at West Bromwich Albion and there are reams of articles on how his sides play, how he fared at Real Betis, and how that will change everything at the Hawthorns.

And so, for Liverpool, what now? That is the question for the rest of the month, as the transfer window edges toward its end, with the reinforcements so desperately needed not yet forthcoming. That is the question until May, as the role of Gerrard and the defence in general is scrutinised. But most importantly, that is the question for the summer, when Rodgers should be preparing for his third season in charge.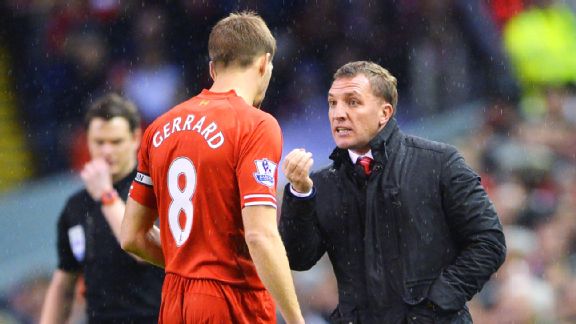 Michael Regan/Getty ImagesSupporters wonder if Rodgers plans to aid midfielder Steven Gerrard and the Liverpool defence with some help via the January window.
For supporters, they no longer have that history at Swansea to draw upon when deciding just where Rodgers is taking the club. For the ownership, who hired him because of long-term management, it is a similar issue. And then, for Rodgers himself, he finds himself further into a role than ever before.

Not that it is necessarily an issue as Liverpool have been here before. Gerard Houllier had not managed a side for more than three years since the 1970s; Rafael Benitez's three years at Valencia was his longest managerial reign; the nomadic Roy Hodgson, out of his 74 clubs on nine continents, had four years, his longest reigns, at Swedish clubs Halmstads and Malmo.

Houllier went far beyond three years and it was not until his fifth, the final year of his much-maligned five-year plan, that things turned sour. For Benitez, it took six seasons for his side to regress, with a fair portion of blame resting with owners Tom Hicks and George Gillett. Just because a manager is not used to something does not mean his head will explode when faced with it.

Liverpool have improved in Rodgers' two years, and noticeably so. The verve in attack has not been witnessed in 20 years, while there is a belief he can fix whatever problems lie behind with performances like the 5-0 win over Tottenham still fresh. That is what is exciting for Liverpool. To extrapolate the progress in 18 months over a third, fourth, fifth year, would have Liverpool in the Champions League and challenging for the title.

But in football, extrapolation only sounds like a Colombian right-back, and can never be relied upon. That is what is worrying for Liverpool. Where Rodgers next takes the team, and how he does it, will be speculated about throughout the summer. The main thing is that Rodgers himself knows.

Discussion on how Rodgers approaches something he's not yet managed is particularly relevant with the transfer window still open. How he and his transfer committee play the remaining 10 days -- and, indeed, who exactly has the final say -- will be important. Their main interest is not in a full-back, despite the paucity of options, nor is it a midfielder to replace the injured Lucas Leiva; instead, it is Mohamed Salah, a wing-heeled attacker, who would add even more to their options up front.

There will be questions raised if the club fail to replace Lucas, even if they are not necessarily ones to be answered by Rodgers. But if there are no defenders or midfielders forthcoming, it lends to the theory that Rodgers is a manager devoted to the long term. He has now spent two seasons setting up his attacking options (like he tried with Swansea) -- the pursuit of Henrikh Mkhitaryan and Diego Costa for over 20 million pounds highlights his desire to mould it to his liking. With the signings of Mamadou Sakho and Tiago Ilori, two young centre-backs, his options in defence look promising; in midfield, moving Gerrard deeper indicates that a rethink of the middle is imminent.

With no third season at another club, it's hard to say for sure -- but Rodgers may be focusing on one part of the pitch before strengthening other areas. There will be arguments that can be done simultaneously, but the influence of the transfer committee muddies things further.

If the next 10 days will say a lot of Liverpool's ambition, then the next few months will say a lot of their direction in general. The summer, and Rodgers' third season in charge, could reveal both, and there's no guarantee of an outcome either way. First, he has to make sure he's actually there as he prepares for this brave new world.