Easy target Suarez isn't the only controversial person in the Prem
Football exists in its own world, a strange world, one far removed from reality. The moral code is jumbled, the traditions are odd, and the expectations are unreasonable. This is a sport where Sam Allardyce is the 13th highest-paid manager in the world, after all.

Because of the money that is involved at the game's highest level, every footballer must behave as a paragon of righteousness, as money always equates to sensibility. They are role models, even if they do not want to be, and are entrusted with the fabric upon which our society is woven. Will somebody, somewhere, think of the children?

Liverpool and Luis Suarez have discovered this mindset more than most others over the past few years. There are some things that are obviously wrong, deplorable even, no matter whether it happens on a football pitch or not -- namely, the spat with Patrice Evra and nibbling on the forearm of Branislav Ivanovic. But there is also the peripheral nonsense, the things that really don't matter, yet cause aneurysms throughout the land.

Suarez had not even touched the ground under Brad Guzan's challenge, and he was the villain once more. By the time Steven Gerrard dispatched the penalty, the Uruguayan was vilified for an apparent dive. He had committed a heinous crime, one of football's vilest. The shock! The horror! The humanity!

Of course, nobody can say for sure whether Suarez dived, but it did not stop everybody trying to offer a definitive answer anyway. Phone-ins were inundated by bile and rage, long-forgotten or long-winded pundits were wheeled out, and polls were conducted on national television. Text yes, no or don't care to register your vote.

It simply doesn't matter. Even when Suarez clearly has gone to ground in the past, it doesn't matter. It matters in the rules of the game, granted -- it is unsporting whether it is Suarez, Ashley Young or Jurgen Klinsmann circa 1993. But away from this bizarre world, this multimillion-pound Narnia governed by madness, it does not matter.

In the same round of fixtures, Rafael could have injured Gary Cahill for a very long time with a reckless challenge; seconds earlier, Nemanja Vidic made little attempt to reach the ball and instead crunched Eden Hazard. At the Liberty Stadium on Sunday, Michael Dawson hauled down Wilfried Bony inside the box in a flagrant disregard of the rules. All three incidents are worse, and more controversial, than the penalty Suarez won; the fouls could have actually hurt somebody, while the third leaves no debate over whether it was a penalty or not.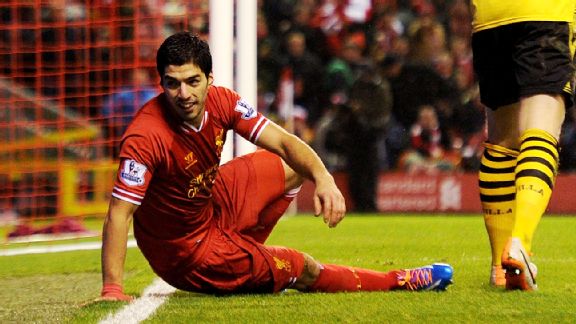 Andrew Powell/Liverpool FC/Getty ImagesLiverpool's Luis Suarez is consistently a scoring threat in the Prem.
This is not to blindly defend Suarez (if, indeed, he did dive) or excuse diving -- it is something that should be eradicated, without question. But while heads explode and replays are slowed down and sped up, other more serious indiscretions are ignored. But in this strange footballing reality, there is hardly anything more serious, especially in English football. We are a nation of toughness and machismo, of leather footballs and twirled moustaches; we revel in boot meeting bone, pitches like farmyards and lashings of brown sauce. We do not fall down, but keep upright; we do not moan when sent tumbling, but acknowledge the masculinity of it all.

The incident on Saturday served both Liverpool and Suarez with a reminder and a cautionary tale. For while Suarez has been one of the world's best players this season, and undoubtedly the best in the Premier League, he is somebody who divides opinion. And while the deifying of the striker has been inevitable with the performances he has offered, he is one stumble and one loss of equilibrium away from being a stain on society.

What Liverpool, and Suarez, must remember is that this does not matter. What matters is the injury to Lucas Leiva, who still awaits news of how much time he will miss with the knee injury sustained against Aston Villa. What matters is how Brendan Rodgers will juggle his options in midfield and attack and offer a balanced side in both the FA Cup tie against Bournemouth and, most importantly, the Merseyside derby. Suarez will start the derby barring injury, but who joins him is something to keep the manager up at night.

A brief detour from the collective gushing about Suarez should not, and cannot, derail Liverpool's bid for Champions League qualification. Suarez is essential to that, and happiness is essential to Suarez.

The root of his serene nature this season is the enjoyment he has playing with good players and not spending 90 minutes being kicked, because there are periods when nobody can get near him. That is not to say he is affected by such tactics, but any player of his quality would prefer his ankles not to be kicked at every turn. He is enjoying himself more than ever before at Anfield, and it tells; even though he was probably at his poorest against Villa, he still looked to galvanise his team with slaloming runs and remarkable vision with the ball at his feet.

The change in demeanour this season is tangible. Opposition defenders do not hate him as a person, but only for how sore he will make them feel afterward; opposition fans are now quieter when he gets on the ball and mainly stop their Neanderthal cries, for they know they will be made to suffer later on. Even by the media, on crusty sofas with curdled coffee in front of them, his talent has not been accompanied with reminders of the past.

That moment against Villa -- whether it was a dive, trip or fall -- was a reminder of the past and the debate he can prompt, but this part of a past really should not matter. Liverpool and Rodgers must make sure it ultimately doesn't matter in this ridiculous world of football.