They don't need no education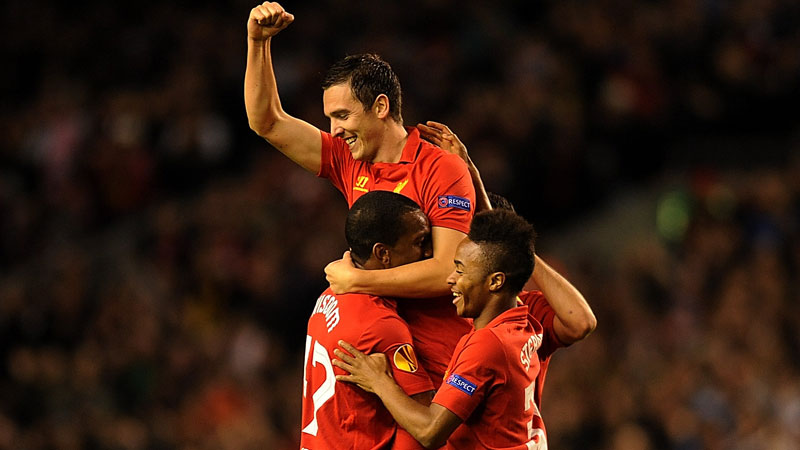 GettyImagesStewart Downing's strike earned Liverpool valuable points against Anzhi
You got your education on the Kop - or so people were repeatedly told by the giant canyon of Liverpool supporters that streamed from side-to-side behind the goal on match days. The Kop - and Liverpool supporters in general - have always prided themselves on their intelligence. This dictionary-defined intelligence, of course. This intelligence is knowledge of what is before them. This is Keegan, instead of Keats; Dalglish, not Dickens. Simply put: the Kop understood football, and all that it encompassed.

In more recent times, it is they who have been receiving an education. As football has progressed and increased in complexity, supporters have had to readjust. It's not an education Liverpool have been alone in undertaking; but football was simpler when Liverpool were most successful. They miss the back pass rule, for starters. At least that's how it seems. It is human nature to get dewy-eyed over moments lost in the murky waters of time after all.

- Downing belter beats Anzhi

When Brendan Rodgers was appointed as manager, the caps and gowns were dusted down. School was out for summer, but it would soon return; so too the ideals Liverpool were so familiar with. Ball retention; pass and move; relentless pressing of the opposition. Rodgers' espoused philosophy was nothing necessarily new. But after Kenny Dalglish didn't quite replicate it as he did two decades previous - throwing FSG's warchest into the River Mersey at the same time - perhaps a more modern movement on Liverpool's weltanschauung was needed.

Think again, long and hard - for that's what has happened on the Kop so far this season. The education continues. Some haven't quite understood what Rodgers wants to do at the football club. Perhaps it is because Liverpool still reside in the bottom half of the Premier League table; maybe it is the by-product of a painstaking striker shortage. But even after three successive clean sheets at home - albeit scoring just two goals - some are struggling with the basics.

That's not to say Rodgers' reign so far hasn't deserved tentative scepticism. He is going through an education himself. Never before has he managed a club with such an impeding weight of history resting upon its shoulders; never before has he successfully transformed a club to the degree FSG hired him to do at Anfield. FSG knew this; they knew he would learn as he works. But he is trying. Some supporters at Anfield would be advised to do similar.

The 90 minutes against Anzhi Makhachkala was not a vintage display. It would not have stirred memories of those famous nights under the Anfield floodlights of years, decades, generations gone by. But it was the first time - at Anfield - Rodgers' Liverpool demonstrated control with the ball.

Unlike the game against Reading five days before, the opening goal served as a relaxant. Liverpool more less frantic in possession as opposed to more. Gerrard to Sahin; Sahin to Wisdom; Wisdom to Skrtel; Skrtel to Agger; Agger to Skrtel; Skrtel to Downing; Downing to Gerrard; Gerrard to Sahin. The ball moved like a well-paced pendulum, hypnotising as opposed to mesmerising, but effective nevertheless.

But with five minutes remaining, panic started to seep in - not on the pitch, but within the stands. No chance of drifting off into hypnosis with thousands shrieking to move the ball forward. It's a simple equation: Liverpool needed to win the game. With a goal advantage, Anzhi needed to score to prevent it. If Anzhi could not touch the ball, it's highly unlikely they could score. The answer: keep the ball. Yet some demanded the ball went forward, that riskier passes were made in search of an unnecessary second goal. Agitation increased with each passing minute and with each minute of passing.

Whether they wanted a perverse sense of danger, the footballing equivalent of pickpocketing a policeman, is unknown. Unsurprisingly, when Assaidi, Suarez and Sterling combined to give the ball to Anzhi, it was met with exasperation. In the 89th minute, a cry of "attack" came from the Kop. Yet Liverpool had to defend. Anzhi had that one final chance that looked so unlikely five minutes before. There's a lot more educating to do, both on and off the pitch.

Disgruntled fans are hardly a point worth making, granted - but it comes at a time when many aspects of the club begin a learning process. Most players possess a natural instinct to simply move the ball as far down the pitch as possible; most managers abandon their footballing belief for quick fix solutions. Both Rodgers and his Liverpool squad must take the apple from the tree and throw it away.

The support must realise this as well. That some seemed more content with a 50-yard punt to Christopher Samba's head as opposed to a five-yard pass to a red shirt highlights the re-education, and reprogramming, needed. But there is no teaching manual; they can only teach themselves in time. Success will quicken the process. Whether Rodgers brings that is unknown - but he should be given the chance to do so.

There's a giant learning curve at Anfield at the moment, with manager, players and supporters riding it together. Even against Anzhi, they discovered things they did not know: Rodgers is taking the Europa League seriously, fielding a full-strength side three days before the game with Everton. Stewart Downing could be the best right-footed goalscoring left back in the club's history; Raheem Sterling and Andre Wisdom continue to grow, both physically and mentally; Oussama Assaidi, when given the chance, can excite with his penetrative style.

But most of all, everyone learned that Liverpool can control the game in the way Rodgers wants; in the way sides of yesteryear did. But it still isn't what some people want. They might have to learn to like it anyway.