Liverpool's attacking genius paving Euro road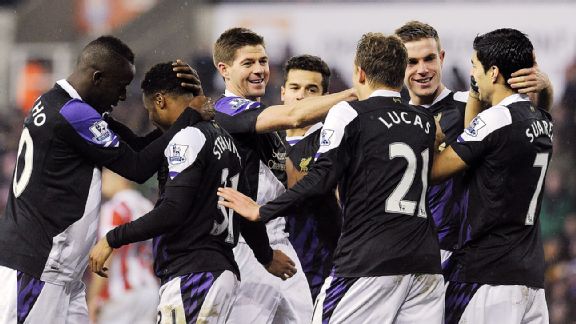 Andrew Powell/Liverpool FC/Getty ImagesLiverpool's path to the Champions League stems from goals, of which they have had plenty to celebrate this season.
This is probably the thousandth time it has been said, but needs saying again: Liverpool's 5-3 win against Stoke showed they are a serious football team, a football team that is serious about reaching their expectations this season.

- Usher: Luis Garcia was little man for big occasion
- Report: Rodgers not giving up on title

It showed that all-singing, all-dancing asset of mentality which, we are told, is so crucial when creating a successful team, as if the ability to survive water torture automatically makes you world champions. But more importantly than that, it showed just how Liverpool have good players, great players and a world-class player within their squad. Stoke bombarded Liverpool from out wide and bruised their centre-backs; they set up as the sheer antithesis of Liverpool, with wardrobes launching high balls to giants of bone and mortar up front.

But Liverpool beat them, bettered them, and eventually battered them. It was partly to do with their mental strength and their resistance against curling into a tight ball once Charlie Adam equalised and waiting for the inevitable. More than that, however, was the work Luis Suarez did, and how he was supplemented by the returning Daniel Sturridge and ever-improving Raheem Sterling.

Those three, with Philippe Coutinho and Jordan Henderson also in advanced positions, are talented enough to change most games. The spaghetti-like interchanging of Liverpool's front four has been one of the highlights of the season. It is enough to see them in fourth place, six points from leaders Arsenal, with less than half the season remaining. The worry about the defence and midfield -- and how worried they should be -- is neutralised by the glee the attacking players elicit.

There is a genuine belief that whatever the opposition score, Liverpool will score plus one, or maybe even two, or sometimes three, four or five. While Brendan Rodgers decides on his best defence, and while he ruminates upon how his midfield should shape up, there is something that needs little coaching: Suarez's footballing frenzy, Sturridge's willingness to stretch defences, Sterling's carrying of the ball, Coutinho's delight in the slide pass and Henderson's weekly 90-minute marathon.

The defence and midfield require scrutiny, no doubt. But relying on goalscoring is a useful path to success. Arsenal, in 1998, were the last champions to be outside of the league's two highest-scoring sides. Liverpool are currently second, and comfortably so, having scored 10 more goals than Arsenal.

Defences do matter, of course, as Arsenal's position at the top of the table shows. In the past decade, seven sides that finished with the least goals conceded also finished swarmed by colourful ticker tape as Premier League champions. But Manchester United have proven that it is not imperative. They had just the fifth-best defence last season and yet won the title by 11 points; in 2011, they had the third-best; in 2007, they were joint-second.

Maybe the focus should change. It is not necessarily about how many goals are scored and conceded, but rather, how those goals shape the pattern of a season. Though United's title wins founded on free-flowing football, it was the fearsome nature of it that proved key; they were conceding goals, but could recover by scoring them -- and the opposition knew it. These goals did not result in 6-0 wins and 4-0 defeats; instead, the goals conceded were eradicated by the goals scored.

Liverpool may not be as proficient as United were -- and they certainly have not turned around as many sticky situations so expertly in the past few decades -- but there is now a similar sense of inevitability about Liverpool when they approach goal. With the defence they possess, and the constant changes it suffers, there is a chance the opposition can take advantage and score. With the attacking talent they have, it is not merely a chance of a goal, but a near-certainty. Only profligacy or an act of God can stop them.

The ultimate question is whether it can be sustained over a 38-game season. But while it is largely accepted as fact that good campaigns are founded on sound defences, this is a strange season, and it is becoming a strange league, one where games between the top sides end 6-0, 5-0, 6-3, 4-1, 3-3. For Rodgers, he clearly feels it sustainable enough to win the title, let alone qualify for the Champions League. He might never have a better chance.

"We've got all those teams to play at home, and we are six points off the lead, so we have to feel that we are. Our confidence and belief are good. Everyone will talk about the three clubs in front of us, and how they have been in that race over the last few years," he said.

"It's very, very close at the top, and since Christmas Day, the lead has changed hands a few times. For us, it's a case of continuing to improve. We have to maintain focus and concentration. We've got to keep the standards high."

There will be snobbery about Liverpool's approach, such is the way English football has evolved. We are now cultured, refined and connoisseurs of fine football. We do not want goals, but possession; we do not want to gain entry by vigorously kicking down the back door, but with a gracious twist of the lock.

But Liverpool are cultured, refined and promote fine football going forward, it's just that it can be anything but that at the back. In a weekend that saw five of the top seven win 2-0 -- the ultimate result of grind and grit -- Liverpool won 5-3. Rodgers' side proved they can roll up their sleeves when necessarily, with two 2-0 wins against Hull and Oldham earlier in January, but their performance against Stoke exhibited exactly how they will continue to win football matches.

If only the defence was settled and the midfield was balanced, they cry. But then, football is imperfect, and every team has flaws. What Liverpool do is focus on their strengths and look to make their weaknesses irrelevant -- the season so far suggests this is not a terrible decision.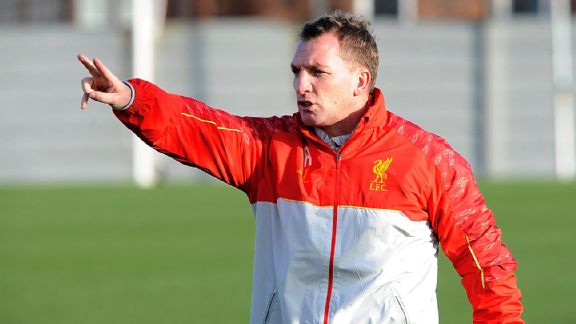 John Powell/Liverpool FC/Getty ImagesBrendan Rodgers may still look to strengthen Liverpool's defence during the January window.
Rodgers will have the opportunity to strengthen his defence and midfield, if not this month, then in the summer. If his intention was to ensure his side could score goals before focusing on stopping them -- something that would make them genuine title contenders in anybody's view -- then he has played it well, and the first part has been fully realised. The demeanour of Rodgers, and his intricate attention to detail, would suggest he is a manager who plans in stages and realises not everything can happen in 12 months. The oddity is that he has never managed a club for more than two seasons, something that will change at Anfield.

Rodgers cannot be praised enough for Liverpool's movement up-front. It would be simple to call the Northern Irishman fortunate having joined a club with Suarez already part of it, and with Sterling already granted first-team action by Kenny Dalglish. Sturridge and Coutinho arriving six months into his reign was also nice, while Henderson did cost 16 million pounds for a reason, though that reason was so far unknown.

But consider those players and how they have developed under Rodgers' tutelage. He has made under-appreciated players appreciated; he has made good players great and great players phenomenal.

Suarez is no longer blinkered by his determination, very rarely looks to engage in a one-man mission to wreck 11 players and argue with anyone within earshot; he is calmer, more natural in his movement on and off the ball, and more at ease with his finishing. Sturridge joined Liverpool with the reputation of being selfish, unintelligent and awkward on the ball, but he is a selfless, cerebral striker with fantastic technique. Coutinho has toughened up and developed arrogance, Sterling has rediscovered his hunger to embarrass full-backs, and Henderson is unrecognisable to the meek boy who played right-midfield under Dalglish, instead becoming the broad-shouldered man of confidence.

The improvement of all five, even if from a high starting point, demonstrates that the issues in defence and midfield are not necessarily terminal. Mamadou Sakho is 23, Tiago Ilori and Andre Wisdom are 20 and Joe Allen is 23; there are also players not really known of, like Ryan McLaughlin and Jordan Rossiter, who will benefit from the presence of Rodgers and his coaching staff.

All of that is long-term. In the short-term, what Liverpool are doing is just fine -- for now. If they continue their form from the first half of the season, they will qualify for the Champions League. If that happens, then the defence and midfield issues won't seem so troublesome -- especially with Champions League money to fix whatever problems remain.

Relying on brilliant attacking players to win matches may not be big or clever, but if it takes Liverpool to Europe's top competition for the first time in five years, it will undoubtedly be genius. Just don't expect too many to be so forthright in admitting it.