Luis Garcia was the little man for the big occasion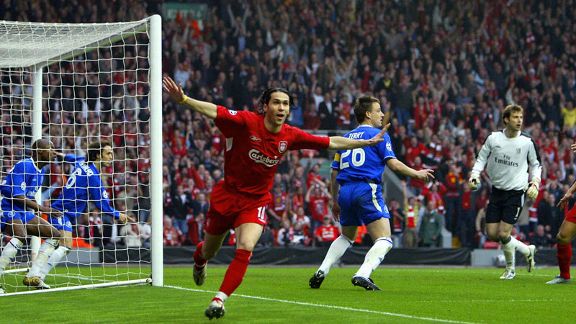 GettyImagesLuis Garcia celebrates after his famous goal against Chelsea in 2005.
Last week, I wrote about the lack of love for Michael Owen from fans of the club's he played for, in particular followers of Liverpool. This week I'm writing about a man for whom the opposite is true. Luis Garcia announced on Tuesday that he was calling time on his playing career and the internet was immediately awash with emotional Liverpool supporters paying tribute and sharing their favourite Garcia moments. This was in stark contrast to the shrugged shoulders and collective "meh" from most of the football world when Owen announced his retirement towards the end of last season.

Garcia wasn't at Liverpool as long as Owen, he didn't score as many goals or win as many trophies as the England man, he never won the Ballon d'Or whilst wearing the red shirt and he didn't score in cup final successes either; but when it comes to popularity on the Kop, Garcia beats Owen hands down.

- Ex-Reds forward Luis Garcia retires
- Hackett: Special One spooked by a ghost goal

Most Liverpool fans adore the Spaniard, yet he may never have arrived at Anfield had Owen not decided to jump ship in August 2004. Rafa Benitez put the money received for Owen from Real Madrid to very good use, bolstering his existing transfer kitty to snap up Garcia and Xabi Alonso.

Alonso turned out to be the more accomplished of the pair; he spent longer at Anfield and has since gone on to become a key man for both Real Madrid and the Spanish national side. His career path continued in an upward direction after leaving Liverpool, whereas for Garcia his spell on Merseyside was as good as it got. But boy was it good.

Nobody contributed more to Liverpool's 2005 Champions League success than the little Spaniard, not even Steven Gerrard. The skipper etched himself into club folklore with his spectacular winner against Olympiakos when it looked as though the Reds were going out at the group stage, and everyone remembers what he did to drag his side back into the final against Milan when Liverpool trailed 3-0 at half time in Istanbul.

Garcia's contribution cannot be understated though. He found the net three times over the two legs against Bayer Leverkusen at the first knockout stage, he bagged a spectacular winner against Juventus at Anfield in the quarterfinals, and -- irrespective of what Jose Mourinho says -- he scored the winning goal against Chelsea in front of the Kop in the semifinal. On what is viewed by most as Anfield's greatest ever night, it was Garcia who grabbed the all important goal that sent Liverpool to Istanbul.

Mourinho and Chelsea have never been able to accept that Garcia's shot crossed the line that night and often refer to it as "the ghost goal". What nobody ever seems to mention is that if that goal had not been given then things would have been far worse for the Londoners. The referee that night, Lubos Michel, has since said: "If my assistant referee had not signalled a goal, I would have given a penalty and sent off goalkeeper Petr Cech."

So Mourinho can complain all he likes -- and goodness knows he does -- but if you'd stopped the game at that moment and given him the choice of Garcia's goal standing, or having to face a penalty kick and play the rest of the game with ten men, he'd almost certainly have opted to be 1-0 down with 86 minutes still left to play with a full complement of players. Perhaps the next time he brings up the ghost goal someone should point that out to him.

The following year, Garcia left no room for any doubt as his screamer at Old Trafford once again knocked Chelsea out of a semifinal, this time in the FA Cup. Sadly for the little man he missed the final through suspension and the following year he would suffer heartache again, as a serious knee injury ended his campaign in January and ruled him out of the Champions League final in Athens. Liverpool lost that night, but with a fully fit Garcia on the left flank rather than the pedestrian and somewhat predictable Bolo Zenden, things may well have been different.

Garcia was not world class, but he was a fine player. He was equally comfortable with either foot (he was actually left footed but it was most people assume he was right footed) and scored some great goals with his head too. If Peter Crouch possessed Garcia's heading technique he'd probably score 30 goals a season, but that heading ability was somewhat wasted on such a diminutive figure. His biggest attribute was not related to technique though, it was something much more intangible; Luis Garcia was the little man for the big occasion.



He had his flaws though; ball retention being the main one. Often when the simple pass was on, he'd spurn that option and instead try an impossible pass or a silly flick that would go straight to the opposition. A regular feature of any Liverpool game would be Garcia back-heeling the ball to no-one in particular near the halfway line, immediately followed by a high pitched scream from an enraged Jamie Carragher: "LUUUUUUIIISSSSSSSSS!!!!!!"

Regarded by many as one of Liverpool's most frustrating players, Garcia could go from the sublime to the ridiculous within seconds. He was unpredictable because he tried things others would not dream of and after the largely stoic approach of Gerard Houllier's team in the years immediately preceding Garcia's arrival, that was refreshing.

In his first appearance at Anfield, against West Brom, he played a relatively simple ten yard ball to a team-mate but he did it whilst looking in the opposite direction. As soon as he pulled off that 'no-look pass', Liverpool fans knew he was going to be a showman, someone who would provide great entertainment, and he certainly didn't disappoint.

Despite his frequent infuriating moments, Garcia was loved by the crowd and even by Carragher, who brought him back to play in his testimonial game at Anfield in 2010. Having been robbed through injury of the opportunity to say a proper goodbye on the field to the Kop, Garcia thrilled the crowd for one last time with a virtuoso display, capped by a superb early goal. His appearance was the highlight of the day for many, myself included.

Garcia was not a player of the standing of a Kenny Dalglish, Robbie Fowler or Luis Suarez, but he made the game fun to watch and stamped an indelible mark on Liverpool's history with some vitally important goals. A Garcia highlight reel stands up against most, it was only when you watched him for a full ninety minutes you could see his flaws.

Garcia remains so popular in part because he is a reminder of better times for Liverpool fans. In the three years he spent at Anfield the Reds won the Champions League, the FA Cup and then reached another Champions League Final. Over that period Liverpool put themselves back on the European map; in Champions League terms they were the name on everybody's lips and Garcia did more than most to make that happen.

He left Anfield in the same summer that Fernando Torres arrived, in 2007. It's a real shame the pair never got to play together. Still, Garcia departed with a classy letter to the fans, via the club's website. He left behind some wonderful memories: the screamer against Juventus, a bullet header against Anderlecht, two crucial derby goals against Everton in front of the Kop, a last gasp winner at home to Arsenal and of course the two semifinal goals against Chelsea.

It's almost seven years now since Garcia moved on, yet Liverpool fans still sing his name on a regular basis, and not just to taunt Chelsea fans either. No doubt his song will get a good airing this weekend when the Reds entertain Villa. Garcia will be watching at home too I expect, he usually is and he'll often thank the fans via twitter for still singing his name.

It matters not that there are one or two factual inaccuracies in the song; he doesn't drink sangria and he's not five foot seven. But "the occasional red wine" isn't particularly snappy and "five foot eight" doesn't rhyme with football heaven, so you have to allow a little bit of creative licence here and there when it comes to terrace songs.

I think a friend of mine summed it up best when he said: "If you don't like Luis Garcia, you probably don't like puppy dogs and Christmas."