Moses finally making an impact at Anfield?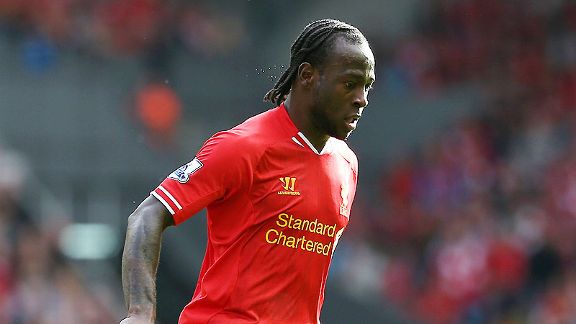 Clive Brunskill/Getty ImagesChelsea's Victor Moses has not impressed on loan at Liverpool.
According to reports, Chelsea are not pleased at how Victor Moses' loan deal is going at Liverpool and, as a result, are now reluctant to do business with the Reds over full-back Ryan Bertrand.

Liverpool manager Brendan Rodgers knows Bertrand well from his time working at Chelsea's Academy, and he also took the left-back on loan when he was manager of Reading. Back in August, Liverpool's summer-long search for a left-back ended when it signed Aly Cissokho to a season-long loan from Valencia, but only after Rodgers had failed in an attempt to take Bertrand to Anfield. Chelsea were reluctant to part with the 24-year-old, and the player himself had no desire to move on, either. With Ashley Cole not getting any younger and Bertrand having enjoyed a good end to last season under Rafa Benitez, he understandably set his sights on nailing down a first-team spot at Stamford Bridge this term.

- Live Transfer blog: On The Move

Things haven't exactly gone according to plan, though. Not only is Bertrand still behind Cole in the Chelsea pecking order, but Jose Mourinho also seems to prefer playing right-back Cesar Azpilicueta on the left. Now the suggestion is that Bertrand fancies a move to Merseyside, but Chelsea are reportedly unwilling to deal with Liverpool because they're sore over how the Moses loan has gone.

Assuming that if Liverpool want Bertrand they would be pursuing a permanent deal, what has happened with Moses is irrelevant. If the Reds are interested only in a temporary move, however, then it's little wonder the Londoners are giving them short shrift, as there's no benefit to them in agreeing to that. Would Liverpool actually be brazen enough to return to Chelsea and ask to borrow another of their players whilst Moses is picking splinters out of his behind, or "riding the pine," as they say across the pond? It seems unlikely, but if that's the case, who can blame Chelsea for slamming the door in Liverpool's face?

That being said, the Reds are only partly to blame for how the Moses loan has turned out up to this point. The player also has to look at himself, as the opportunity has been there of late for him to make a success of his time at Anfield, but he has simply not performed well enough to nail down a place in the side. If he were playing to an acceptable level, he'd be in Liverpool's first team, but he isn't. It's that simple.

With Daniel Sturridge sidelined, Moses has essentially been in direct competition with Raheem Sterling and Philippe Coutinho for a place in the side. Given his talent and pedigree, Moses should probably be the senior man with the other two vying for the remaining spot on the opposite flank. In theory, at least. In practice, however, he's deservedly way behind both, and he's performed so poorly of late that he now appears to also be behind Iago Aspas, despite the Spaniard generally looking completely out of his depth at this level.

Back in November I wrote that Moses was a victim of circumstance. His struggles early on were as much to do with the team's tactical direction as they were his own form. When you have two strikers as talented as Luis Suarez and Daniel Sturridge, you put them in the best position to succeed and fit everyone else around them. Rodgers did that by briefly experimenting with a 3-4-1-2 system, with Moses playing in the hole behind the front two in the absence of the injured Coutinho. He never looked particularly comfortable in the central role, and even when Rodgers reverted to 4-4-2, it was Coutinho and Jordan Henderson who filled the wide positions with Moses dropping to the bench.

At that stage, Liverpool were as much to blame for the move not working out as Moses -- perhaps even more so -- but I pointed out in that blog that things can change quickly in football, and all it would take would be an unfortunate injury or someone losing form to open the door for Moses again. That's exactly what happened. An injury to Sturridge saw Rodgers revert to the 4-3-3 formation that is perfectly suited to Moses' skill set. That was the window for him to get back in, the break he needed to kick-start his Anfield career.

If Chelsea want to know why Moses isn't playing regular football, they need only watch the DVD of his past two starts. He was poor in the defeat against Hull City, and he was hooked at half time having done nothing against League One Oldham Athletic in the FA Cup last weekend. Do Chelsea expect Rodgers to just keep on picking him regardless of form? That's how it is being reported, but surely that can't be the case. Not even Mourinho is that unreasonable. Is he?

Obviously Chelsea aren't happy with the current situation, but that's the risk you take when loaning players out. I've heard it claimed that Chelsea advised Moses not to go to Liverpool, as they felt there were better destinations for him where he would have more opportunities to play. Clubs such as Southampton and Everton were mentioned. Yet there are no guarantees that things would have worked out any better for him had he gone to either of those teams, either. At Southampton he'd be competing with the excellent Adam Lallana and Jay Rodriguez for a place in the side, whilst Everton would struggle to justify selecting him over the likes of Kevin Mirallas, Steven Pienaar and Gerard Deulofeu at the moment.

Chelsea may disagree, but Liverpool was probably as good an option as any. Moses should have been able to get into the side ahead of Sterling. The reason he has been unable to do that is the teenager has played far better than he has. Rodgers will pick whoever gives him the best chance to win games, and right now Sterling is giving Liverpool an awful lot more than Moses.

Many Liverpool fans would cut short the loan and send Moses back to Stamford Bridge now, if possible. In fact, some would even help him pack and drive him down there after his display against Oldham. It's understandable; Moses has shown very little to suggest that he can be any kind of an asset in the months ahead, but I'm not writing him off yet.

Sometimes all it takes is one little incident or a bit of fortune to turn things around, and Liverpool may yet need Moses before now and May. Sterling is a great example of how quickly a player's form can turn around, and given the undoubted talent Moses possesses, he may yet have a part to play in Liverpool's season. And if he doesn't, well, that's just the way it goes sometimes.

P.S. Any chance of borrowing Juan Mata?