Second half subs end deja vu feeling vs. Oldham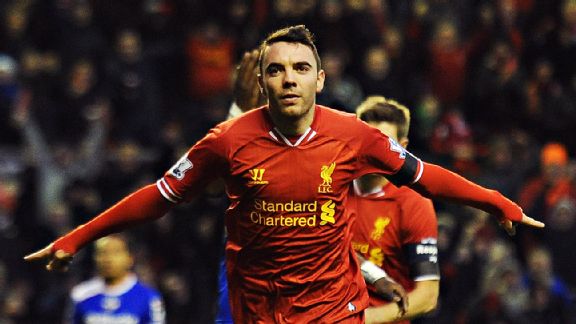 Andrew Powell/Liverpool FC/Getty ImagesIago Aspas was deserving of his opener in Liverpool's 2-0 FA Cup win over Oldham Athletic on Sunday.
For 45 minutes, there was an unwelcome sense of deja vu on Merseyside. This may have been Anfield and not Boundary Park, and the majority who watched from the sides wore red instead of blue, but this was still a Liverpool side struggling against a determined, disciplined Oldham Athletic.

It was a similar scenario last January and resulted in a 3-2 defeat for Brendan Rodgers' side, the lowest afternoon of his reign so far, when the dark winter night devoured all light. Then, as now, Liverpool had selected an experimental team; then, as now, Rodgers turned to his bench to pull them from the mire. It did not work then -- but fortunately for Liverpool, it did now.

- Report: Liverpool 2-0 Oldham Athletic

Unfamiliarity breeds contempt, or at least that is how it seemed in the first half of Liverpool's 2-0 win over Oldham. For 45 minutes, Liverpool's changed 11 were poor and failed to play with any cohesion. This was an opportunity for peripheral players to show they can fit into the first team -- it was an opportunity missed by a few.

Maybe that is unfair on those players. Even after Iago Aspas' good all-round display, his best since his summer move from Celta Vigo, there is little chance he will displace Luis Suarez or Daniel Sturridge as the team's central striker. Similar arguments can be constructed for Victor Moses, Luis Alberto and Martin Kelly, who must be fully aware of their impending displacement by Philippe Coutinho, Lucas Leiva and Glen Johnson. It means they are playing for a carrot that does not really dangle; an incentive that is nothing more than a mirage in the distance.

The magic of the cup. Against Oldham, it was nothing more than a vehicle to rest some players and thrust others into the spotlight after weeks out of it. Some wilted, while others took time to find their rhythm and role in the set-up. It made for a disjointed first period.

Raheem Sterling would make runs down the right as he has done so well for the past few months, but Kelly failed to find him; Jordan Henderson would come deep to spin, turn and link up with the front man, but Aspas does not have the ability (though few do) of Suarez, whose Tasmanian Devil movement makes it seem like he's absolutely everywhere at once and readily available to receive a pass. On the left, Moses was playing a game all on his own with nobody was on his wavelength -- more the pity that it was Moses who needed to readjust his frequency, and never did.

The first half struggles were not down to squad players alone. Daniel Agger looked unsure alongside Kolo Toure, while Steven Gerrard was tentative in his first start since returning from injury. Sterling, too, was lacking the zest of previous showings, though he did not have Johnson and Suarez to create space for him. Anfield became frustrated, as did the players; passes went awry, the tempo was non-existent; grimaces and gesticulations were exchanged across the pitch more than the football.

The fear for Liverpool was that the lessons of Oldham last year would not be learnt, but they subsided as the second half began. Rodgers had turned to his bench and summoned Coutinho and Lucas -- Moses can have no complaints after his strange first half display, but the withdrawal of Luis Alberto was curious. Though the young Spaniard can still improve many aspects of his game, particularly his work off the ball, he had been one of the few players good with the ball and capable of making an incisive pass.

Yet the removal of Luis Alberto allowed the midfield of Lucas, Gerrard and Henderson to be reunited -- a trio that would appear Rodgers' preferred midfield, even if the balance does not seem quite right. Coutinho's arrival also opened up space in the midfield as the fleet-footed Brazilian dragged players, in ones and twos, across the pitch; the panic of Oldham was tangible every time he received the ball, as was the improvement of his team-mates. Aspas' runs were suddenly not as directionless and futile; instead, he looked more of a seven million pound player instead of a 70 pound one, albeit against League One opposition. Aspas and Coutinho linked up well, creating space for each other, as well as the advancing Gerrard in midfield.

On the other side, Sterling did what Moses never looked capable of, and persevered. The young winger spent the second half grinding down full-back David Mellor until Mellor could take no more, his substitution with seven minutes remaining both inevitable and merciful.

Indeed, the perseverance and grinding was not limited to Sterling alone -- the entire Liverpool team did so admirably in a tie that simply had to be navigated safely. Though there were flashes of fancy from Aspas, Coutinho, Henderson, Gerrard and substitute Suarez in the second half, this was a match similar to Hull: The football match was there to be won; it was just up to Liverpool how and when they did so. But then, the same was said of last year, when Liverpool simply forgot to win altogether.

With the majority of Rodgers' favoured front six on the pitch, there was more fluidity to go with that doggedness; it is noticeable how Liverpool's front men can play with instinct more than anything else as they weave through defences. Aspas deserved his goal, and deserved the support of the crowd afterwards, with Sterling doing well down the right. Likewise, Sterling deserved the telling touch in the Oldham box to make it 2-0, even if it will be given as an own goal.

This was not to be like last season in result, although Rodgers may now ask similar questions of his squad strength. After last year's defeat, Rodgers acknowledged the paucity of his squad; this year, he may do similar, even in victory. The FA Cup is about the glory and the magic and the wonder and sparkly silver things, but it is also about giving squad players a chance to prove themselves.

Only Aspas has really given himself a chance to impress again. Rodgers may need convincing of Moses, Alberto and Kelly; with the transfer window open, Moses, Alberto and Kelly may not get another chance, rightly or wrongly.

That the clincher came just moments after Liverpool had been reduced to 10 men through Agger's injury shows how it was a game they had to work for, but would always ultimately triumph in. The deja vu had been lifted, as had the cloud of worry. The fourth round awaits.